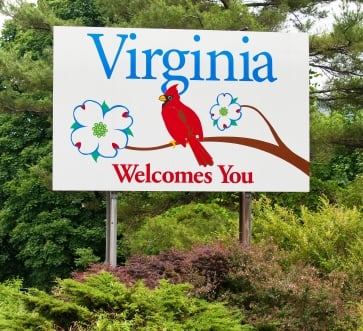 All of you brave souls who commute from Virginia to the District are going to think I'm a total wuss. That's fine. I happily admit I do not have the mental strength to do daily battle with the Beltway. My commute consists of a 15-minute walk from Logan Circle to downtown DC.
Since I rarely venture into the suburbs, it's inevitably a big production when I do have to travel to Virginia. Yes, I love the state's wineries and picturesque country roads, and it has the closest Nordstrom to my house. But I cannot tell you how many times I've gotten lost there. It's like crossing the state line takes away my ability to read road signs. There was the time I accidentally wound up in the Pentagon parking lot. Another time, Nate and I exited in search of a Wendy's—sometimes a girl just needs a spicy chicken sandwich—and we drove onto a military base. You get the idea. (For whatever reason, I've had much better luck driving in Maryland.)
Given my track record, you can understand why I would be nervous about having my wedding dress altered by a woman in Fairfax. But Angie Cavallaro, who runs a bridal alterations business out of her home there, came so highly recommended that I decided she was worth the trip. I scheduled an appointment for the morning of Thursday, September 8. Google Maps told me the drive would take 45 minutes. Ha! I'd heard that one before. I booked a Zipcar early enough to give myself two hours to get to Angie's house. I was not going to let Virginia win this time.
September 8 arrived—along with a tropical storm and torrential rain. Like, serious, scary rain. People actually died due to flooding that day. Despite the weather, I was determined to make my appointment. I hopped in my rented Honda Civic like it was an armored tank. Surprisingly, I made it out of DC with relative ease. But then I hit 66. Total gridlock. I still had more than an hour and a half to make it to my appointment, so I tried to stay calm. Then an hour passed, and I hadn't moved. I had reached a breaking point. I screamed as loudly as I could. Then I called Angie to explain the situation. She could not have been more accommodating. She told me to think about my safety first, and that she would fit me in whenever I got there. More than three hours after my departure from DC, I made it to her house. I was totally frazzled and on the verge of peeing my pants, but when I pulled into her driveway, I almost yelled, "Victory!"
Fast-forward three months to my pickup date, December 2—a beautiful, sunny day. Not only had I been to Angie's house before, but the weather was on my side, too. I was feeling confident—apparently too confident, since I decided to park in front of a fire hydrant while stopping at the bank to take out cash. I was next in line at the ATM when I saw the meter maid approach my Zipcar. "Hey! I'll move it!" I yelled, as I ran over. I told her I'd only been there for a minute. Her reply, as she stuck a $50 ticket under my windshield wiper: "There are no exceptions to the law, ma'am."
But that was the only hiccup on my trip back to Angie's, and you know what? I'll take a $50 ticket over a three-hour-long traffic jam any day of the week. Most important, my dress looked great. Angie had done a fantastic job, and even including the cost of the Zipcars and the parking ticket, the charge for the alterations was super reasonable. Angie explained that she can keep her prices low because she doesn't advertise, and since she works out of her house, she doesn't have to worry about paying rent. In the end, Angie was well worth all the stress.
Now that I had my perfect-fitting dress in hand, I could relax a little on the way home. As I drove along the quiet road leading to the freeway, admiring the pretty fall foliage, I noticed a gathering of large birds off to my left side. Wild turkeys? Does Virginia have wild turkeys? I slowed down to get a closer look at these animals enjoying their lovely natural habitat.
They weren't turkeys. They were fat black vultures, picking over the bloody remains of a deer.
Thanks, Virginia, I thought. See you next time.