Owners Natalie and Christina Albina pose inside Style Etoile. Photograph by Kelci House
In the grand scheme of American strip malls, Maryland's Rockville Pike is not a bad place to be. Congressional Plaza is covered in handsome red brick, and decent dining options abound. But seen-'em-everywhere big-box stores do not a shopping destination make. Enter Style Étoile, a clothing and accessories boutique whose particular brand of unconventional glamour may be a game-changer for the area.
Nestled behind the massive REI, Style Étoile is small (just over 1000 square feet total), but sisters/owners Natalie and Christina Albina have packed it full of chic standout pieces. Ruffled LBDs from Camilla and Marc stand alongside arty Jonathan Simkhai tops and sharply tailored Smythe blazers. Date-night looks come courtesy of sexy open-back dresses by Wren and barely-there Radenroro tanks, and rocker-casual weekend garb takes the form of vintage graphic tees and Siwy's torn denim shorts. Accessory-wise, bandana necklaces by Roarke stand sleek sunglasses and daintier bracelets from newcomer Lindsay Vallen. For the truly adventurous type, there's also a small collection of luxe studded collars from new line 11 Objects.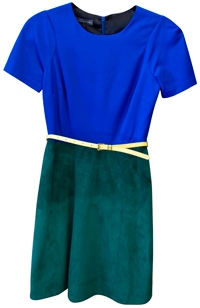 The color palette is predominately gray and black—"I wouldn't do blue pants, and I don't think customers in DC would, either," says Christina—but there's an occasional flash of zebra print, bright fuchsia, even kelly green. The fun is more in the details—a jumbo safety pin brooch on a tweed Nonoo jacket, cutouts on a body-skimming white dress. Overall, the look is very New York fierce (Christina spent time at Miu Miu and Scoop after college) with just a hint of vixen. If the Man Repeller grew up, got a (glamorous) 9-to-5, and spent Saturday night sipping martinis at BLT with her financier husband, this would be one of her favorite places to shop.
The aesthetic is completely unexpected for suburban Rockville and, arguably, for preppy-conservative Washington as a whole. But it's been working since long before the Albina sisters' December 2011 grand opening. Style Étoile (étoile means "star" in French) has run as a successful e-commerce venture since September 2010; the sisters also ran private styling sessions in a showroom on their North Bethesda property (they were born and raised in the area, and both attended Walter Johnson High School). Orders rolled in from all over the world, and once their space could no longer handle the amount of localized styling requests, Christina decided it was time to expand to a brick-and-mortar.
Personal shopping is still a linchpin of their business model, though, and women who want the glamorous, downtown vibe the Albina sisters exude have three options to choose from: personal shopping assistance in-store; at-home "closet cleanses," in which you'll work with Christina or Natalie to rebuild your wardrobe; and bigger-budget "style sessions," where the Albinas will accompany you on shopping trips outside of Style Étoile (Christina recently took a client up to upstate New York's legendary Woodbury Common outlet mall).
Reviewing the list of up-and-coming brands they'll be stocking come spring, the sisters reiterate the unique fashion niche they occupy in Washington.
"There's nothing like this here," says Christina, with a matter-of-fact wave of one black-manicured hand. Clad in a slinky white blouse and a Marni peplum, she could be talking about Style Étoile—or herself. Either way, she's correct.
Style Étoile. 1701-B9 Rockville Pike, Rockville, MD; 301-770-42178; styleetoile.com. Open Monday through Saturday 10 to 6 and Sunday 12 to 4 by appointment only.