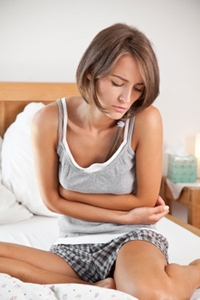 I totally get the obsession with Birchbox. A fun bunch of beauty samples delivered to your door each month—it's like the Clinique gift-with-purchase fairy came early!
Recent Internet travels, however, led me to a delivery subscription service with an even more female-focused interest: your period.
Like Birchbox, Good & Lovely ships a monthly assortment of products to your home. According to the site, each "Lovely Box" is filled with "products designed specifically to treat PMS or cramping"—meaning things like chocolate, soothing tea, and aromatherapy spa products. The monthly charge is $13.99; for additional costs, you also have the option of adding things like menstrual cramp relief cream (?), vitamin supplements, and "intimate wipes." Select the date you'd like it delivered (we assume this means coordinate with Aunt Flo's visit), and it'll come right to your door.
I'm still working through how I feel about all of this. Sure, who doesn't like a little me time (chocolate optional) when you're feeling kind of crappy? But that's why the good people at CVS put M&M's next to the checkout counter. I'm a busy girl with things to do! I just want to buy my tampons and get on with my life. And I don't need to use my period as an excuse to indulge myself.
I was curious to see just who concocted such an idea. In the "Who We Are" part of Good & Lovely's About Us page, the gender-ambiguous names Psalms, Chris, and Joe are listed. So I called the company and inquired into the genders of these individuals. The male-sounding "Joe" who picked up declined to answer my question and seemed very uncomfortable—weird for the founder of a company that deals with such . . . intimate issues.
So what do you think? Is this the greatest idea since individual brownie sundaes, or a needless expense? Let us know in the comments!