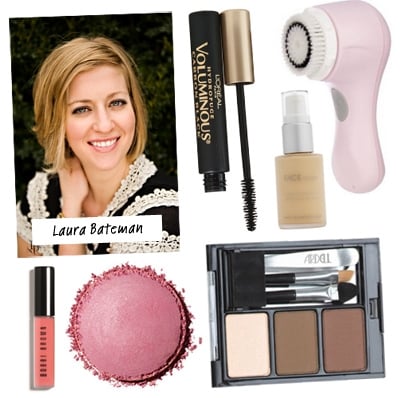 Stocking your makeup bag is no small investment. After you tick off foundation, mascara, the proper brushes, and a few fun lipsticks and eye shadows, the cost begins to seriously add up. That's why losing yours (as we've been unlucky enough to do recently) can be a serious bummer. But what if you can't afford to replace it all in one fell swoop? If you're going to need to shop in stages, where should you begin? To prep for just such an emergency, we consulted Washington's makeup wiz kids. The people on this list have worked on countless magazine shoots and made up the faces of visiting celebs, Supreme Court justices—even Bill Clinton. Trust us when we say they know what they're talking about.
Laura Bateman
"The first thing I'd re-buy is my Clarisonic Mia. I use it every day—sometimes twice a day—and take it with me on every trip. It provides a really deep clean, removing makeup better than any other method. I truly believe that clean, healthy skin is the ideal canvas for a beautiful makeup application."

Leah McKay
"I would have to re-buy a mascara and lip gloss immediately, followed by under-eye concealer. Under-eye concealer is a must for immediately brightening the most shadowy area on our face, whether it's from dehydration, allergies, fatigue, or just genetics." McKay recommends Bobbi Brown Buff lip gloss and Laura Mercier and Tarte concealers.
Carola Myers
"My Eyebrow Defining Palette, in medium, by Ardell. It is such a versatile item; it includes three colored powders, two petite angled brow brushes, a sponge-tip applicator, and tweezers. It works for brunettes and blondes, and mixing the two colors [works] well for auburn brow tones. [You can] mix the deeper brown colors with a soft black pencil for darker eyebrows."
Carl Ray
"Pretty makeup starts with a great canvas. So if I had to choose one product, it would be a tinted moisturizer with a built-in SPF—Laura Mercier makes a fantastic [one]. I like clean, even, polished-looking skin. Moisturizer is necessary for beautiful skin, and the tint will help even out skin tone, [plus] the SPF protects the skin."

Adrian Avila
"If I lost my makeup bag, the first thing I would re-buy would be a blush brush and some blush. We're going into winter, and let's face it, ladies, we are losing our color. Nobody wants to be washed out!"
Kimberly Steele
"The very first thing would be L'Oréal Voluminous mascara in Carbon Black. It's fantastic, long wearing, and super cheap! And the extra-dense black color makes every eye color pop."
Victoria Stiles
"I'd definitely replace my FACE atelier Foundation. In my makeup applications, skin is the primary focus. If I don't have my foundation from FACE atelier, my entire look is off."