Who: Eric Schulze, 29
Molecular biologist, US Food and Drug Administration
Creative director and organizer, ThirstDC
What he does: By day, I am a genetic, molecular, and cellular biologist with a specialization in embryonic stem cell biology at the FDA. I also run Thirst DC. We create and foster thought leaders through short, highly curated talks in a lounge environment. Every night I'm writing or editing outlines for future talks, discussing the notes with current speakers, and developing the visuals to accompany them.
Describe your work style:
The general sartorial vibe at the FDA is very casual, but I tend to be a bit more formal because that's how I feel comfortable. I rock a mix of dandy touches, early-20th-century tailoring, and a flourish of hip-hop. For Thirst events, I'll add or take away pieces from my work outfit to up the style quotient. Rocking vintage Red Wings instead of wingtips or popping in a colorful pocket square (which I am obsessed with) can change an entire outfit's feel.
Outfit One: In the office writing emails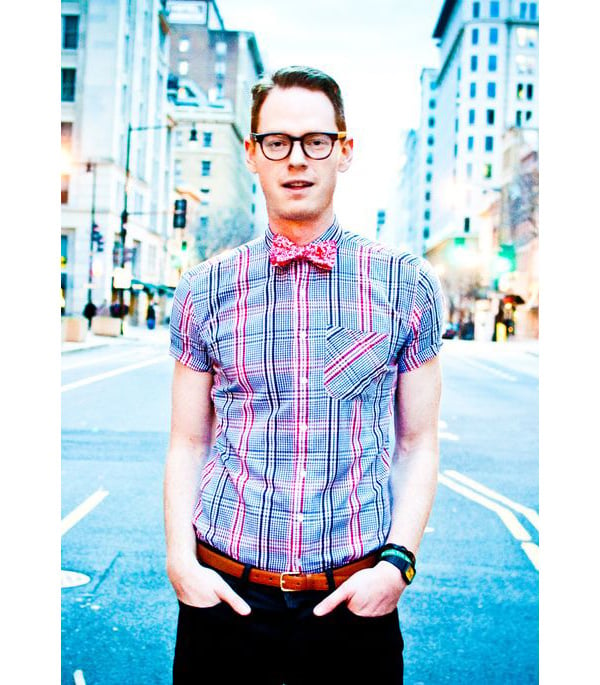 I like to flip the idea of what's expected of a federal employee. With or without a sport coat, this is just dandy enough to work anywhere for my day job and at any Thirst function later that night. This outfit makes me feel fun and competent.
American Apparel shirt, custom Eliot Payne bow tie, American Apparel belt, Uniqlo jeans, vintage Tart glasses, and vintage Casio wristwatch.
Outfit Two: Casual Friday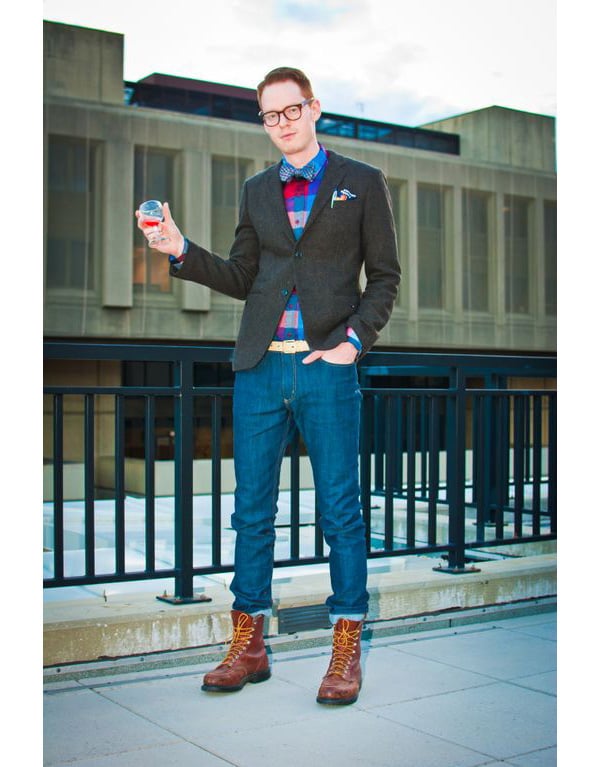 I would rock this on a Friday or on a day when the weather might not be so dry. It's an example of a look that can be worn day to night, and makes me feel larger than life. I like the idea of mixing industrial workwear with traditional office attire.
Vintage button-down, Uniqlo wool blazer, vintage pocket square, American Apparel belt, Urban Outfitters jeans, vintage Red Wings from Dr. K's, Eliot Payne bow tie.
Outfit Three: Internal meeting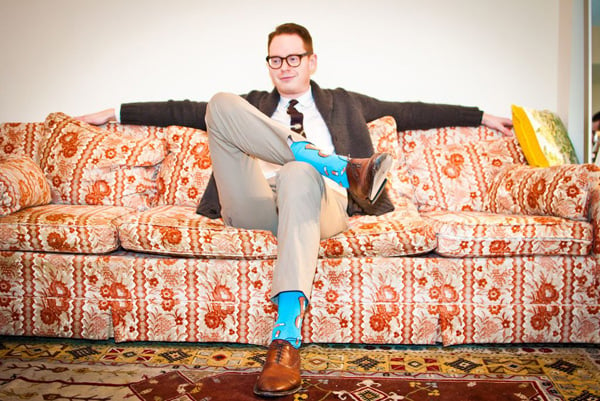 A little more formal in fabric, but I nixed the suit and donned a shawl collar instead. This would be appropriate for occasions not requiring a complete formal interaction—maybe an internal meeting or a solid day of writing. This outfit makes me feel professorial, and a little cheeky. Best part: Every single one of these outfits can be transitioned to a Thirst event later that night. And that always puts a smile on my nerdy face.
Ben Sherman trousers, Uniqlo wool sweater, Allen Bradley wingtips, Urban Outfitters socks, and vintage white button-down, silk tie, and tie clip.
Think you or someone you know has fantastic work style? E-mail szlotnick@washingtonian.com with pictures and a job description, and they could be featured here!