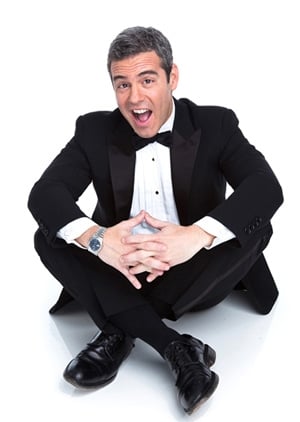 He's chatty, he's sassy, he knows how to navigate a room full of table-tossing Housewives–he's Andy Cohen, and in May he's coming to Washington as the VIP guest at Front Row, Bethesda's three-day fashion and style blowout. Cohen, the producer behind fashion-centric Bravo hits like Project Runway, The Rachel Zoe Project, and Top Design (yes, he does the Real Housewives, too) will be the celebrity eye candy at Front Row's runway show on Friday, May 18. The show, which last year featured an appearance by NYC PR guru Kelly Cutrone, is held at a stage/runway erected on Bethesda Lane; participating stores include Urban Chic, Sassanova, Ginger, Wear It Well, and Luna. Post-catwalk, Cohen plans to sign copies of his new book, appropriately titled Most Talkative.
In addition to Cohen's appearance, the three-day celebration of Bethesda fashion goodness that is Front Row will include the exclusive local screening of the documentary God Save My Shoes, an award-winning film that delves into what's behind a woman's relationship with her shoes, because you better believe there is one. With appearances by Manolo Blahnik, Dita Von Teese, Pierre Hardy, Robert Clergerie, and, yes, Christian Louboutin, God Save My Shoes has been a critical and audience favorite since its release last year. A Q&A with the producer, Thierry Daher, will follow the screening.
All told, this year's Front Row, the fourth, will feature more than 40 in-store trunk shows, a kid-focused day with activities, designer appearances, book parties, and sales galore. Final details have yet to go live, but keep checking bethesdarow.com for more info.