Walking into the DC Design House for a "bare bones" tour in February, it was hard to imagine that the 10,000-square-foot Colonial would eventually become the stunning space we caught a glimpse of at yesterday's press preview. Not that it didn't have potential–gracious, light-filled spaces crowned with luxe moldings and grounded in hardwood floors abounded–but it's safe to say the home was in need of a little facelift to bring it out of the 1980s (check out the virtual "before" tour here).
What a difference nine weeks can make: Twenty-three of Washington's premier designers chipped away dated ceramic tile, carted out enough gilded crystal chandeliers to light up a provincial chateau, and transformed one incredibly royal-blue kitchen–all in the name of the Children's National Medical Center.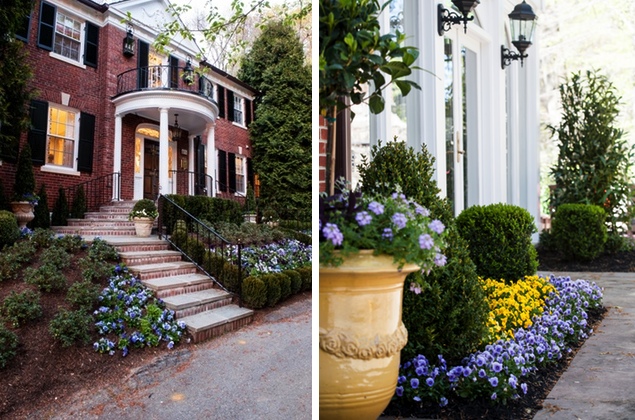 The transformation begins outside, with a D&A Dunlevy-designed boxwood-and-peony entry garden that climbs from the street–a gorgeous, tree-shaded stretch of Spring Valley–to the red-brick home. Upon entering, you're met by a knock-your-socks-off chandelier (midcentury modern! brass! dangly!) in John Matthew Moore's foyer. Off the entry is a duo of serene, neutral spaces that empty into one another– Annette Hannon's sophisticated parlor (complete with a Farrow & Ball-papered bar closet) and Marika Meyer's chic gray-and-cream "morning room." Though we're still not quite sure what a morning room is, we definitely want to live in this one.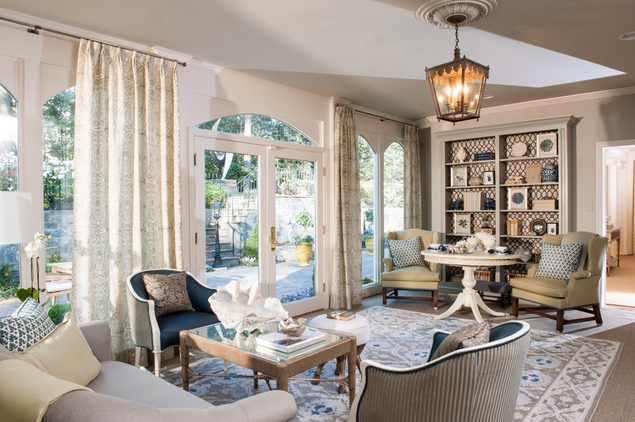 Meyer's starting point was a luscious Oushak rug, around which she developed a neutral palette with pops of citrine and bold blue. An impressionist Robert Rea painting in the same palette was the crowning jewel: "When I visited his studio, it was on his easel," says Meyer. "I had goosebumps!"
If Meyer's morning room is a tranquil place to start your day, then Kelley Proxmire's sunroom–called "l'Orangerie"–is where you come when you need a jolt of energy to make it through the afternoon. Proxmire never shies away from color, and this light-filled space imbued with bright orange is no exception. "I wanted to it feel light and airy but have the grandness of a place like Versailles," she says. Perhaps that's why a Manuel Canovas toile serves as the focal point.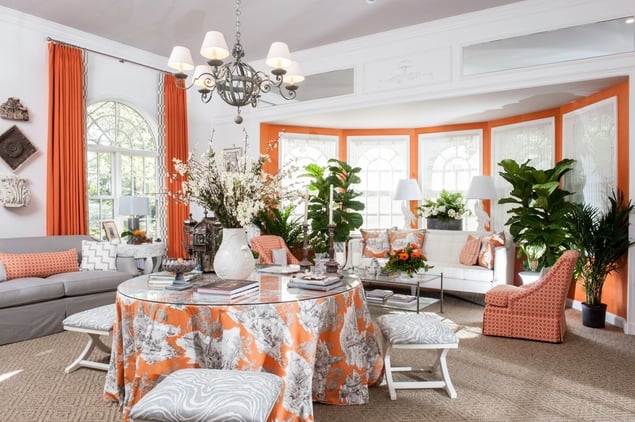 Also on the first floor is Dan Proctor's family room, a sleek, contemporary space livened up with cozy ethnic fabrics and bits of whimsy, such as a vintage typewriter and an enormous black-and-white print of Marilyn Monroe on the set of The Misfits. We loved the space's functional layout–which included a gorgeous window-facing desk area with yellow leather chairs we're still thinking about–and its completely livable furnishings.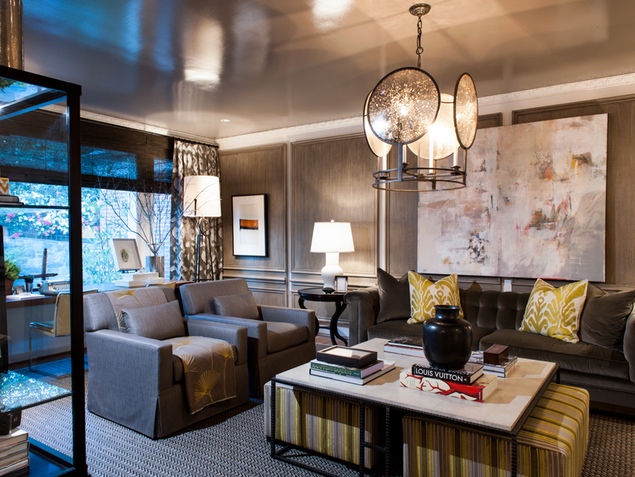 Then there's the kitchen. We were blown away by what designer Nadia Subaran was able to do with the space in the limited time she was given. Subaran's design–clean and crisp, with oyster-gray cabinets, a quartzine-topped island, and a stunning mother-of-pearl backsplash–took what was best about the kitchen (the light) and made it even better.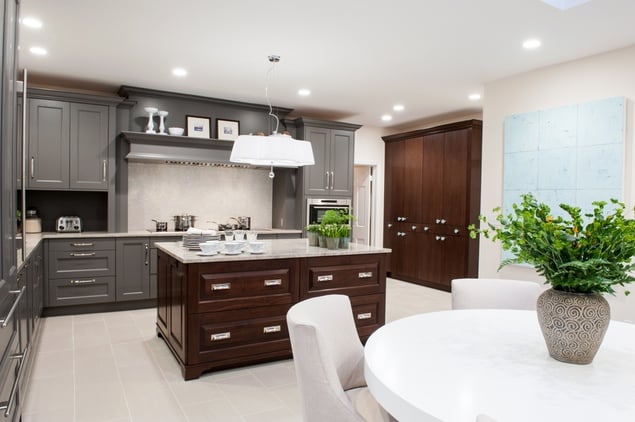 Upstairs, we loved the glam "master sitting room" designed by the equally glam Tricia Huntley. "A room like this is such an indulgence, I thought you might as well go with it!" says Huntley, who turned the room into what she considered "midcentury funky-sexy." We were also wowed by what Shannon Munn and Amanda Welch of Ambi Design Studio were able to do with a narrow deck off the master suite. "It was sort of the evil stepchild–it had never been beautiful," says Welch. Now it's a canopy-shaded space that beckons with cozy couches and interior-worthy accents.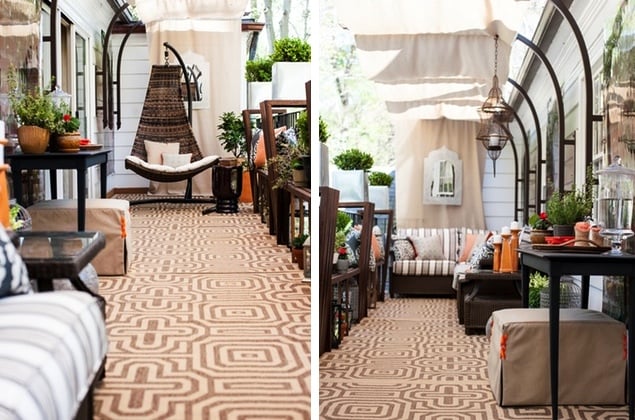 Another favorite was a tiny upstairs bathroom, which, in the hands of Christopher Patrick, became a magenta-and-burgundy jewel box. Thanks to Patrick, we now want to paper every square inch of our walls, and won't be happy until our shower is outfitted with a teak shower tray.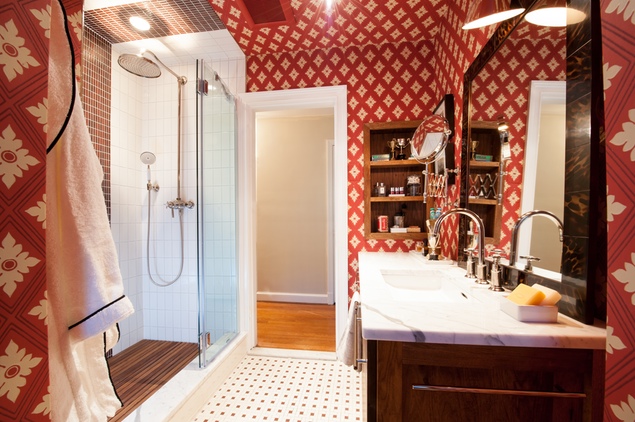 There's much more goodness, too, like Nancy Twomey's sweetly subtle little boys' room and Victoria Sanchez's Missoni-smothered teenager's getaway. To see the rest, though, you'll have to pay a visit to 4951 Rockwood Parkway starting this Saturday through May 13. Tickets are $20, and all proceeds benefit the Children's National Medical Center. Can't wait until Saturday? Whet your appetite with this slideshow of some of our other favorite spaces.