Ever since we saw the breathtaking master sitting room at the DC Design House, we've been a little obsessed with the work
of designer
Tricia Huntley of Huntley & Co. We can't get enough of her unexpected mix of modern and classic elements, and her rooms teeming with layers
of color and texture.
Though Huntley has been a Washingtonian for 15 years, she credits her time spent in Minneapolis and her Scandinavian heritage
for her design style, which she describes as "laid-back glamour with unexpected details."
"With all my projects I try to create a look that's both striking and warm," she says. "My goal is always to create rooms
that wow you at first and then invite you to stay."
While Huntley says she doesn't have a signature look in the conventional sense, she relies on five main tools time and time
again to ensure that all her spaces exude the warmth she has become known for creating.
Mirrors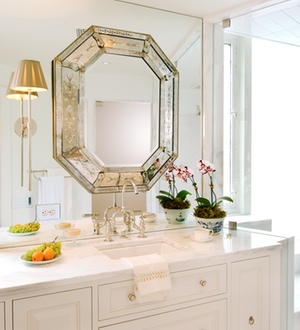 "Mirrors offer practical solutions in an elegant
package. They bounce light around and make a space look bigger. I have
added
mirror to walls in awkward spaces, set them in paneled doors in
dressing rooms, and layered them in bathrooms. It's such a
simple way to solve a problem and make an impact."
Wallpaper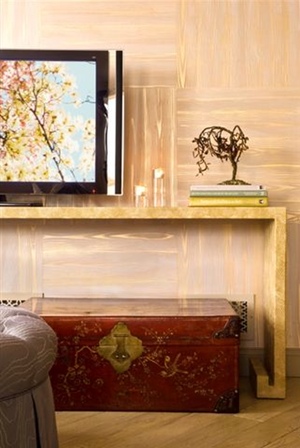 "I love wallpaper, and use it in every project. A subtle grasscloth will add texture and nuance as well as buffer sound, while
a large-scale pattern in a bold color can transform an ordinary room into a showstopper."
Drawings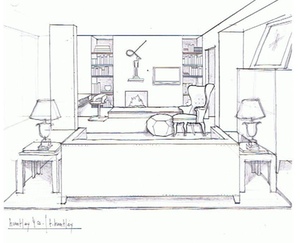 "My first love is drawing. I was drawing floor
plans when I was still in grammar school. Now I do most of my work in
Autocad,
but the same concept applies. Studying a space on paper
provides me with a sense of how all the elements (architecture,
furniture,
floor coverings, lighting) in a room will relate to each
other. Will that corner be dark without additional lighting? Do I
need to add a large rug to ground the furniture arrangement? Do
we need a dose of chartreuse over here to balance out the
green velvet sofa over there? I solve these problems in
advance, so my clients don't pay for mistakes later."
Vessel Sinks in the Powder Room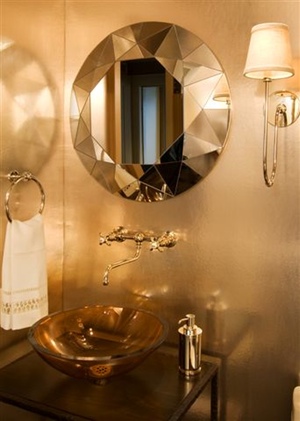 "Some people hate this look, but I'm not sure
why. I return to it again and again in powder rooms. It provides a
statement-making
opportunity and is actually very practical. I've installed an
onyx bowl on an antique Swedish side table, a glass bowl on
a floating Portoro marble slab, and, in my own powder room, a
petrified wood bowl on a modern white nightstand."
Millwork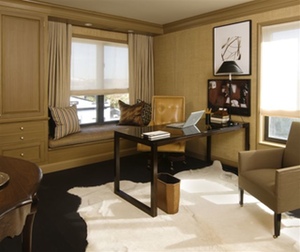 "Addressing the 'envelope' of an interior is
always numero uno on my design agenda. So many homes are built cheaply,
especially
when it comes to millwork. Replacing skimpy moldings with more
substantial trim will give your home substance. Be sure to
select a style that is architecture-appropriate. A colonial
profile does not belong in a midcentury house. And don't think
crown molding is always necessary; a room with short ceilings
will look better sans crown, with the walls and ceiling painted
the same color."