Who: Maria Cooke (35) and Kelly Seizert (29)
Owners & Event Designers, Ritzy Bee Events
What they do: When we are in our studio (The Hive at 1511), we can typically be found in meetings or planning our upcoming weddings and events. Our day there is split 50/50 into design and planning time. Design time entails sketching concepts for clients, storyboarding ideas and sourcing/shopping for everything that goes into events, from arm chairs to zip ties. Planning time means managing production time lines, creating floor plan renderings and constant communication with our wonderful clients and family of vendors. We also spend a lot of time on the road throughout the year doing site inspections, design presentations and what our jobs are really all about . . . producing and managing events.
Describe your work style: We try to be an extension of our brand–our style is reflective of the parties and events we create. Maria gravitates toward smart basics with unexpected details while Kelly has a little more prep in her step. Kelly's go-to pieces are Paige denim jeans, white Brooks Brothers slim fit shirts (collar popped), Tuccia Di Capri sandals, and a personalized Gucci bag. Maria can often be found in Ralph Lauren jeans, J. Crew vintage tees, cashmere sweaters and her Cartier trinity band.
Outfit 1: Event Setup and Styling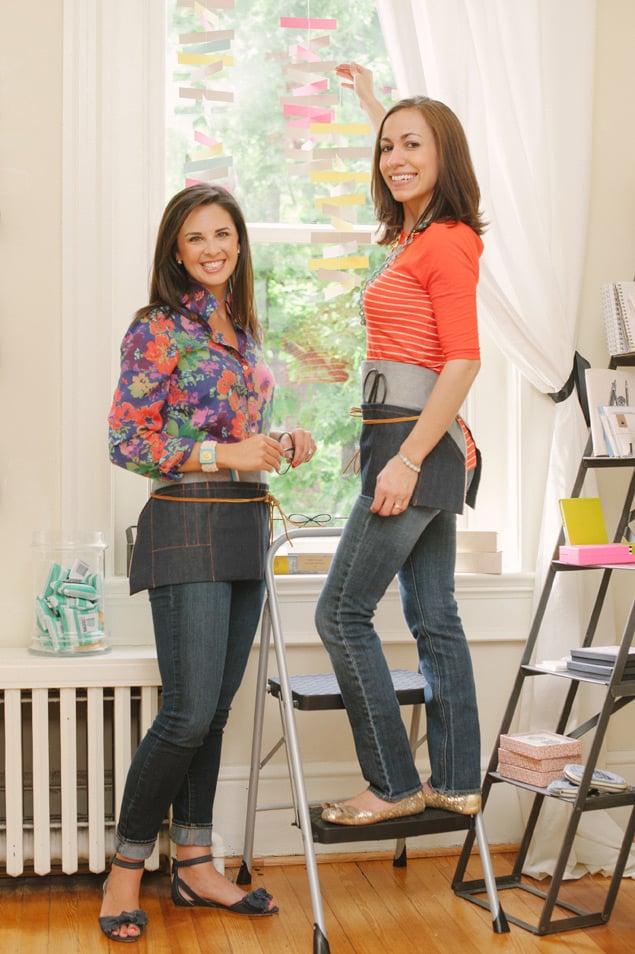 Flats! On event days, we're often on our feet for 16-plus hours doing installation and setup so comfort is a necessity. We work like part of the team–scaling ladders and scaffolding–and our outfits must be able to accommodate. We wear our denim utility aprons to keep iPhones, floor plans, scissors and styling tools handy.
Kelly (left) wears a J. Crew blouse, Paige denim skinny jeans, Vera Wang flats, and a Tory Burch cuff. Maria wears Jean Shop denim, a J. Crew T-shirt, Kate Spade flats, and jewelry from Tiffany.
Outfit 2: Client Meeting at the Office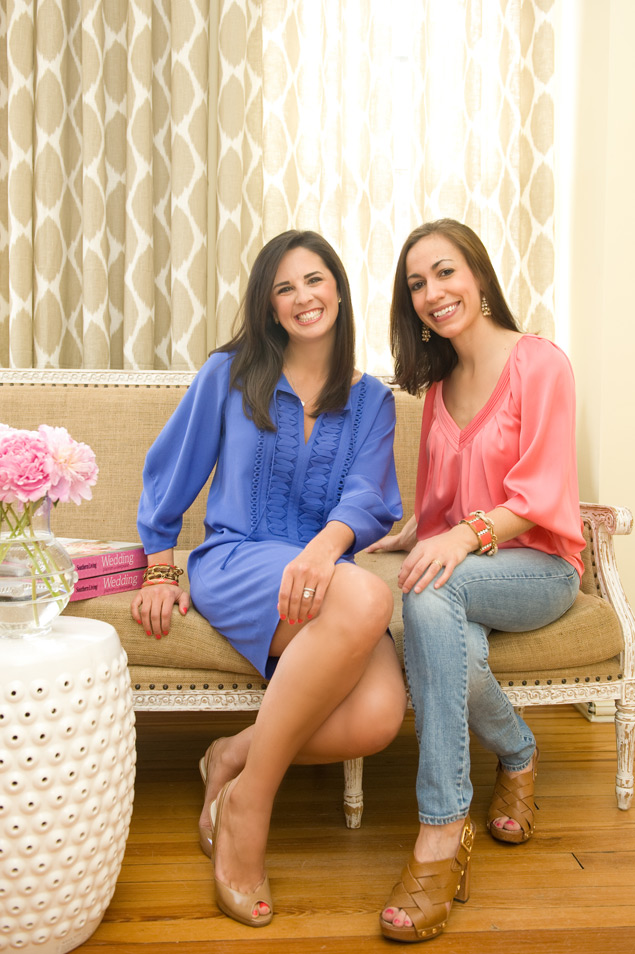 We like to be colorful and comfortable. Things that are easy to wear and still look fresh at the end of a long day help us transition from day to night for evening appointments (and meeting our significant others for a late dinner date).
Kelly wears a DvF dress, Michael Kors wedges, and J. Crew accessories. Maria wears Ralph Lauren distressed skinny jeans, a DvF top, Tory Burch sandals, and J. Crew accessories.
Outfit 3: Working a Wedding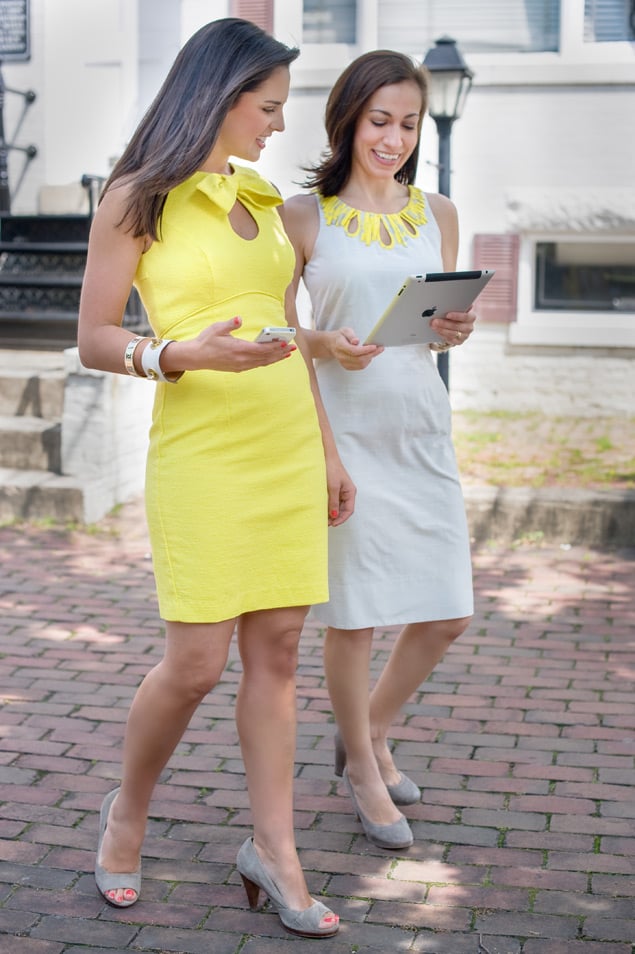 We may work in Washington but we always try to dress similar to the guests . . . no black suits or headsets here! Dresses and pencil skirts are our go-to's . . . and scoring a dress with pockets is always a bonus since we always have an iPhone and/or iPads in hand.
Kelly wears a Trina Turk dress, Boden heels, and bracelets from Kate Spade and Coach. Maria wears a dress and shoes from J. Crew and David Yurman bracelets.
All photographs by Abby Jiu.
Think you or someone you know deserves a chance in the What I Wear to Work spotlight? Email szlotnick@washingtonian.com with pictures and a job description for consideration.