Who: Dwayne Brice, 30
Store manager/associate buyer, Hu's Wear
What he does: I manage the day-to-day operations of the store, which includes everything from hiring employees and profit forecasting to vendor communications and personal shopping. As associate buyer, I'm charged with seasonal purchasing for Hu's contemporary and designer lines (labels include Donna Karan, the Row, Proenza Schouler, Celine, and Lanvin) and assisting the buyer with selling reports and tracking and planning deliveries and reorders.
Describe your work style: Moody. I dress based on my temperament, and as a Scorpio, that can change at any moment. I love dark and brooding, but I find ways to insert color, texture, and patterns. Working in high-end retail has definitely opened my eyes to the importance of quality fabrics and enduring design. Thus, I advocate investing in "forever" pieces, be it a black cashmere V-neck sweater (I could wear one every day) or a great leather bag (I'm never caught without one).
Outfit One: Standard Day at the Store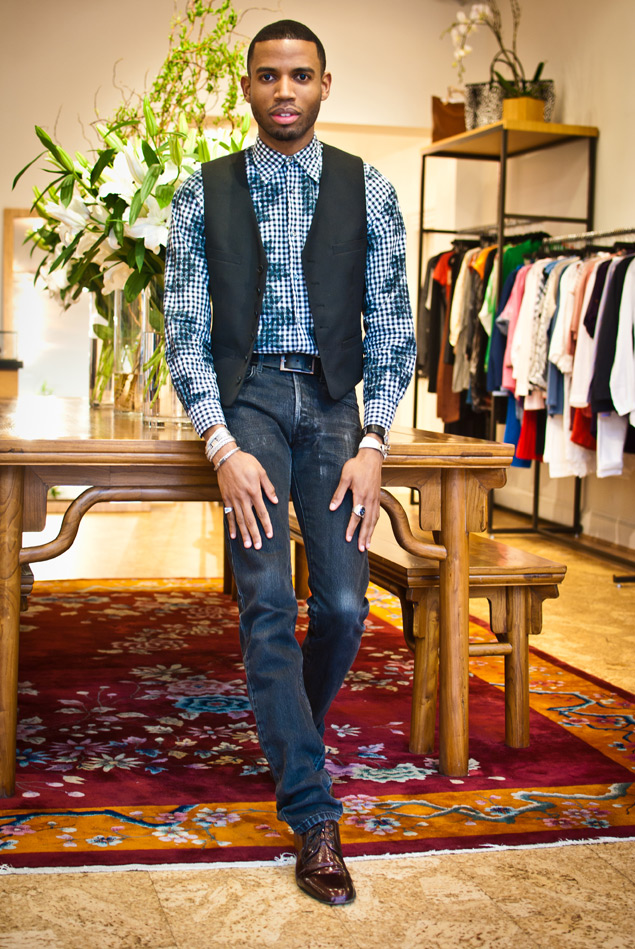 This is a staple work outfit for me: a great pair of jeans, a tailored shirt, a standout shoe, and loads of jewelry. It's a mixture of ease with a hint of formality. Quality pieces stand the test of time, and I have had everything in this outfit for years.
Jil Sander Shirt, vintage vest, Dior Homme jeans, Lanvin shoes, and jewelry by Louis Vuitton, Hermés, John Hardy, Philip Stein, and Jessica Biales.
Outfit Two: Workin' on the Weekend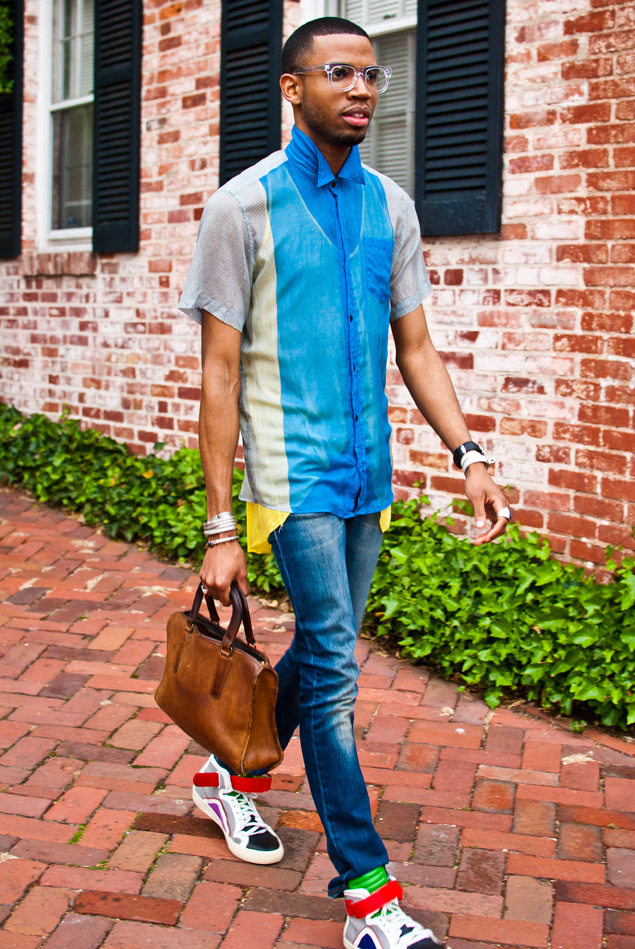 The weekends are our busiest periods, and this outfit allows me to have some fun while I run around. Plus afterward I can chill with my 9-to-5 friends who are lucky enough to have the weekend off.
Dries Van Noten shirt (worn with Helmut Lang tank underneath), Nudie jeans, Pierre Hardy sneakers, vintage bag from Dr. K on U Street, Retrosuperfuture sunglasses.
Outfit Three: Evening Event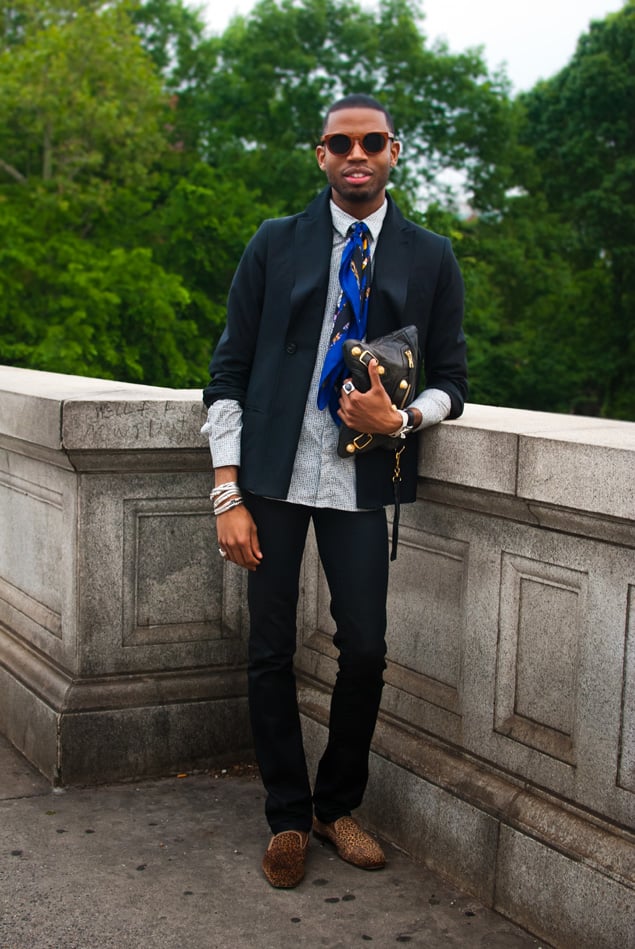 A classic blazer is great transition piece for taking your day look to evening. I throw on a silk scarf, grab my favorite clutch, and I'm off! In a flash, I'm dressed for a cocktail party, a gallery opening, or dinner at Citronelle.
APC blazer, Jil Sander shirt, J Brand jeans, Maxime Simoens scarf (worn as a tie), Balenciaga clutch, Stubbs & Wootton slippers, Illesteva sunglasses.
Outfit Four: Traveling for Business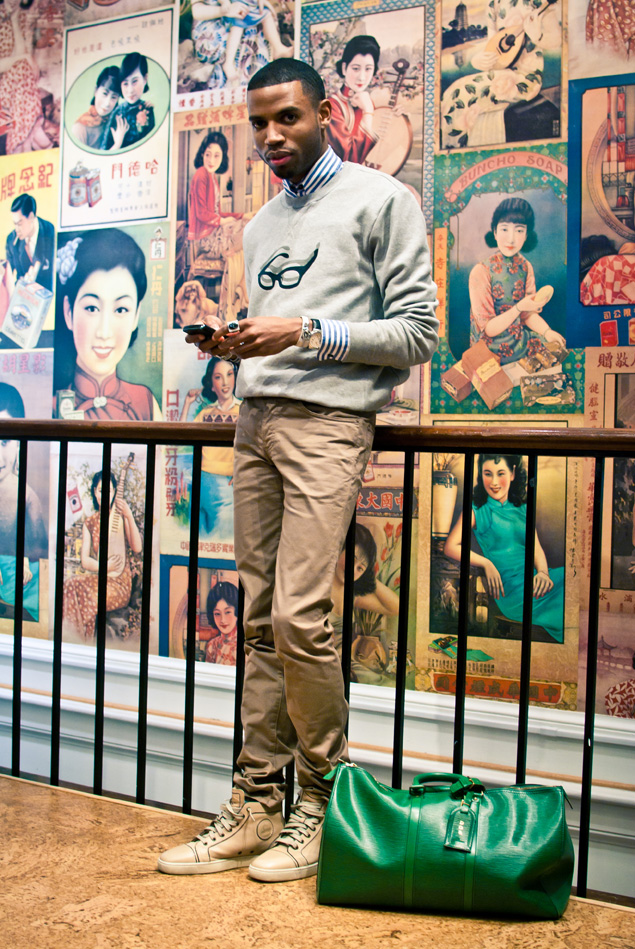 Yes, I do dream of wearing sweats–but only if I can style them in a dressy way. You say oxymoron, I call it a challenge. This sweatshirt works with jeans, shorts, or pants. I typically travel in this outfit and always have a fun carryall in a pop of color. It adds some life to an otherwise utilitarian accessory.
Victor & Rolf sweatshirt, Balenciaga button-down, Christian Louboutin sneakers, Louis Vuitton duffel bag.
Think you or someone you know deserves a chance in the What I Wear to Work spotlight? Email szlotnick@washingtonian.com with pictures and a description for consideration.
All photographs by Kate Warren.