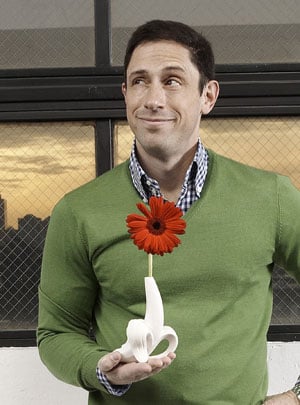 It's hard not to smile when the petite
Jonathan Adler bounces into a room in crisp
white pants and a checkered shirt. But that's to be expected; after all,
the designer has made
a career out of the words "happy chic." Speaking to a nearly
sold-out audience at the
Corcoran
on Tuesday, Adler set the tone of his talk by opening with a
joke. Pointing to an image of a bearded, disheveled hippie on
the screen behind him, the first words he spoke were, "Ohh,
there I am!" Once the laughter fizzled out he launched into the
story of his "improbable and accidental career."
Adler spent his entire childhood dreaming of being a
potter, and after taking courses at Rhode Island School of Design, he
approached his professor to ask whether she thought he had what
it took. The professor, whose name "begins with a J and ends
with ackie Rice," answered with a resounding "no" and advised
him to pursue a career in law. Disappointed, he moved to New
York and found a job in the movie industry.
"Luckily, I proved to be incompetent and unemployable and found myself fired from four jobs," Adler said. "I decided to try
to forget about Jackie Rice and follow my heart. I got a studio and just started making pots."
Still self-conscious after the confrontation with his
professor, he hesitated to show anyone his work. But with encouragement
from his parents he called up Barneys New York, which sent
representatives to his apartment to view his work. They placed
an order, and Adler's pottery career was born. Well, after he
learned what an invoice was and how he wouldn't get paid without
sending one (true story).
With his 18th storefront set to open July 6 in
Georgetown, Adler shows no signs of slowing down. He's currently
designing
a new line of hair-inspired pots (think Flock of Seagulls and
afros) and working to make needlepoint "groovy again," and his
fourth book is due out this fall. Though he has pulled back on
interiors, he is looking to start working on more industrial
designs, such as the line of colorful sinks he just launched
for Kohler.
"I'd love to do a car or appliances," he said.
He opened the door to questions by inviting guests to
ask him their most "hard-hitting, inappropriate, and perverse" queries.
The audience responded with proclamations of not-so-secret
crushes and pleas to be hired. Our own question, naturally, was
Washington-based—we wanted to know which local home he was
dying to get inside.
"You have to go for the top—the Obamas', of course," he said.
After the talk, exemplifying the same sunny disposition that has made his art famous, Adler stayed to autograph books and
snap photos with his many fans.
Related:
Designer Jonathan Adler and the Art of the Bridal Registry