Ayan Bagchi and Nikoletta Theodoropoulos's favorite Jagged Edge song played as they entered their wedding reception at the Four Seasons Washington on March 10, but "Where the Party At" had to be the last question on anybody's mind. Following two ceremonies that elegantly wove Nikoletta's Greek Orthodox roots with Ayan's Indian heritage—wedding planner Alexandra Strawn of Cherry Blossom Events dubbed the day "Bollywood goes Greek"—one thing was certain: The party was there.
"It was an incredible blending of two different cultures and wedding philosophies into one eight-hour event," says Ayan, who works at a consulting firm. "We had two cocktail hours, two ceremonies, tons of dancing, and amazing food."
Ayan, who grew up in an Indian-American family in Tennessee, and Nikoletta, raised in Alexandria with a Greek father and an Irish-American mother, met at the telecommunications firm where they both worked in July of 2009. "We had parallel-level positions and started out as friends doing lunch," says Ayan. A little more than a month after they became colleagues, he asked her out for drinks at Circle Bistro, which led to dancing at Shadow Room, and the two realized they clicked. "In the beginning, people thought we were an unlikely pair," says Nikoletta. "Ayan is super extroverted, and I'm a bit more measured. We always joke, half-joke, actually, that it was Ayan's persistence that finally brought us together. He knew there was something special there, and he really fought to make it happen."
Two years later, in April 2011, Ayan proposed. "He was determined to propose on one particular day, at the Georgetown Waterfront," says Nikoletta. "But that day was the worst weather—[the Waterfront] flooded!" The couple returned home, and Ayan flipped on one of their favorite songs and proposed on the couch. "He was so excited," says Nikoletta. "He didn't even give me a chance to say yes!" The ring was from I. Gorman, a family-owned boutique in Washington. "We've met the designer of the ring, Todd Reed, many times," says Ayan. "He helped me pick a particular one based on Nikoletta's style. It made the experience very personal."
When they began to plan the wedding, they knew they wanted to incorporate both of their cultures and religions, as they had both been raised with strong ties to each. "After a ton of debate—should we combine ceremonies? Do them on different days?—we finally decided to abbreviate both ceremonies and do them at the same time," says Nikoletta. "We thought that was the best way to honor our traditions most fully and allow all of our friends the chance to see both sides of our cultures."
"[They wanted] to have their family heritage come through in meaningful ways," says Strawn, who worked with them to bring special touches to the day. The couple started off wearing traditional Indian wedding garb, with a baraat (an Indian groom's wedding procession) and a celebratory Indian ceremony under a mandap, a traditional Indian wedding canopy. Then (done with the Bollywood, ready for the My Big, Fat Greek Wedding portion), the mandap was transformed, covered with olive branches. Nikoletta changed into a white gown and Ayan donned a suit for the Greek Orthodox ceremony.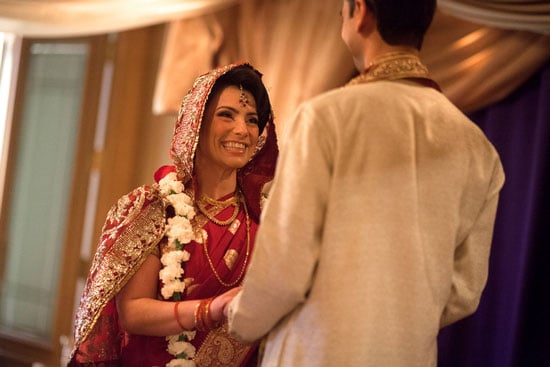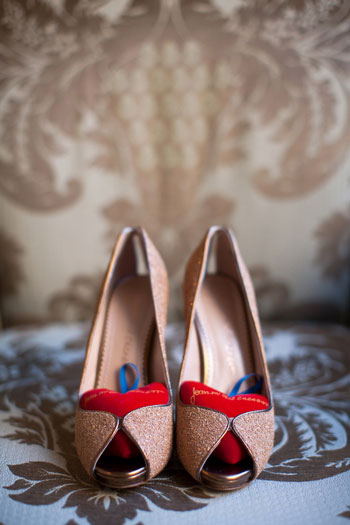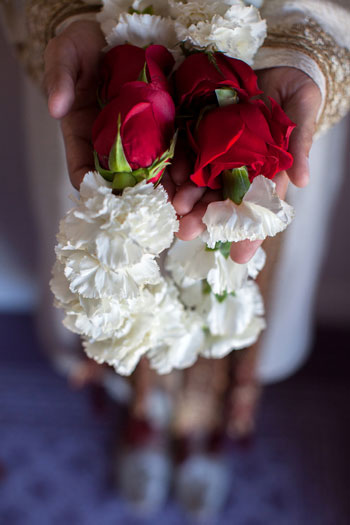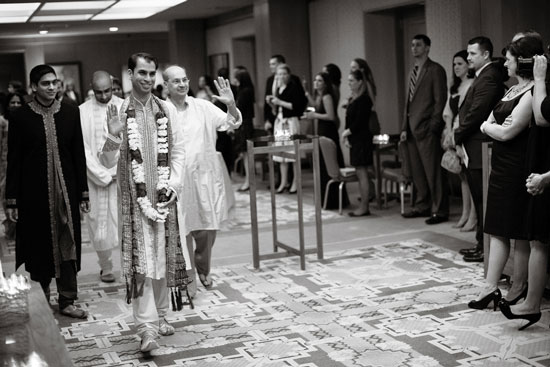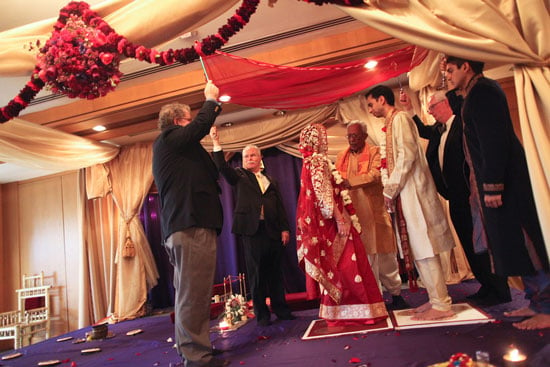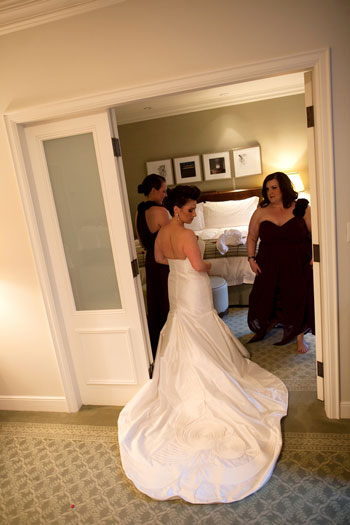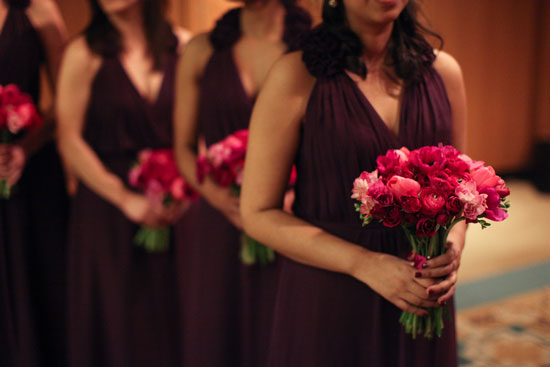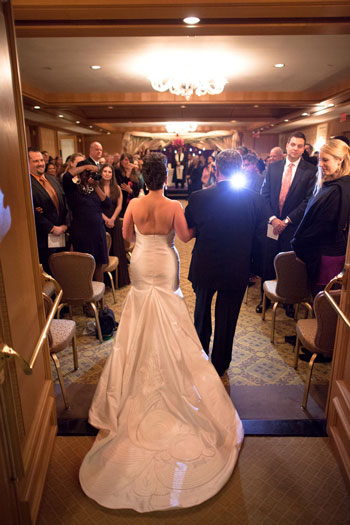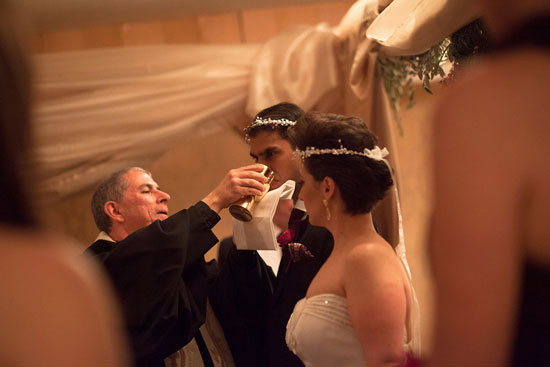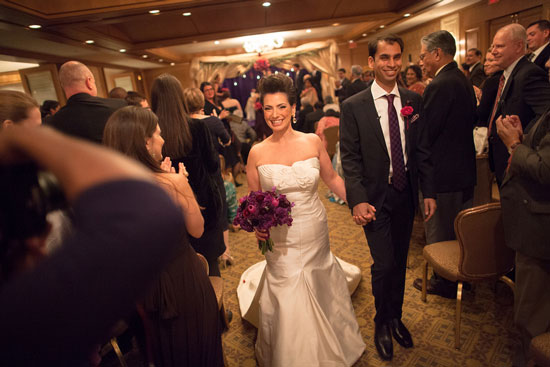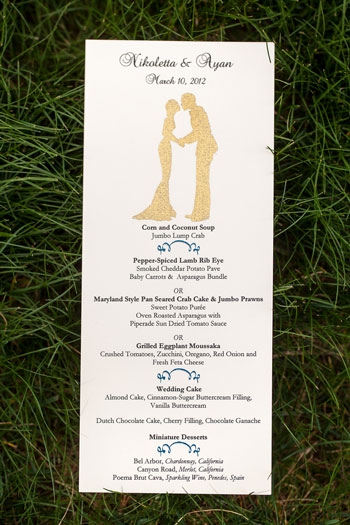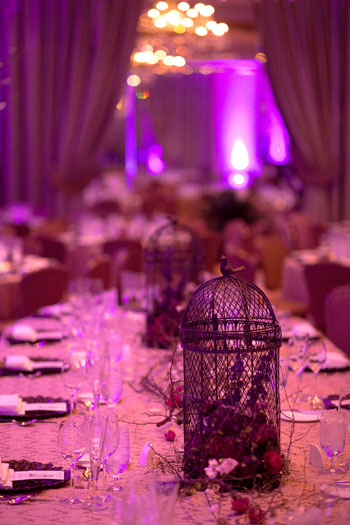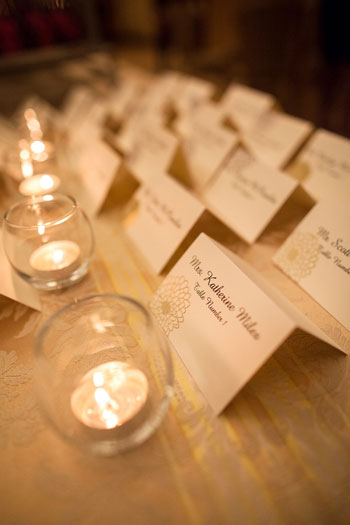 "We wanted both of our cultures
and religions to be represented, but we also wanted the wedding to reflect our personal styles," says Nikoletta. "Typically, in an Indian wedding, the main colors are red and gold, but because our wedding was both Indian and Greek, I decided to change up the colors a bit, and chose gold and eggplant."
The ceremonies and the reception were held at the Four Seasons in Georgetown. "The ballroom was decorated with three different centerpieces and dramatic uplighting, [and] guests danced the night away," says Strawn.
The couple currently resides in Alexandria, and Nikoletta continues to work at the telecommunications firm where they met. The joy of their wedding day is a strong memory going forth, and the couple was more than pleased with how the events played out. "It was an awesome day," says Ayan.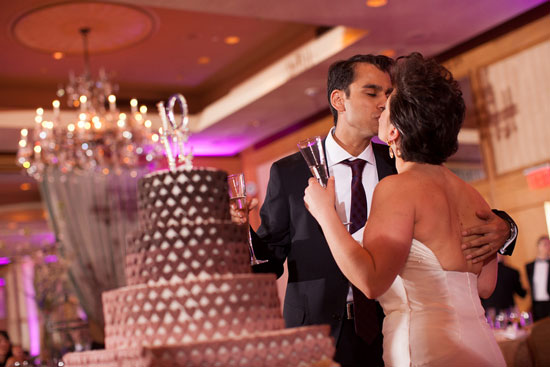 VENDORS
Event Planners: Alexandra Strawn & Alexandra Pare, Cherry Blossom Events
Ceremony & Reception: The Four Seasons Hotel Washington, DC
Officiant: Jeff L. Maszal, 703-945-1566
Photographer & Photo Booth: The Happy Couple Wedding Photography, Joe Brier
DJ: Chris Laich Music Services
Florist: DBI Events
Hair: Peggy Ioakim, Violet Salon
Make Up: Made Up Art, Nour Kazoun, 202-459-1387