Who: Meredith Fineman, 25
CEO of FinePoint Digital PR; freelance writer and founder/editor of TheFFJD and Girls Aren't Funny
What she does: I wear lots of different hats, and by hats I mean bracelets and heels. I founded my digital PR company, FinePoint, to marry my marketing background with my interests in social and digital media. I'm also a freelance writer for a ton of different outlets, as well as the founder of two sites of my own. On a daily basis, I do everything from social media maintenance to new business proposals to pitching bloggers. When I take a break from FinePoint, it's usually to write or eat Chopt. I love having my own business, so that's definitely a perk. My boss loves me! But sometimes she also hates how much toner I use in the copier.
Describe your work style: The industry I'm in lets me wear pretty much whatever I want, and I do just that. My professional style is colorful and somewhat whimsical. I love the combination of business on top (blazers, silk blouses) and party on the bottom (Converse, great denim).
Nighttime Party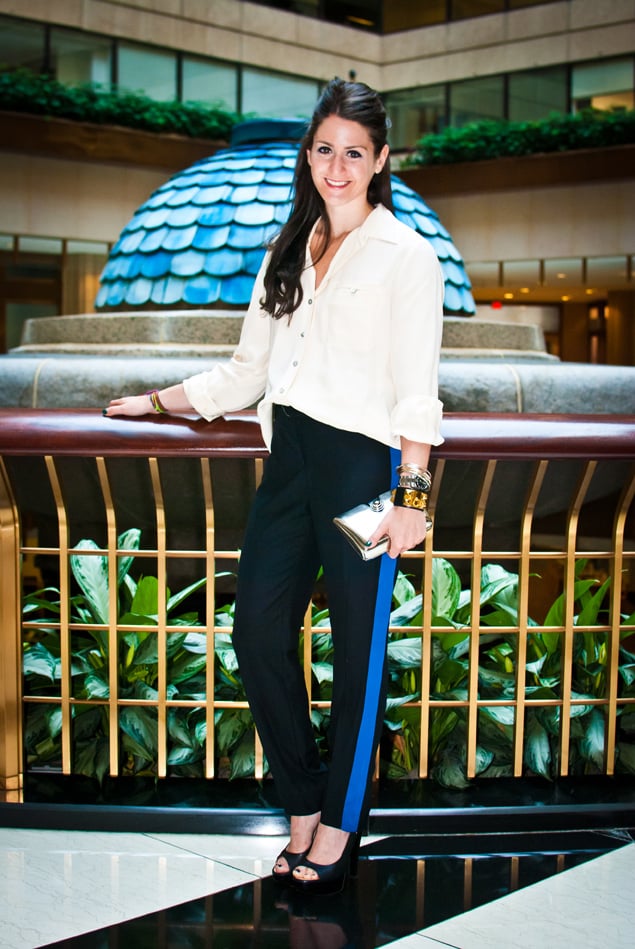 This is my lady tuxedo. I bought these Stella McCartney pants on clearance three years ago from Filene's Basement, when I thought they made me look like a lion tamer. Now they're cool.
Giuseppe Zanotti heels from Ella Rue, vintage blouse and clutch, and bracelets by Hermès and Ippolita.
Typical Day at the Office

I am the Mr. Rogers of Equipment blouses. I love them. This printed one is from Nordstrom Rack—sometimes I get lucky and find them there.
Skirt from Barney's outlet in Leesburg and shoes from Necessary Clothing.
Networking
I love heels. High, high heels. They make me feel tall and important. These are YSL—I can walk in them for about an hour and a half before I cry and return to Havaianas. I go out at night to lots of events, and this outfit is usually my go-to. I'm definitely a separates person.
Paige Denim jeans, Rachel Roy top, blazer from Barneys New York, and Ivicta watch.
All photographs by Kate Warren; hair and nails by Toka Salon.
Think you or someone you know deserves a chance in the What I Wear to Work spotlight? E-mail szlotnick@washingtonian.com with pictures and a job description for consideration.