Back when "shopping was called hunting," Dave Barry once wrote, men had a ball because their mission was simple: Find a "large wad of meat" and kill it. Today, even if you have a simple mission—say, to find a new blazer—things are trickier. And men hate this.
But now, thanks to the Internet, people with great taste and access to great clothes can do your hunting for you through virtual styling (read more about that here). Here's the idea: You fill out a few questions online, and a stylist looks over your responses, picks stuff that should work for you, and sends it to your door. You don't pay for shipping or returns, and there's no obligation to buy anything.
I recently tried out two of these services and loved them both. Trunk Club, out of Chicago, carries more than 50 brands of high-end men's casual wear, including Jack Spade, J Brand, and Billy Reid. After work one evening, I entered my size, color and fit preferences, and wardrobe needs online, and the next day style consultant Lauren Lipton arranged a call to get a better sense of what I was looking for.
"There's no way this is gonna work," I thought. But five days later, there I was tearing the tags off a killer pair of J Brand summer-weight chinos.
Aside from the convenience it offers, Trunk Club is a great way to try new brands, like D.S.Dundee and Eton, which is especially good if your closet is starting to look like the sale rack at J.Crew. But I'm most impressed by the service. I loved a Bonobos blazer I was sent, for instance, but it was too small and they were out of the larger size. Lauren, who could have made an easy sale, advised against having it tailored and saved me from making a $400 mistake.
In all, 16 items arrived in my "trunk," including a great pair of Cole Haan wingtip oxfords, which I also bought.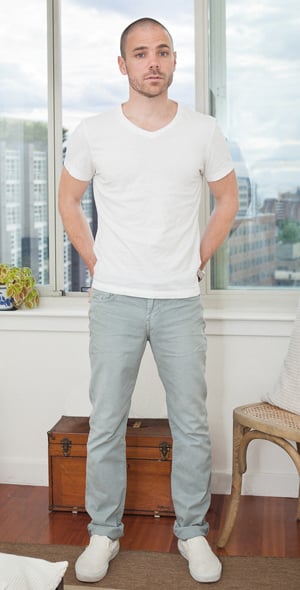 Trunk Club encloses a prepaid FedEx shipping label in the resealable box (and even includes the packing tape), and asks that you return the unwanted items within ten days. Careful, though—if the items aren't received within 30, you'll be charged for the entire contents of your trunk.
The other service I tried is Montreal-based Frank & Oak's Hunt Club. Its model differs from Trunk Club's in that there's no personal stylist. You set up your online profile, and on the first of each month you receive an e-mail that links to your Hunt Club page—think of it as a virtual "trunk"—where items are listed based on your preferences. Only the items you want to buy are shipped. Returns are free.
I ordered the Normandy shirt and was super impressed with the quality and fit. Definitely a keeper. But the coolest thing about Hunt Club is the bargain pricing. Because the company is the "designer, retailer, and manufacturer" of its goods, few items cost more than $45. Plus you earn rewards on all your purchases. The catch? You've got to stay on top of that monthly e-mail—if you don't want anything, you have to confirm that you want to skip that month of the "club," or you're charged a $45 fee.
Still, it's a great service, and because sites like Frank & Oak and Trunk Club work so well, you've got two more reasons to look sharp this year. Even if you hate shopping.