Who: Dannia Hakki, 27
Cofounder and principal, MoKi Media
What she does: With more than 25 DC-based clients in the nightlife, restaurant, hotel, fashion, charity, beauty, and design industries, MoKi Media has a lot on its plate. I started the Georgetown-based PR agency with my business partner, Sherry Moeller, in 2009, and we are constantly finding clever ways to create buzz surrounding the businesses we work with. I specialize in the nightlife, beauty, and fashion divisions of the agency. On any given night, I'll be sliding through the crowds at Lost Society, One Lounge, Eden, Public Bar, and other go-to Washington hotspots. And when I'm not at my desk frantically hitting my keyboard to send out that VIP invite, pitch, or opening press release, I'm standing next to my talented photographer, Dave Phillipich, at one of my venues making sure he gets our money shot.
Describe your work style: With clients in the hospitality and fashion industries, I'm able to dress a bit more risqué than the average Washington public relations specialist. My outfits need to take me from a day at the office to a night on the town, so I stick with business-slinky ensembles that stand out in a room. I'm not too big on funky jewelry, and I like to keep it simple. Anyone who knows me would say my hair is my favorite accessory.
At the Office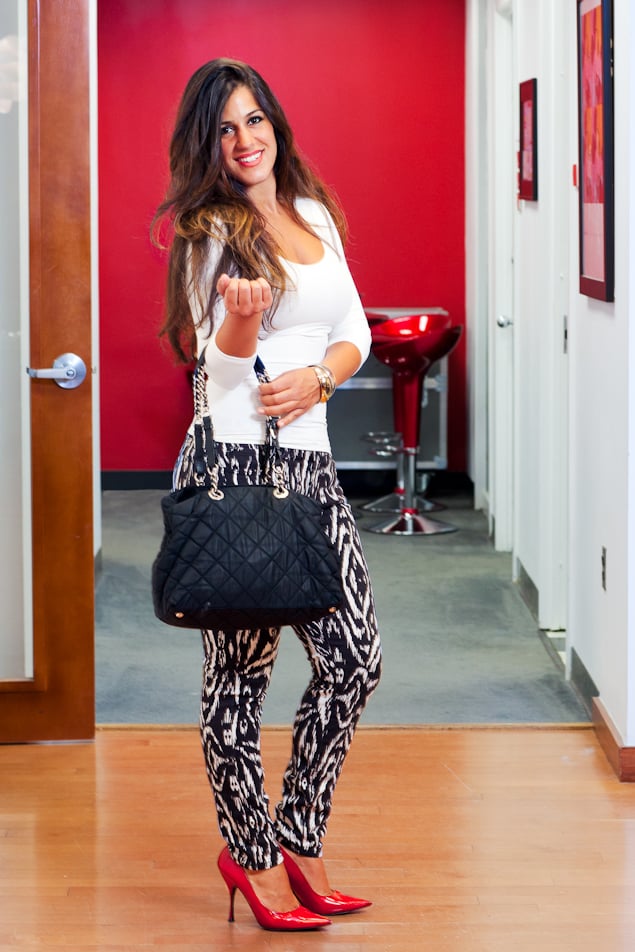 The office atmosphere at MoKi Media is casual. I'm a simple girl when it comes to my tops, so my jeans and pants can get a bit wild. I wear a lot of black and white, so a chic pair of red pumps comes in handy.
Theory top, BDG jeans from Urban Outfitters, Dolce & Gabanna shoes, vintage Prada bag, and Adia Kibur bracelets.
First Meeting with a New Client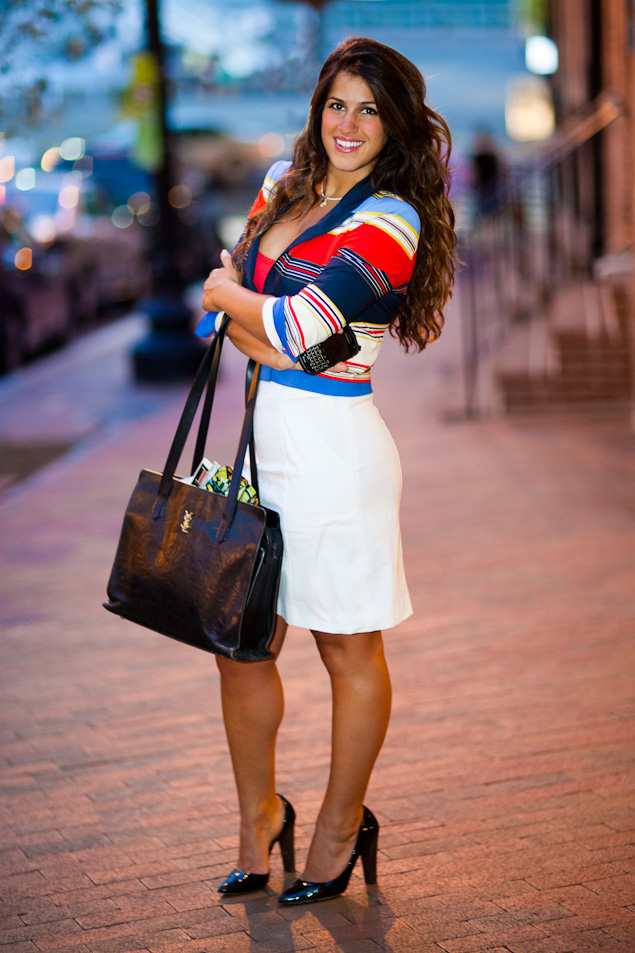 I adore a good blazer, especially one with shoulder pads. When I walk into a new-client meeting in this bright BCBG number, it makes me more memorable for the client. I also take my laptop to all my meetings, and this vintage YSL bag from the '80s holds all my proposal goodies. It was my mother's bag, and it's by far the most beautiful thing in my closet.
BCBG blazer, Theory skirt, Reed Krakoff shoes, and vintage YSL bag.
Restaurant/Lounge Opening Event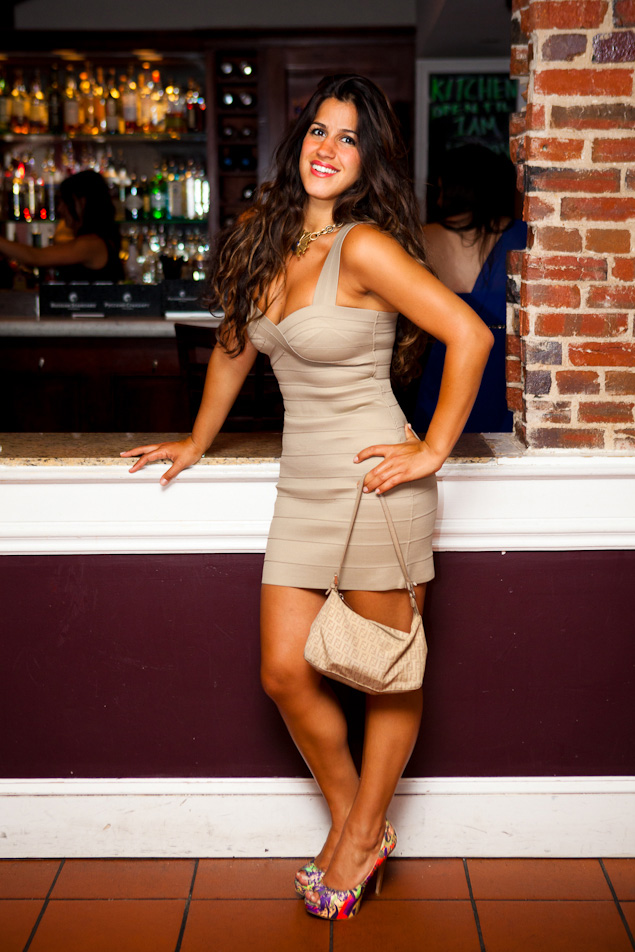 I'm a sucker for earth tones. I adore different shades of brown and beige paired with chunky gold jewelry. As a nightlife publicist, I wear this dress when I'm hosting a new restaurant or lounge opening party. It's elegant yet playful.
Dress from Tobi.com, necklace from Istanbul, Turkey, Fendi bag, and shoes from a boutique in Paris.
Charity Gala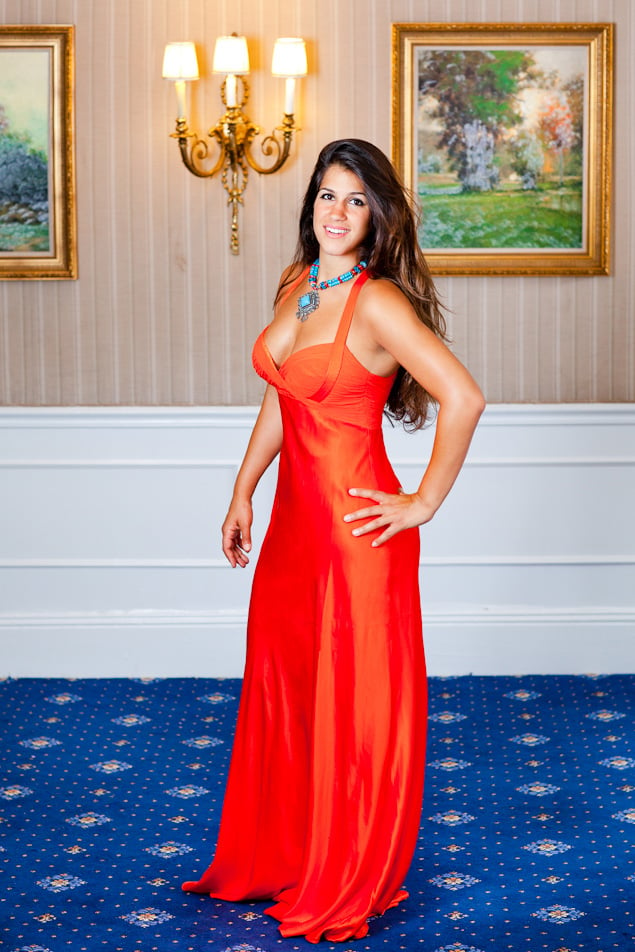 I go to my parents' homeland of Damascus, Syria, every summer, and I'll always make a special trip to the historic souk Hamidieh [outdoor market] to find gorgeous necklaces filled with turquoise. I've had this one for seven years.
Aidan Mattox dress.
All photographs by Dave Phillipich.
Think you or someone you know deserves a chance in the What I Wear to Work spotlight? E-mail szlotnick@washingtonian.com with pictures and a job descriptions for consideration!