Who: Shannon Marie Cusello, 29
Salon manager, Immortal Beloved, costume shop assistant, Catholic University
What she does: As the unofficial hostess of hair salon Immortal Beloved, I am the first and last person our clients interact with. I keep our team and appointments running smoothly, and I also manage all of our social media, salon events, and in-salon education. When I'm working on a show [Cusello freelances as a costume assistance for various theaters and universities], I will leave the salon as soon as we close on Saturday evening and live in the theater for the rest of the weekend, sewing, cutting, dyeing, and styling costumes and wigs.
Describe your work style: Vintage MGM musical meets rock-and-roll glam meets bohemian New Englander. I love feeling like I can run off at any time and join a troupe of vaudevillian tap dancers, or be the road manager for a band's summer tour, or go take up residence in a lakeside artists colony in the Hudson Valley. I am really lucky to work in two different industries in which creativity and self-expression is celebrated. I go outside of the box with my own hairstyles, and it's so fun to encourage our clients to push their own boundaries a little further. I've gone from a jet-black pixie cut to my current flame-hued tresses.
Meetings and Interviews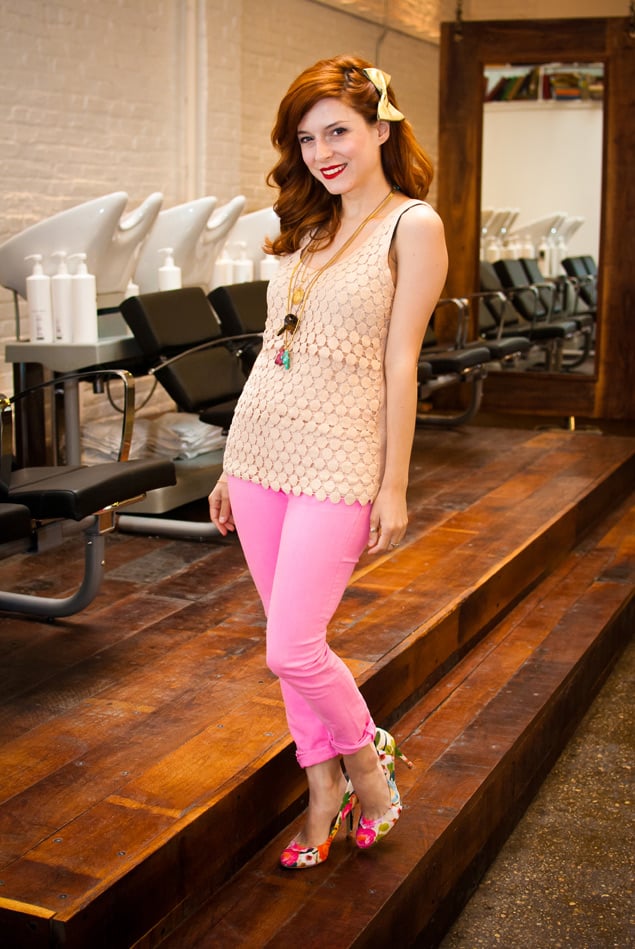 When I'm meeting with product reps or interviewing potential apprentices, I like to look sharp and colorful to command attention. These dainty heels, a basic shell, and a bold-colored pant make me feel extra put-together, but the gold leather bow and dangly necklaces add a little glam touch.
J.Crew shell top, Urban Outfitters jeans, Nine West shoes, and coral necklace and bow barrette by CiaoNina.
Day to Night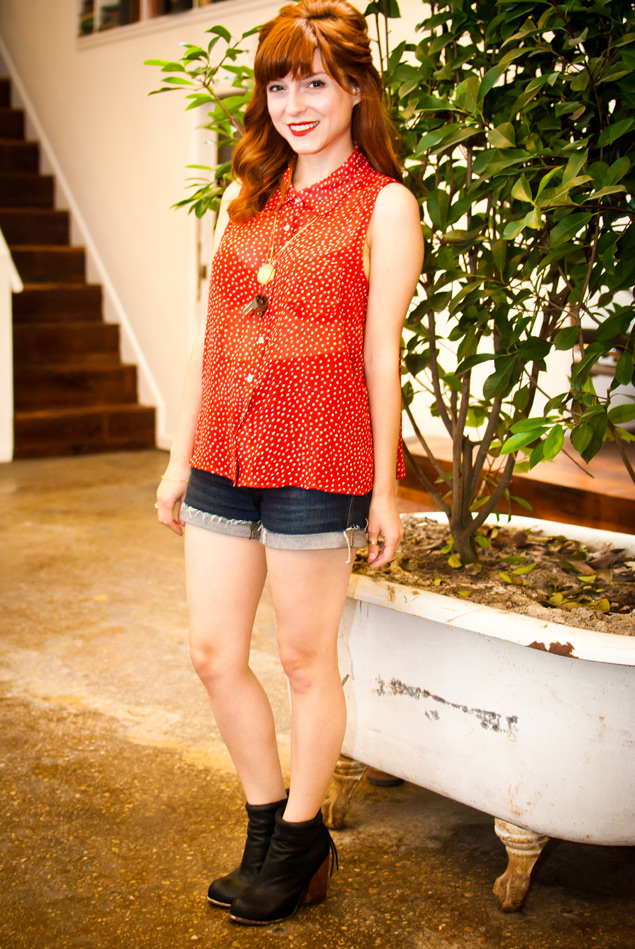 Immortal Beloved is right off of 14th Street, so once we close for the night I'm a hop, skip, and a jump from the 14th and U nightlife. Because we have such a rock-and-roll vibe to our salon, I can make the work-to-drinks transition by wearing high-waisted cutoffs. I balance the edgy shorts with a sheer top sprinkled with sweet polka dots. I'm only four-foot-ten, and these boots make me feel tall and tough!
Forever 21 top, Urban Outfitters jean shorts, and Aldo boots.
Typical Day at the Salon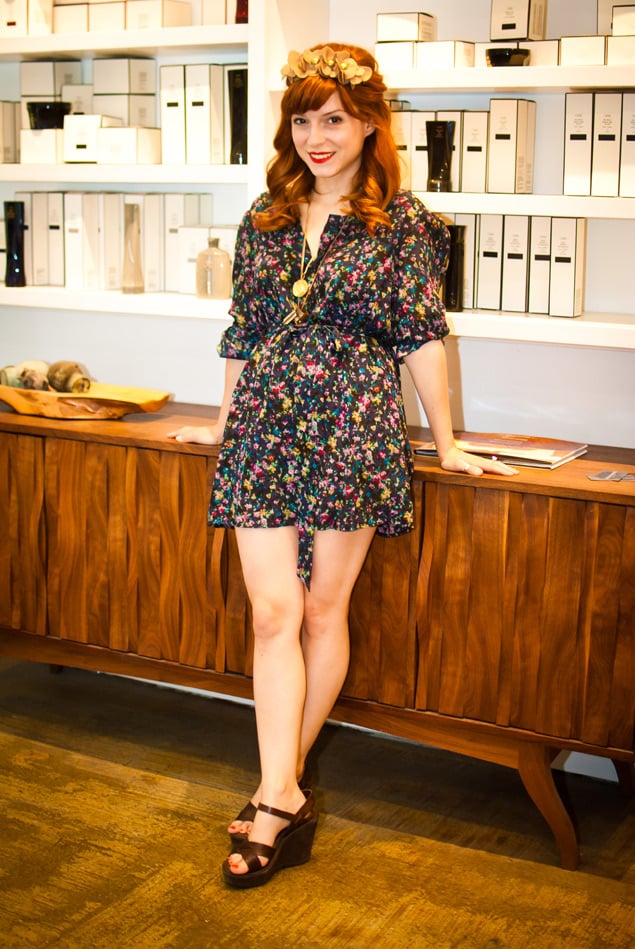 This "dress" is actually a top, but because I'm so petite, I wear it as a dress. And these sandals are the most comfortable for running around in. As for the crown, I love to catch clients off-guard by adding a touch of whimsy they might not encounter in their own day-to-day.
Anthropologie dress, Kork-Ease wedges, and CiaoNina floral crown.
Salon to the Costume Shop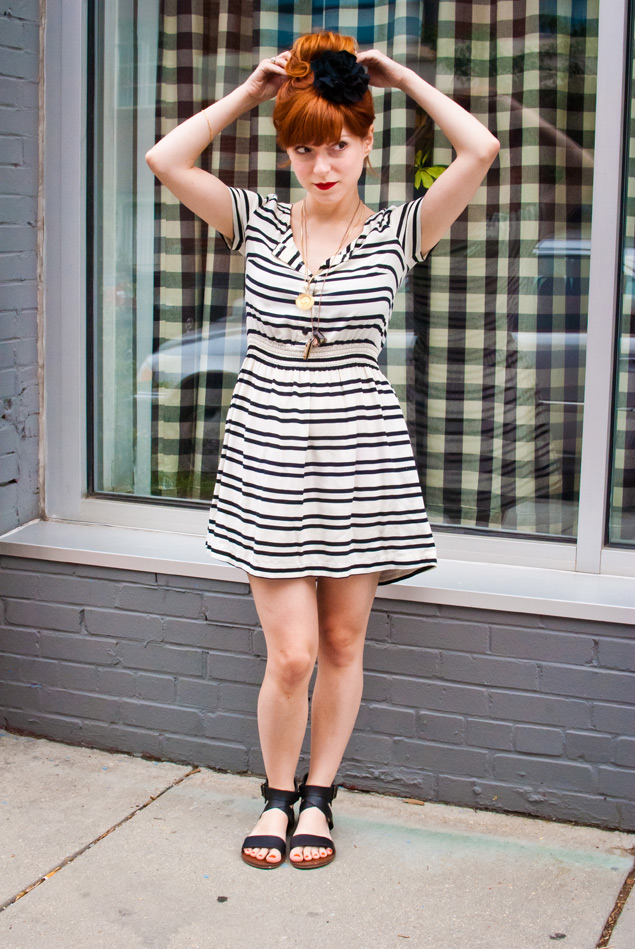 This dress is literally the easiest thing in the world to wear for what can easily turn into an 18-hour day. It works in the salon, and I can run around the theater in it all night. It has pockets to toss in all sorts of bits and bobs—measuring tape, chalk, fabric scissors, bobby pins. I wear red lipstick every single day, and I especially enjoy when that is the only pop of color I'm wearing.
H&M dress, Steve Madden flats, and CiaoNina Fascinator.
All photographs by Kate Warren.
Think you or someone you know deserves a chance in the What I Wear to Work spotlight? E-mail the author at szlotnick@washingtonian.com with pictures and a job description for consideration.