Raise your hand if you regularly head to Target for necessities like toothpaste and end up walking out with a new top/sundress/pair of shoes. Now raise your hand if you regularly head to the superstore just to shop for new clothes. Everyone? Hey, ain't no shame in that. Gone are the days when Target was only a notch above Kmart. Thanks to its ingenious, frenzy-inducing collaborations with high-end designers such as Missoni and Jason Wu, the mass retailer has leveed some serious traction in the fashion world—and the in-house designs aren't bad, either. In fact, things are looking so good in Target as of late that when tasked with the mission of constructing outfits solely from pieces inside the store, even we were pleasantly surprised with the results. See below for proof.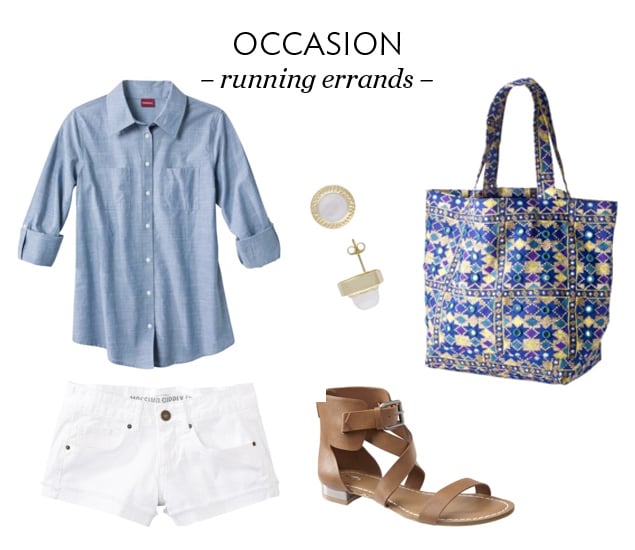 It's easy to look chic on the weekends when you throw on a chambray shirt and cutoff shorts. With gold jewelry and a patterned tote, this look can take you from the dry cleaner's straight to an afternoon lunch.
Merona chambray tunic; $19.99, Mossimo cutoff shorts, $17.99; tote, $24.99; Pearl sandals, $24.99; and stud earrings, $29.99.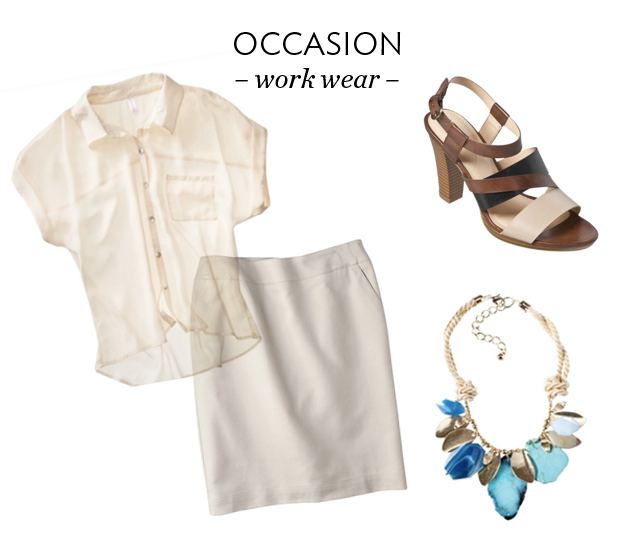 Try wearing summer's hottest trend—head-to-toe white—to the office (just be careful not to spill your coffee on the commute!). A sleek pencil skirt paired with a sheer blouse (don't forget the camisole underneath) and a statement necklace is professional enough for the office and can easily translate to happy hour with a swipe of red lipstick.&nbsp
Agate leaves necklace, $34.95; Merona Edith sandal, $24.99; Xhilaration short-sleeve top, $17.99; and Merona doubleweave skirt, $24.99.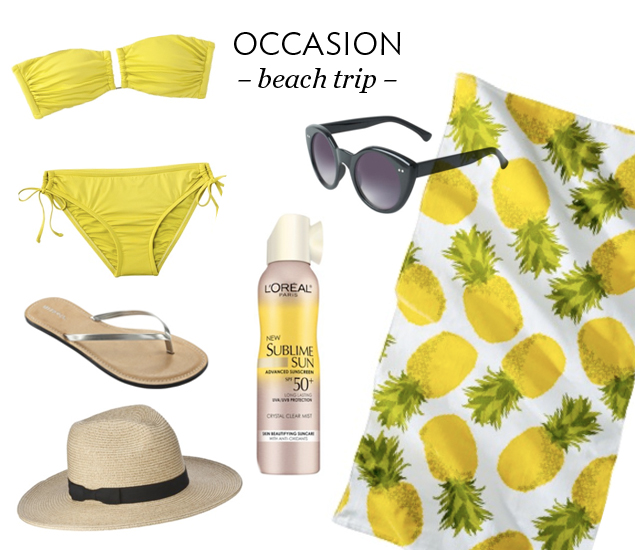 You can't go wrong with a bright bikini, a panama hat, and cat-eye shades this summer. Add a punchy patterned towel and you're sure to make a statement on the beach.
Towel, $10.99; L'Oreal sunscreen, $7.99; Mossimo cat-eye sunglasses, $16.99; Mossimo bikini top and bottom, $12.58 each; Merona Luz thong sandal, $12; and Mossimo Panama hat, $14.99.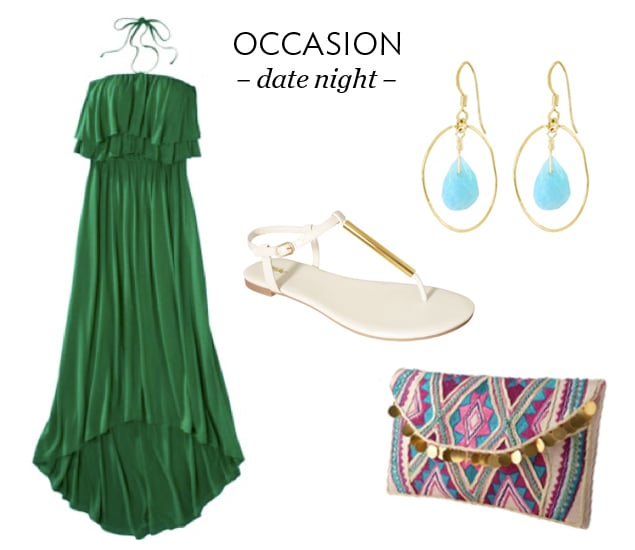 This flouncy maxi dress is super-flirty, and the jersey fabric makes it oh so comfortable for a balmy summer night. Add gold accents and a colorful clutch to dress things up a bit.
Hi-Lo halter dress, $27.99; Poeske flat sandal, $14.99; earrings, $14.99; and embroidered clutch, $24.99.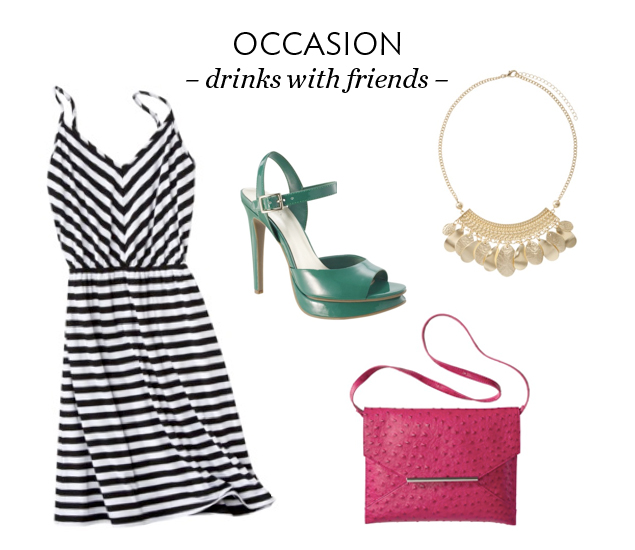 Try a variation on the color-blocking trend by wearing bright heels and a colorful bag with a striped dress. Bonus—it comes in multiple colors!
Xhilaration Sommer platform sandal, $24.99; Merona envelope clutch, $19.99; V-neck skater dress, $20; and gold leaf necklace, $22.99.