After 17 years of creating off-the-wall sculpted cakes for parties and weddings (be it a bushel of "crabs," or a 3D version of a groom's college mascot), Leslie Poyourow of Fancy Cakes by Leslie has learned a little something about how a personalized design can add character to a wedding or rehearsal dinner. We chatted with her about trends, choosing a theme, and how to surprise your groom with a cake that'll make his day.
Tell us about some of the craziest groom's cakes you've done.
I've done so many cakes it becomes a blur. One that was memorable was for a stockbroker—we did this huge bull holding a stock in his hand. Some of the mascots are really funky. I did one this weekend that looked like a tree; it was the Stanford mascot. Another one I remember was Georgia State, which was a dog sitting on ice. I guess the dog sits on ice because it's so hot there.
What are some other trends you're seeing when it comes to groom's cakes?
The biggest trend is having the groom's cake at the rehearsal dinner instead of at the wedding itself. For a rehearsal dinner, the groom's cake acts as the dessert—it's fun, and it's also an advantage in terms of cost.
Another odd trend that's sort of funny is I've noticed that a number of people who've ordered groom's cakes in the shape of their pets won't cut them because it gives them anxiety.
Ha! I can't believe people would buy a cake and not eat it. Aren't these cakes pricey?
It depends on the size and how detailed it is. The average groom's cake feeds about 25 to 30 people; for a sculpted cake that feeds that many, you're looking at about $300. If you want something massive and detail-oriented, the cost will be around $1,200.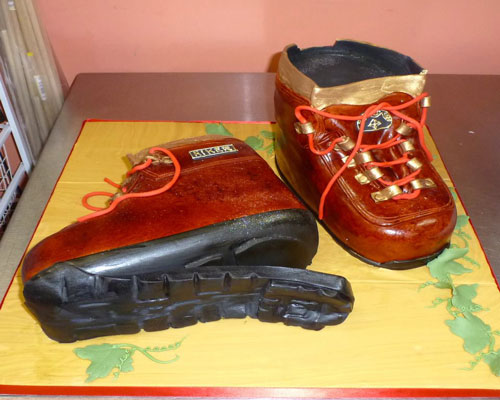 What flavors are requested most often?
The couple should pick what the groom really likes. We do a lot of chocolate, red velvet, and sometimes carrot cake—more traditional flavors.
What should a couple bring with them to a groom's cake consultation?
Often the bride does it on the sly. They usually have a strong idea, and most of them are related to colleges, so I ask that they bring pictures, logos, or printed visuals. One thing we do really well is extract information and come up with designs to help the bride focus on what she really wants for the cake. I don't always like those cakes that say five million things about a person, so I try to help them develop a more precise theme. You want the groom's cake to be very pronounced, more like one item, because not everyone is going to come over to look at the cake. If you have too many tiny elements, those are sort of for naught.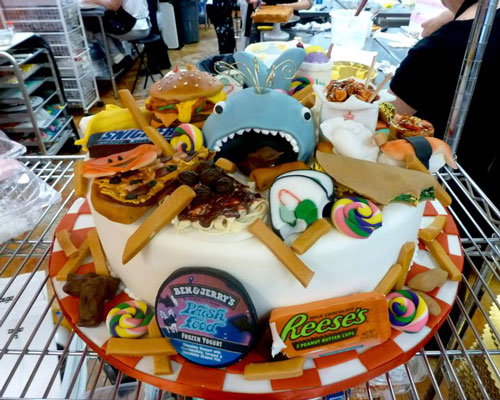 How do you think the groom's cake should play into the vibe of the wedding?
I think it's a great way to bring the groom into the wedding planning. It allows him to show some personality.
Fancy Cakes by Leslie. 4939 Elm St., Bethesda; 301-652-9390; fancycakesbyleslie.com.