Here at Bride & Groom, there's nothing we love more than a beautiful cake that tastes good, too. When we saw the delicious wedding cakes created by Alexandria's IndAroma at a recent Indian-themed luncheon at the Renaissance Arlington Capital View Hotel, we were immediately bowled over by the gorgeous designs—but it was the flavor of the cakes themselves that had us truly impressed.
We caught up with IndAroma's owner, Abhishek Handa, to talk about where cake fits into Indian wedding traditions and what makes his confections different from anything else around.
How did you get into the wedding cake business?
My wife and I started the company in 2009 with a bakery concept in mind. The Indian market in the area didn't have an option for cakes. There is a huge French influence on Indian wedding cakes, which use ingredients like fresh whipped cream and sponge cake, so that's how we make our cakes. Our decoration is also heavily influenced by Indian art, specifically henna.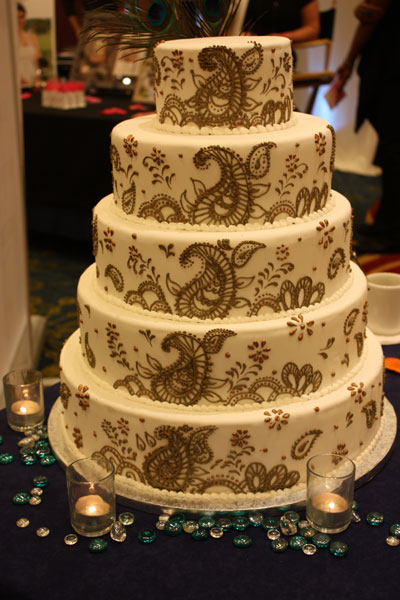 Do you have a lot of American brides request your cakes as well?
Our cake market is about 50 percent Anglo. Since our specialty is piping work, we can make a lot of beautiful designs, not just henna-inspired, though a lot of American brides like that look.
What should a couple bring to their consultation at IndAroma?
A lot of people send us pictures of their wedding garments so we can mimic those designs. Then the bride can say, "This is my cake."
Otherwise we encourage couples to go on Pinterest and Google and to bring in their invitations. The more ideas they have about what they want, the easier it is for us to deliver. I recently got married, and our wedding cake was based on family jewelry.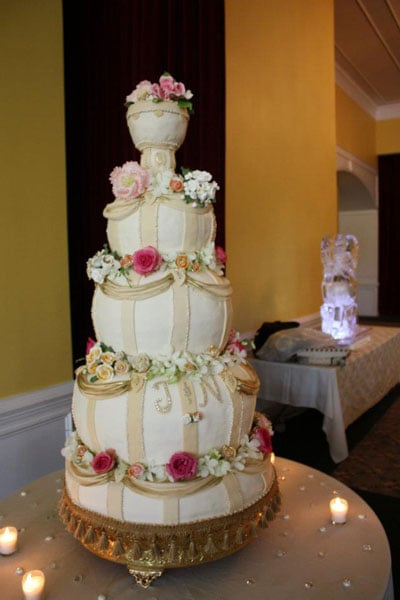 I noticed you don't use fondant very often—how come?
A lot of our couples come in saying up front that they don't want fondant. Though we do decorate cakes with fondant, we have gone through a lot of training to make sure we can frost a cake with buttercream so it achieves the same smooth look.
You mentioned that your business fills a need for Indian wedding cakes in the Washington bridal market. What makes your cakes different?
Cakes are popular in India but aren't the traditional wedding dessert. However, South Asian weddings in America typically have a cake, and we often have people run out because we create flavors familiar to the clientele. For instance, our most popular flavor is mango; we also have pistachio with mixed fruit and strawberry-chocolate. We fuse Indian flavor profiles with French baking techniques and come up with a dessert that is appealing to many people.
IndAroma. 6548C Little River Tpke., Alexandria; 703-354-1812; indaroma.com.