We've all got those pieces in our closet gathering dust—the dress that'll fit perfectly once you lose the last three pounds, or those pants you swear you're going to get hemmed next week. Rather than wasting valuable closet space, just sell it and move on.
You can always take your clothes to consignment shops around town, which is a good option if you are just way too busy to put any time into selling your clothing, but you will only get a fraction of what you could from selling them online.
There are lots of great online shops, apps, and websites you can sell your clothes through. I use a personal shop through Storenvy and an iPhone app called Poshmark, both of which I like because they're free and easy to use. The reason I chose these two is simply for ease of use and cost. Poshmark is an iPhone app that's so simple you can set it up and post photos in five minutes. Creating an online shop is a little more involved, but can be worth it if you plan to make selling things a habit.
Other options I've heard a lot of great things about: Threadflip and Klury. Like Poshmark, Threadflip is a social marketplace (the shopping interface looks similar to Pinterest), and it's free to post items for sale. When one of your items is sold, both sites collect a 20 percent transaction fee to cover shipping and handling. Don't want to deal with taking fancy pictures and shipping your stuff all over the country? Try using Klury, which will take designer goods directly off your hands.
Online Shop
For my online shop using Storenvy—a completely free online store—I came up with a cute name, Second Life, and designed a quick store header image. Since I have a background in graphic design, this was easy for me, but it is something you could whip up with a cute font in your standard design program, or you can download a trial version of a design program like Adobe Photoshop and try it out. Setting up an online shop is a lot more involved than using an app. It takes more time to upload the photos to your computer and enter them into your shop of choice: Storenvy, Etsy, and BigCartel are a few of the options.
Poshmark App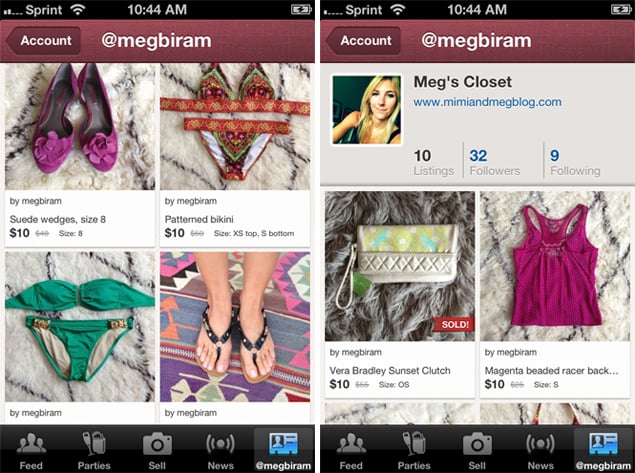 For the Poshmark app, and many others, you don't have to come up with a name, a logo, or branding materials. Just create a profile and start taking photos! The downside to Poshmark is that to purchase anything, you have to have the app. On the plus side, it's a very involved community—so being active helps generate interest in your goods. Stay engaged and comment on other people's items, and you'll gain more followers. Tweeting your sales to @poshmarkapp helps the company's editors take notice, which could lead them to highlight your item.
Also: If you're into trading clothing, Poshmark is a great place to do it. And finally, my favorite part is that they mail you the shipping label. Shipping is included in the cost, so keep that in mind when pricing your items.
Photo Tips
Some tips to keep in mind while photographing your clothing, accessories, and shoes:
1) Make sure your photos are clear and show off the item well.
2) Show one photo of the item on its own, one photo of you or someone wearing the item so the viewer can see how it fits, and one of any special details of the item, such as beading or a cutout back. The more views you can give your customer, the better.
3) If you are showing sandals, bracelets, or rings, make sure your nails are painted nicely.
4) Taking photos in an attractive setting can also help. I take lots of photos on my rugs, or against a colored wall. You just have to make sure the product pops off of the background and is the focal point of the photo. For my online shop, I chose to take all of my photos against a black wall in my condo and use that at the first image you see on the site, so the site looks uniform.
Pricing
Price to sell. If you have designer items, poke around on other sites and platforms to see what other people are pricing their items for, and if they are selling or not. Your item might be worth a lot of money, but if people aren't willing to pay that that amount you will never sell it. Pricing also depends on how badly you want to sell your items and how much time you have. If you're not in a rush, you can start with a higher price and then discount it from there.
Efficiency
For me, the quickest way to sell my clothing is on Poshmark. You can just snap a photo of the item, put in the information, and post it. Once it sells, the company e-mails you a shipping tag to print. Just tape it to your box or envelope and drop it off at the post office.
A Final Bit of Advice
My last words to leave you with are not to make it too complicated for yourself. Go with what feels like it will be the easiest for you, with the maximum way for you to make money. Or if trading for other items is what you're going for, the apps are a great way to do that. I personally just want to see my clothing go to someone who wants it for a fair price.