Name: Kimmie H. Nguyen, 24
Program analyst at the Federal Aviation Administration
What I do: As part of the Department of Transportation, the FAA oversees all commercial air flights in the US. We have about 35,000 employees, and they all have to adhere to certain training programs within a specialized curriculum. That's where my team comes in! I support the Curriculum Managers and the Training Manager of the Acquisition Training Group, which covers all the courses FAA employees must take for certification in their career track.
My work style: I am the opposite of your typical work drone—you won't find any dress suits, boxy blazers, gray suit skirts, or work slacks in my closet! The FAA has such a laid-back, organic, and simple environment, I can be a bit more adventurous with my color and texture choices.
Visiting My Home Company
My company has a younger feel than my client site, but it's still conservative. Mixing textures like lace and tweed is a youthful touch, but pants and a substantial sleeveless top keep everything office-appropriate. It's important for me to balance being respectful with remaining true to my out-there personality.
Urban Outfitters lace tank, Asos tweed trousers, Hego ballet flats, Jerome Dreyfuss bag, and C. Wonder scooter charm necklace.

Work to Happy Hour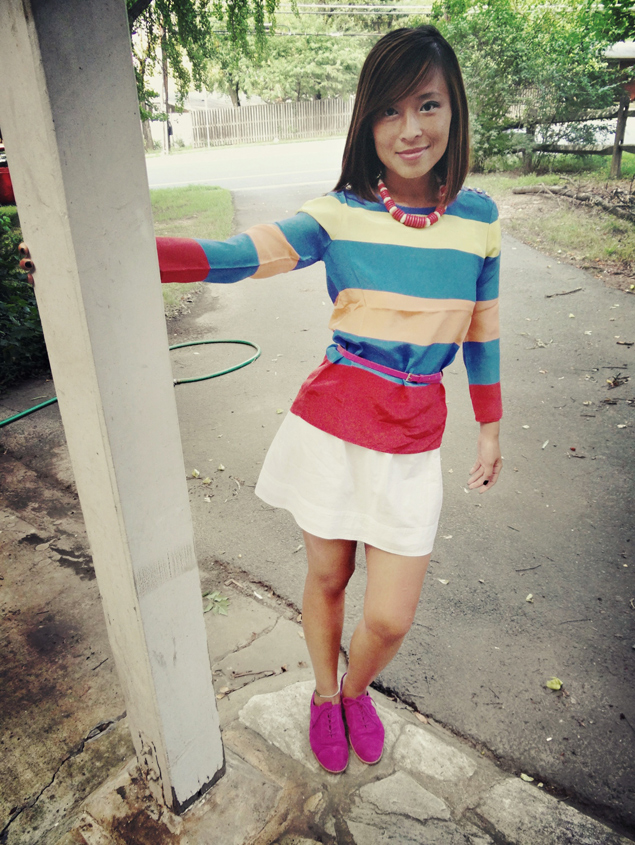 It's always fun to get creative with bright colors and unexpected top-and-bottom combinations. I'll wear this look when I'm catching up with girlfriends after work.
J.Crew boatneck, Free People linen skirt, Gap suede loafers, Urban Outfitters rope necklace, and belt from Nordstrom.
Team Meetings at Our Government Site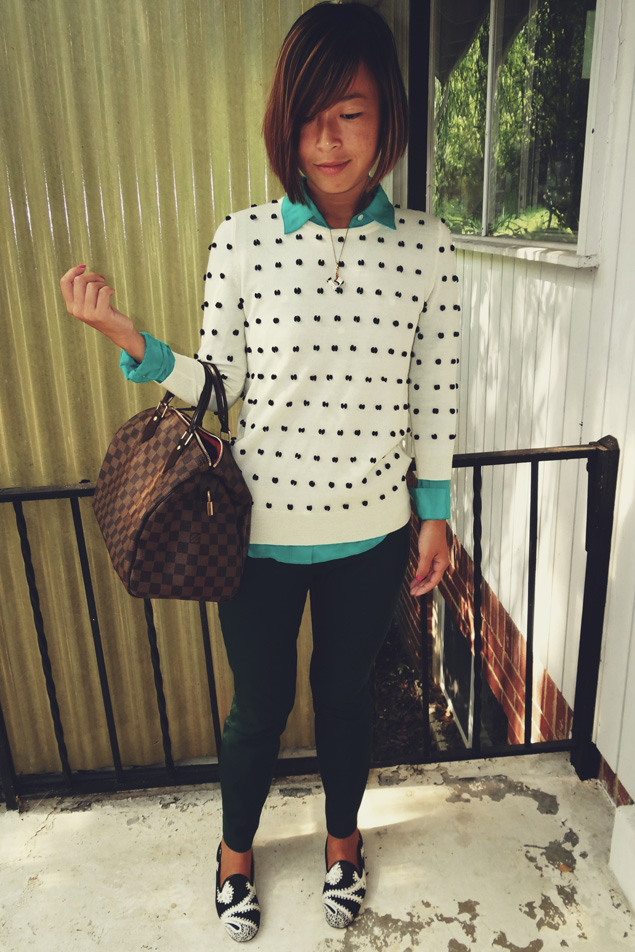 I like to wear attention-getting layered outfits during our team's weekly meetings on the government site. This outfit makes me feel pulled-together, confident, open, and engaging—exactly how I want to present myself as an employee.
J.Crew Tippi sweater, Blythe silk blouse, and Minnie pants, Anthropologie Zalo loafers, and Louis Vuitton purse.
Straight to Date Night
This is conservative and comfortable enough to communicate with overhead during my work day, but I think it's darling enough to keep my boyfriend's attention at dinner. This outfit makes me feel charming; I might add a bright statement necklace to pump it up.
Urban Outfitters crochet-and-chiffon dress and pointelle socks, J.Crew Factory ballet flats, Louis Vuitton purse, H&M belt, and bangles from Legendary Beast.
All photographs courtesy of Michael Andrade/The 2 Fs by Kimmie Nguyen.
Think you or someone you know deserves a chance in the What I Wear to Work spotlight? E-mail szlotnick@washingtonian.com with pictures and job description for consideration.