Saturday marks the official start of fall, which means it's time for three of our favorite things: pumpkin spice lattes, cable-knit sweaters, and scoping out the farmers market for a seasonal gourd or two. It also means folding up your tank tops, packing up your sandals, and . . . wait. Not everything has to go into storage just yet! Several of your summer pieces can easily make the transition to fall. (Case in point: last week's look at how to bundle up a summer sundress) Here, we took three more warm-weather essentials and styled them with plenty of cozy, fashionable layers. Voilà! Consider the shelf life of these items officially extended.
Neon Jeans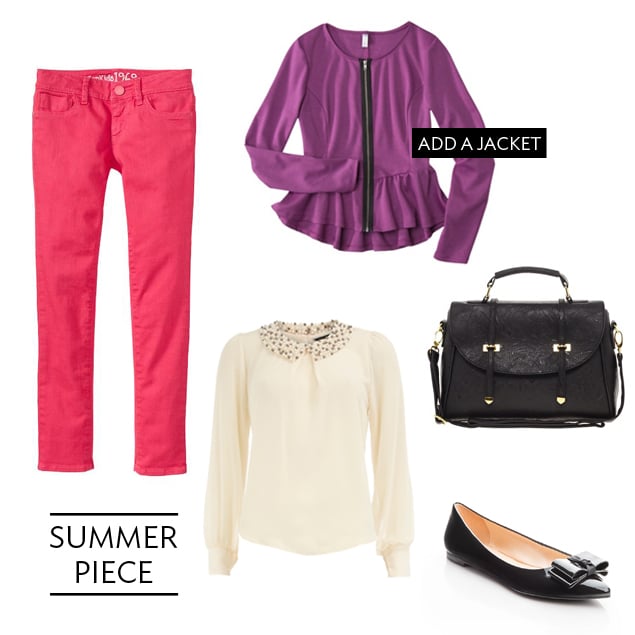 Bright denim doesn't have to be a thing of the past! Play with berry-hued color-blocking for a creative work outfit. The peplum jacket and bow flats make it especially sweet.
Peplum jacket, $24.99 at Target; Hillary flat, $79.98 at ShoeMint; pearl-collar top, $59 at Dorothy Perkins; jeans, $24.99 at Gap; and satchel, $48.29 at Asos.

Floral Dress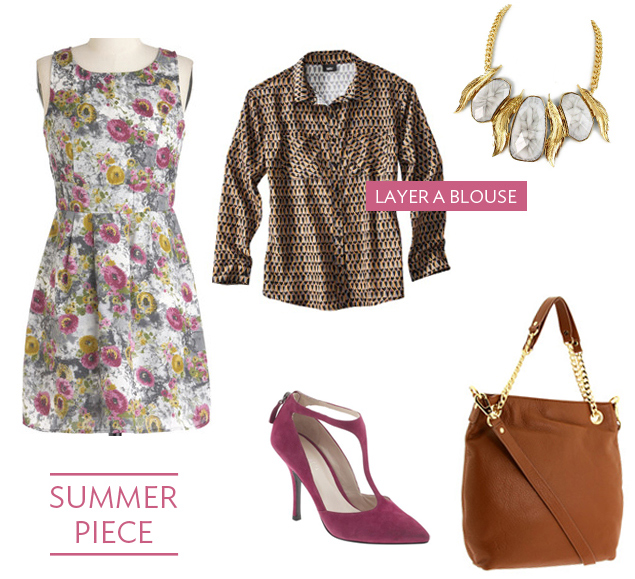 We're suckers for pattern mixing—and the floral dress you wore almost exclusively with sandals this summer is the perfect canvas to experiment with. (You could also opt for a solid-color blouse and tie the look together with a thin belt.) Add a sassy pair of heels in a rich shade and you're set for the season.
Floral dress, $42.99 at Modcloth; Blonsky pump, $85 at Nine West; button-down blouse, $18 at Target; Greek Goddess necklace, $38.50 at Pree Brulee; and Michael Kors bag, $198 at Zappos.

White Skirt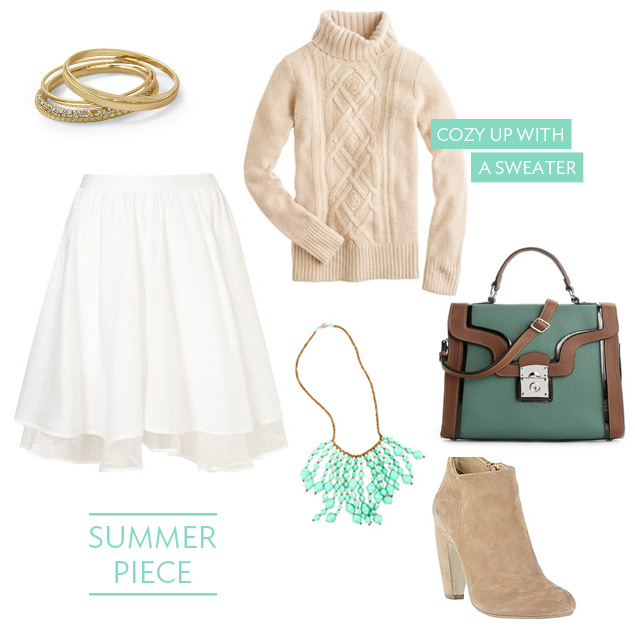 Now that the "no white after Labor Day" rule has officially been thrown out the window, why not embrace the snowy hue with a flowy skirt? Try an all-neutral look with a sweater and suede booties. Add gray tights if the weather is especially crisp.
Panelope booties, $149.95 at Steve Madden; Turtleneck sweater, $98 at J.Crew; skirt, $40 at Topshop; Razzle Dazzle necklace, $54 at 31 Bits; Tinley Road bangle set, $28 at Piperlime; and satchel, $59.95 at DSW.
You might also like: