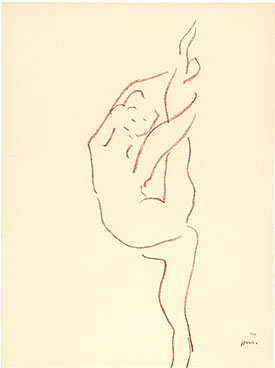 Avant-Garde in Philadelphia
Oct. 30 – Jan. 21
"Dancing Around the Bride: Cage, Cunningham, Johns,
Rauschenberg, and Duchamp," at the Philadelphia Museum of Art
October 30 through January 21, looks at composer John Cage, choreographer
Merce Cunningham, and artists Marcel Duchamp, Jasper Johns (see painting
at left), and Robert Rauschenberg and how their work overlapped.
Matisse in Baltimore
Nov. 14-Feb. 24
In addition to the November 18 reopening of the Baltimore
Museum of Art's Contemporary Art Wing, "Matisse's
Dancers" runs November 14 through February 24 at the museum,
displaying more than 30 movement-related drawings, sculptures, and prints
by the French artist.
Festival: Nordic Cool
Feb. 19-Mar. 17
The Kennedy Center's celebration of culture from Denmark,
Sweden, Norway, Iceland, Finland, Greenland, and the Faroe and Aland
Islands features theater, dance, classical music, art, and more, including
performances by Oslo's National Theatre (The Wild Duck by Henrik Ibsen),
the Iceland Dance Company, and the Swedish electronica group Midaircondo.
Prices vary.