Who: Nikki Rappaport, 25
Senior assistant director for enrollment marketing, George Washington University
What I do: I manage the digital communication strategy for undergraduate admissions at GW—that includes social media, student blogs, and videos for high school students and their families. Recently we launched one of my favorite projects that I've developed and directed, the website Only at GW. This interactive platforms allows students to customize their own personal college experience, which is just what teens are looking for online.
My work style: I love color and patterns, and I'm definitely not shy about showing it at work. But I also have to be comfortable; I walk to work every day, and I'm often switching between different tasks such as photo shoots, writing, or working events. I love skinny pants and flats, comfortable dresses, and silk blouses.
Out and About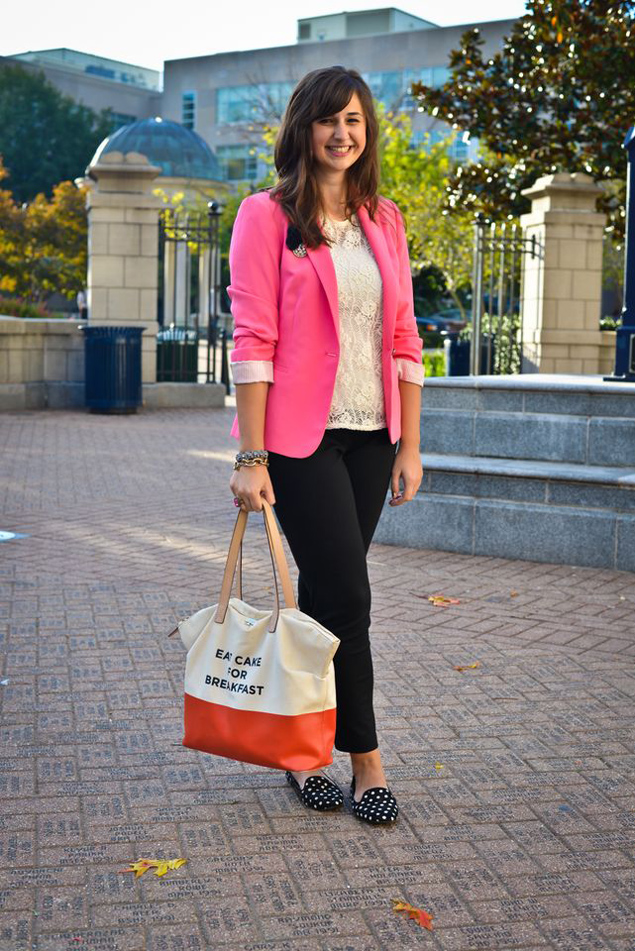 I'd wear this on a day when I didn't necessarily have big meetings but needed to be out and about on campus for a video shoot or event prep. These pants are stretchy yet polished, and I love the preppy perkiness of the hot pink blazer.
Tahari pants from TJ Maxx, Zara blazer, lace T-shirt from Athropologie, Gap polka-dot loafers, and Kate Spade purse.
Night Event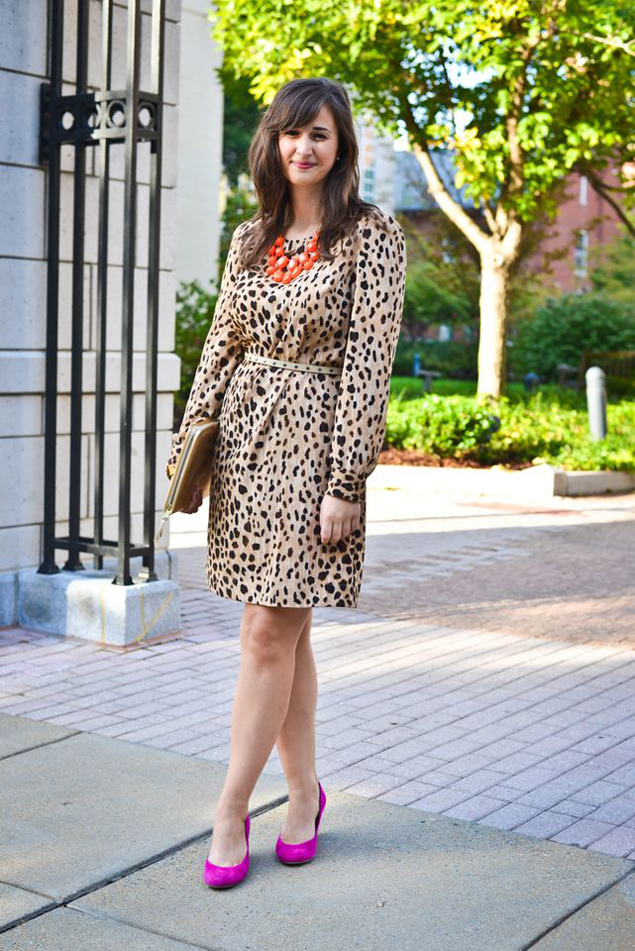 I'd wear this if I had an event, a dinner, or a date after work. It's an easy transition, and it definitely shows my love for bold color and pattern. My gold iPad case is perfect to take to meetings and presentations, but for after work, I'd switch it out for an oversize clutch.
Target leopard dress, Jessica Simpson suede wedges from TJ Maxx, iPad case from Jess LC, Kate Spade necklace, and cuff from Anthropologie.
Instead of a Suit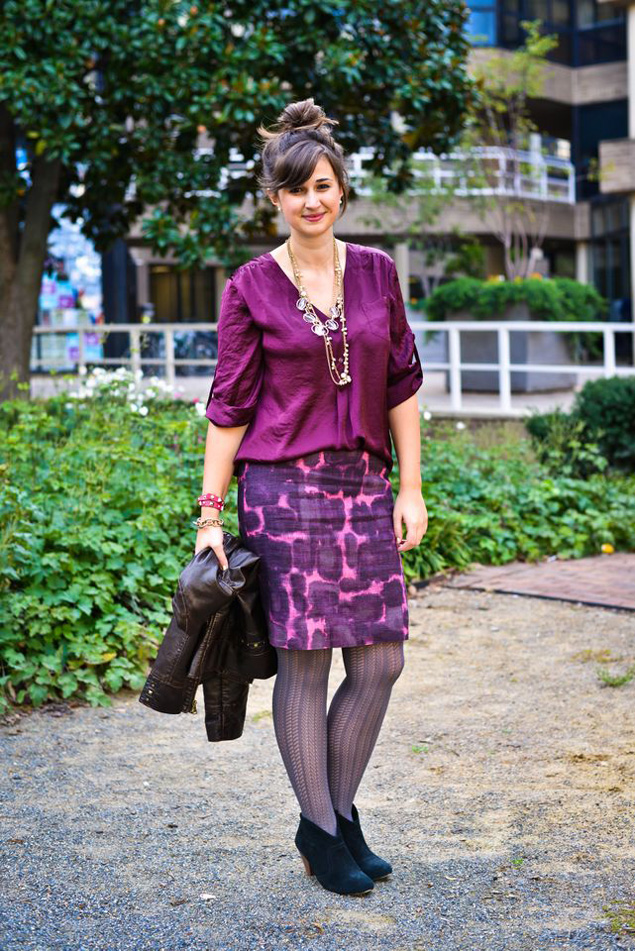 My favorite color is dark purple. You probably won't find me in a suit, but this is a great pulled-together and professional look that's still fun and creative. The leather jacket and crochet tights make it work for cooler weather.
J.Crew ikat skirt, Sandro Studio top from TJ Maxx, Steve Madden booties, necklaces from Lou Lou and J.Crew, Loft tights, and Giacca leather jacket from TJ Maxx.
In addition to her work at GW, Nikki also shares her favorite desserts, recipes, interiors, and style inspiration at Cupcakes for Breakfast.
All photographs by Kate Warren.
Think you or someone you know deserves a chance in the What I Wear to Work spotlight? E-mail szlotnick@washingtonian.com with pictures and a job description for consideration!
More What I Wear to Work: