La Prima Catering & Events' first Seeds to Celebrations wedding reception went off
in September without a hitch. We spoke with La Prima's president,
Dave Evans, to learn more about the company's sustainable approach to catering, see photos of
"pioneer" bride and groom Jessie Greger and Jeremy Solt's mouthwateringly fresh menu,
and find out how you, too, might plan a farm-to-table wedding.
The expert:
Dave Evans, president of of La Prima Catering and Events
Jessie and Jeremy's wedding was in Emmitsburg, Maryland, and La Prima partnered with
Open Book Farm, near the reception site. Are you able to team up with other farms
to cater weddings in different locations?

Yes, as long as the farm is within a two-hour drive of one of our five kitchens, we
can team with farmers in a wide geographic area. On this wedding we partnered with
Open Book Farm, but we could have easily executed this wedding at a venue anywhere
in the metropolitan area.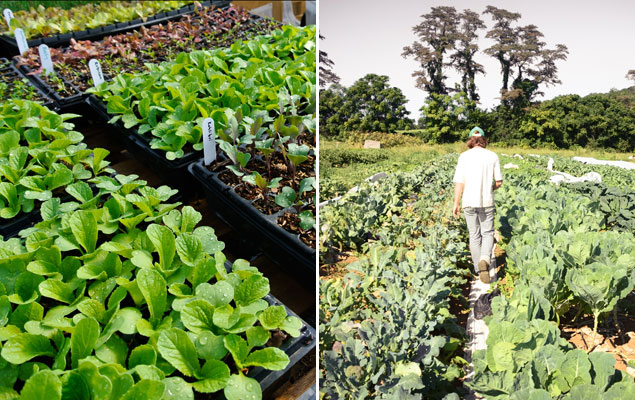 How far in advance do a bride and groom have to start planning with you for a farm-to-table
reception?

Planning for this "grown to order" wedding began in February. To plan a farm-to-table
event, the time frame should be similar to any other event. The primary difference
is the menu. Clearly the summer growing season gives us the most variety and options
for a grown-to-order event. But we catered an all-vegetarian bat mitzvah in December,
and because of the mild winter, we were able to incorporate fresh-from-the-garden
greens, herbs, and root vegetables into the menu with superb results. A December event
will not have tomatoes and melons but can be built around greenhouse greens and root
vegetables.
What gave you the idea for the Seeds to Celebrations arm of La Prima?
Over the past few years, the possibility of working with smaller, sustainable farms
has been more of a focus for us. The inspiration for this was my daughter, who decided
to become a farmer and is now operating her own sustainable farm outside of Rutland,
Vermont. In 2010 we opened a sustainable urban garden at our headquarters in College
Park, Maryland. We now cultivate and harvest fresh tomatoes, basil, Swiss chard, braising
greens, oregano, thyme, parsley, mint, and other herbs. In fact, last summer we harvested
more than 800 pounds of tomatoes and more than 300 pounds of basil—enough to make
our own pesto throughout the year.
The garden and our other efforts—recycling, composting all our food waste, converting
our kitchens to wind power, and developing partnerships with local sustainable farms—all
led to the idea for this type of fully sustainable farm-to-table event. After having
talked with Jessie and Jeremy and learning of their commitment to the environment
and desire to use locally sourced products, the idea of Seeds to Celebrations came
into focus.
What does the cost structure look like?
While using sustainably grown food is more expensive than working with vegetables,
meats, and other items from our usual vendors, we try to pass through the added costs
with minimal increase in prices in our efforts to keep things affordable.
Is there an ideal number of guests for a Seeds to Celebrations event?
We had more than 100 guests at this recent wedding. I don't think the number of guests
makes a difference.
The idea of a wedding garden is so romantic—like a modern, sustainable trousseau the
bride shares with her guests. Was that the farmers' idea, or is it a sort of Seeds
to Celebrations wedding signature?

We asked the farmers, Mary Kathryn and Andrew Barnet, if they could set aside a special
section of their farm for this garden. We envision brides and grooms having the ability
to visit the farm, check up on their garden's progress, and even take photos there.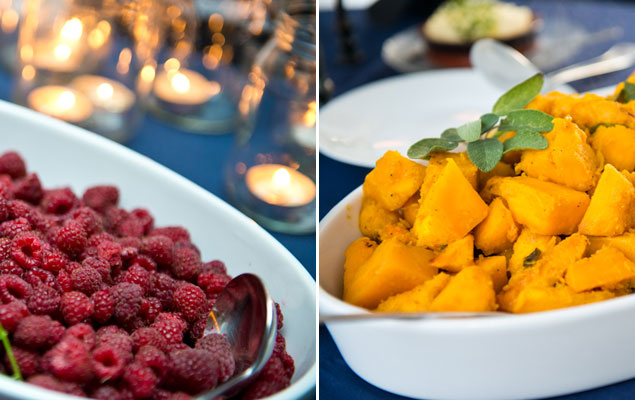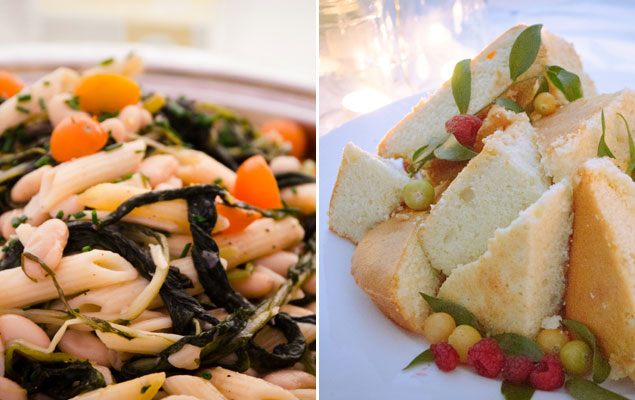 Can you walk us through the process—from selecting the items on the menu to planting
the seeds to making sure the entire event is executed in a truly sustainable way?

February: Met with the bride and groom, and with Open Book Farm owners Mary Kathryn and Andrew
Barnet, to brainstorm how this would work.
Held meetings with our chef, wedding couple, and farmers to devise a menu that could
be truly grown to order from our La Prima Garden and Open Book Farm, sourcing the
cheeses, ice cream, and a few other items from other local farms.
April: Finalized the menu and what would be grown where.
May to September: La Prima supplied fresh tomatoes, eggplant, and herbs from its own on-site organic
garden for the event. Here is the planting calendar Open Book Farm followed to prepare
for the big day.
• May 7: Pumpkins and squash seeded
• June 7: Broccoli seeded
• June 20: Kale seeded
• August 8: Chicks arrived
• August 13: Bok choy seeded
• August 23: Chicks put out to pasture
• August 26: Braising greens seeded
• Thursday, September 27: The chickens, which were pasture-raised at Open Book Farm,
fulfilled their destiny and were prepared for the wedding. All the vegetables were
harvested and transported along with the chickens to our Kitchens in College Park.
• Friday and Saturday: All items were prepped in our kitchens, transported to Engedi
Estate in Emmitsburg, and served to the wedding guests.
The menu:
At the bar, La Prima served locally sourced chilled apple cider and minted cucumber
water. Passed hors d'oeuvres included pear and goat cheese pastry bites, tomato and
basil bruschetta on rosemary focaccia, and shots of broccoli-and-cheddar soup, all
made with locally grown ingredients.
The main course featured a casual buffet of fresh lemongrass chicken (made with chicken
pasture-raised at Open Book Farm); roasted pumpkin with sage and brown butter; seared
baby bok choy; braised greens and penne pasta with cannellini beans; roasted eggplant;
and kale salad with feta cheese, dried cranberries, and sugared walnuts.
Desserts included olive oil cake with orange zest and cardamom, preserved peaches,
caramelized apples, husked cherries, fresh raspberries, and locally sourced vanilla
ice cream.