Welcome to another edition of 7 Days, 7 Ways, Shop Around readers! Today we're working with the ultimate closet staple: the white button-down shirt. And who better to show off its versatility than a woman who designs them for a living? First featured in "Women of Fashion," our look at females shaping this city's fashion world, the Shirt founder Rochelle Behrens left her Hill job to launch a stylish collection of work- and play-worthy shirts that, thanks to a patented button technology, miraculously don't gape at the bust. Here, she styles her signature silk shirt ($182) for Monday through Sunday, providing us with seven polished, city-appropriate outfit ideas with just the right touch of her signature edge.
Monday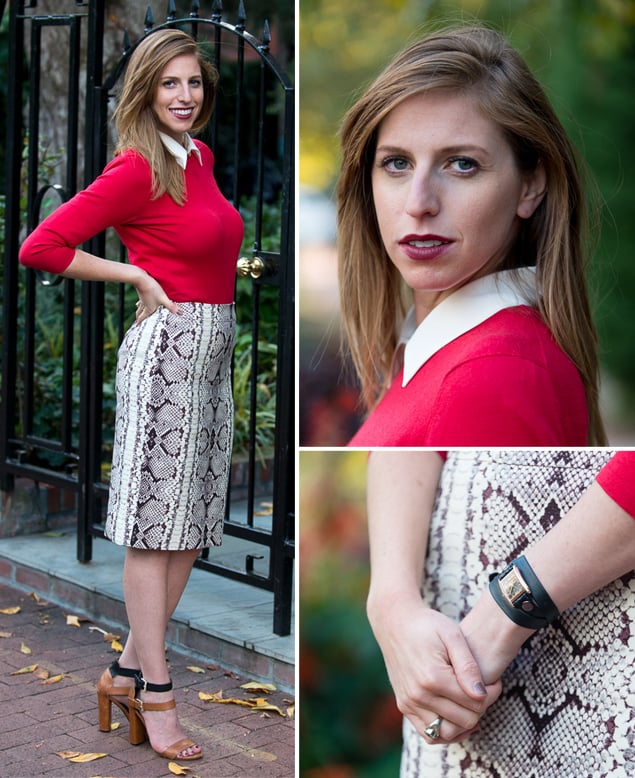 Monday means back to work and back to business. There are times when a blazer is perfectly appropriate, but I love a less-predictable bright sweater. Juxtaposing color with pattern gives me limitless options with limited closet space.
Diane Von Furstenberg cashmere sweater, J.Crew python skirt, and Zara sandals.
Tuesday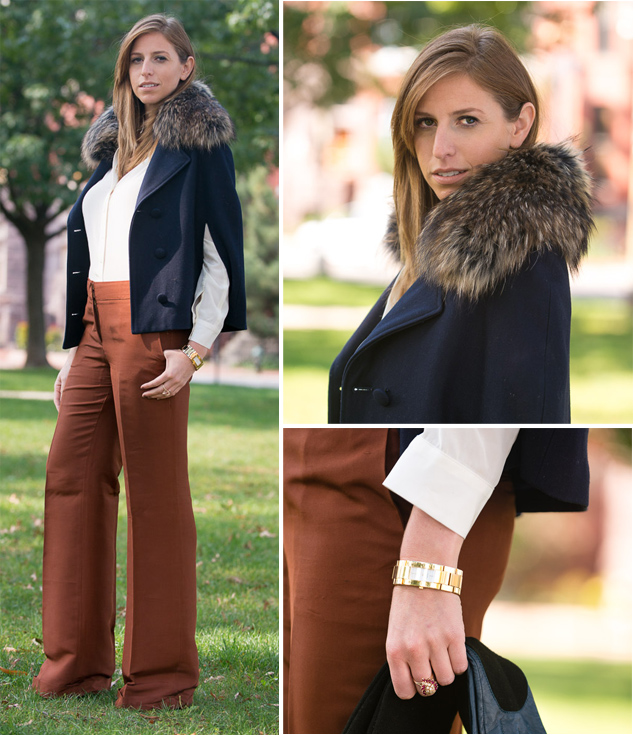 High-waisted, ground-grazing pants that sweep the floor elongate the leg and are the perfect foil for a twist on the bohemian vibe—but the silhouette, textures, and colors keep it professional.
Tory Burch wide-leg pants, wool cape from Saks, leather opera gloves from Barneys.
Wednesday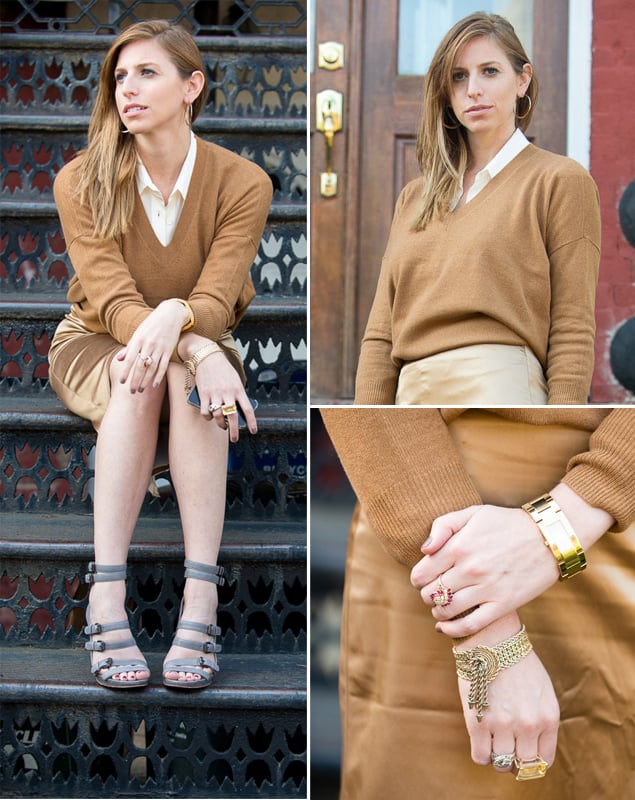 Lately I've been a fan of dressing monochromatically—and taupe with taupe always looks rich (think Michael Kors). I've had this gold satin skirt for years and just rediscovered it in my closet. It works perfectly with my new sweater.
J.Crew Collection cashmere sweater, vintage skirt, and J.Crew gladiator shoes.
Thursday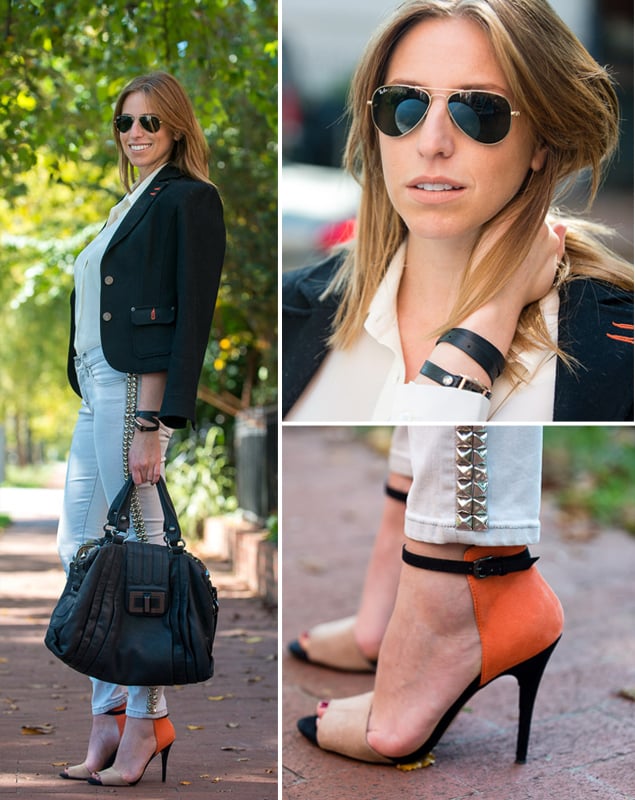 Because I'm in fashion, I can get away with more casual looks for the office. I have coveted studded jeans for some time and finally found a pair I love. A blazer and heels anchor the glitz.
Urban Outfitters studded jeans, Helmut Lang blazer, Zara sandals, and Marc by Marc Jacobs tote.
Friday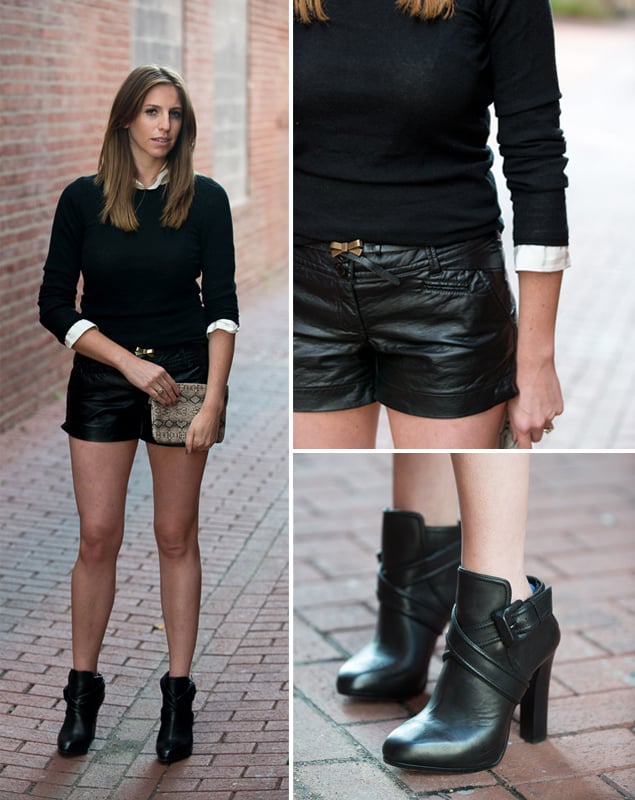 These leather shorts are amazing year round—in summer with a tan and flats and in the winter with black tights and boots. Because they're short, I balance things with heavy shoes and a simple sweater.
T by Alexander Wang leather shorts, Max Studio booties, Club Monaco cashmere sweater, and Madewell belt.
Saturday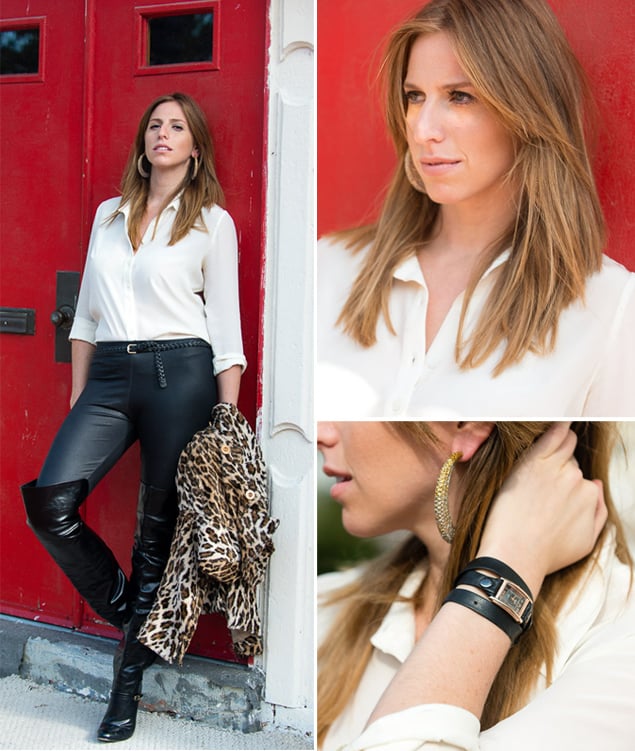 I love this shirt for so many reasons, one of which is its versatility. The same shirt that suits me for my business meetings is louche and languid for Saturday night, as well. I've paired it with varying textures and items with shine to elevate it from basic to Saturday night.
American Apparel latex pants, Brian Atwood boots, crystal hoop earrings from the Styleliner, and John Carlisle leopard coat.
Sunday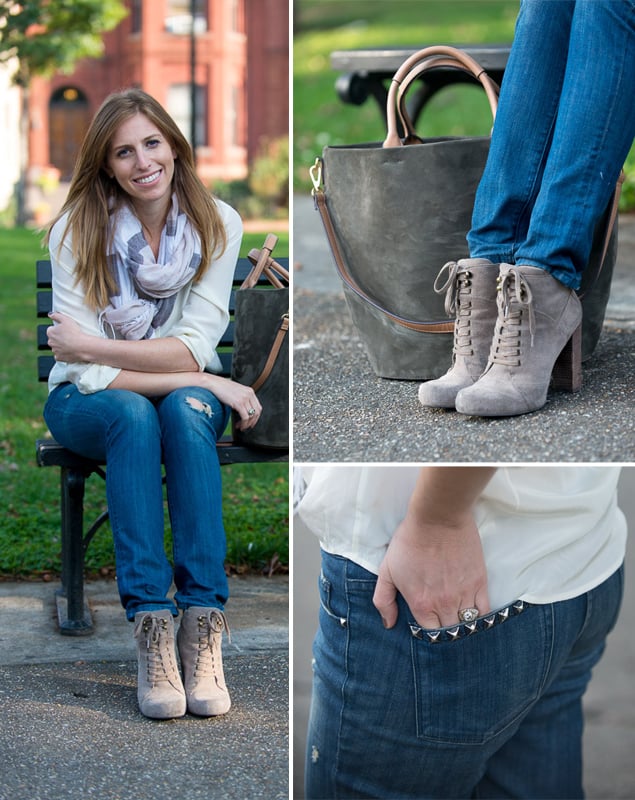 I live in these ripped jeans and suede boots come fall. I spend my Sundays doing errands and prepping dinner, so being comfortable without sacrificing style (even in heels) is paramount.
Blank jeans, Vivi scarf, Pour La Victoire suede booties, and Zara carryall.
All photographs by Andrew Propp.
Want to show off how you make your favorite article of clothing work for everyday of the week? E-mail szlotnick@washingtonian.com three to four outfit examples, and you could be featured in 7 Days, 7 Ways!
You might also like: