While many women put a lot of stock into finding the perfect
holiday party dress (more
on that later), we prefer to begin our wardrobe prep with a
beautiful blouse instead.
This year, we're starting early, and singling out Paul &
Joe's beautiful gold brocade
top ($320 at Net-a-Porter)
as the ultimate multitasker. The luxe fabric can be dressed up
or down, and its gamine
Peter Pan collar eliminates the need to worry about necklaces
(win!). Here are three
supremely festive outfits that showcase its versatility.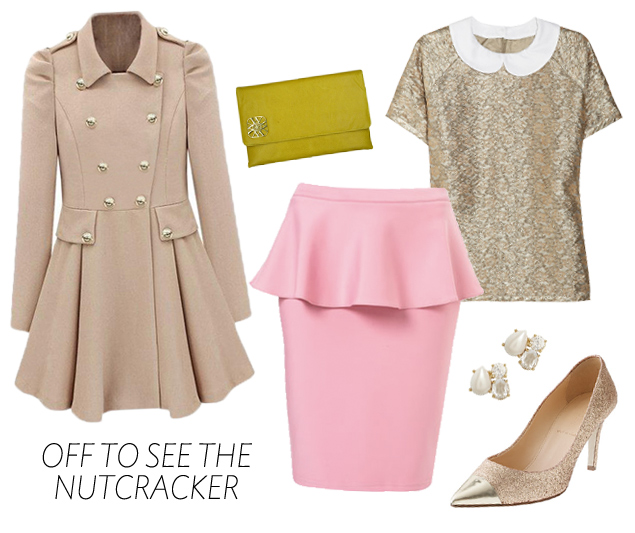 A night at the ballet calls for a prim peplum, a dressy wool coat, and ladylike accessories.
Pearl clusters are a classic addition, and glittery cap-toe heels keep the look knowingly
on trend.
Diana Warner clutch, $218 at Metropark USA; Cool Luck Pleats trench, $136.99 at Romwe;
peplum pencil skirt, $68 at Topshop; Fragment pearl studs, $68 at Kate Spade; and
Every cap-toe pumps, $265 at J.Crew.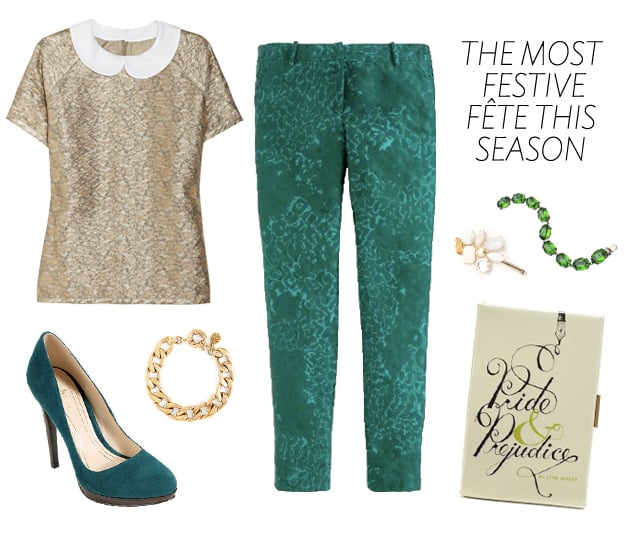 Brocade on brocade seems over the top at first, but we guarantee you'll be a big hit
if you wear it to the right occasion. Save this sweet yet daring combo for a fancier
party at the home of your most holiday-obsessed family friend, and keep from blending
in with the decor by subtly varying the color palette with your jewelry.
Jacquard capri, $198 at J.Crew; Crystal Crush bobbi pin, $25 at Ban.do; flat link
bracelet, $68 at Brooks Brothers; Pride & Prejudice book clutch, $325 at Kate Spade;
suede pump, $298 at Cole Haan; and Janice Savitt crystal bracelet, $225 at Max & Chloe.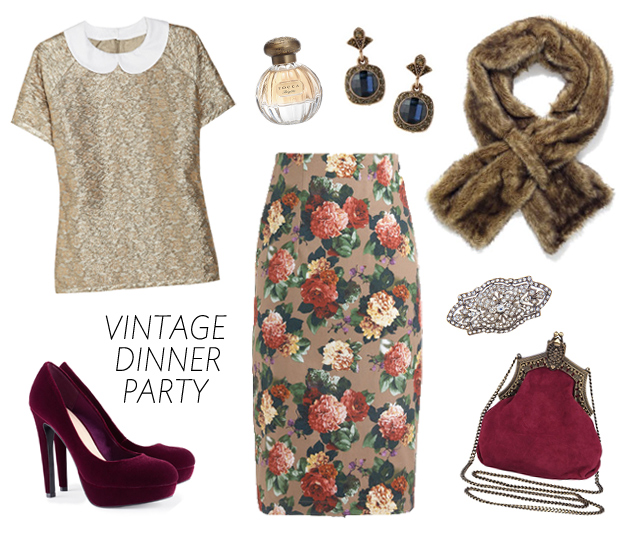 An intimate meal with a couple who serve drinks in exclusively vintage barware calls
for wintry florals and antique drop earrings. Top things off with a vintage fur stole
(extra points for adding a rhinestone brooch) and rich velvet heels.
Suede pumps, $49.95 at H&M; Blooms to Fill the Room skirt, $69.99 at Modcloth; Brigitte
perfume, $69 at Tocca; drop earrings, $32.50 at 1928; vintage crystal pin, $180 at
Ben-Amun; faux-fur stole, $129 at Isabella Oliver; and suede shoulder bag, $159 at
House of Harlow.