Though they come in all shapes, sizes, and preferences, beauty mavens have a few key things in common: Nothing excites them more than a flawless hair day, a truly long-lasting lip color is the holy grail of a makeup bag, and they're almost always game to try new products. Which is precisely why they're a (little) easier to please come holiday time. (Unlike the uber-picky fashionista, she'll at least do you the honor of trying on your present in the bathroom mirror.) Don't worry if you're clueless about beauty—we've sifted through our fave top-quality brands to bring you the best of their holiday offerings. From your glamorous girlfriend to the DIY manicurist to the mom who could simply use a relaxing treatment, our beauty gift list—full of our favorite pampering kits for the holidays—has something for all types.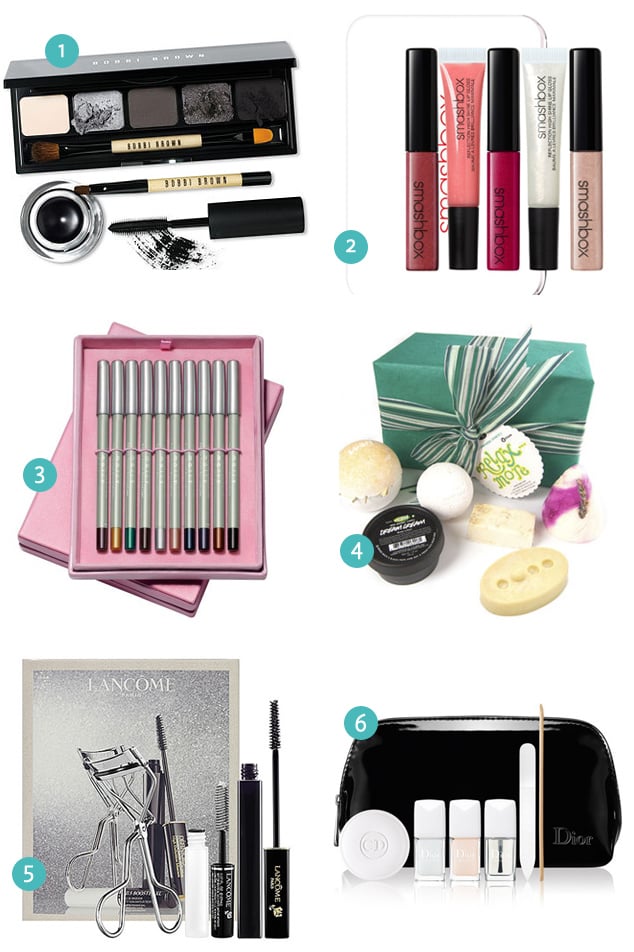 1. Every girl should have the ability to create the timeless and universal look. Bobbi Brown Smokey Eye set, $65 from Macy's.
2. This entire set of limited-edition glosses is cheaper than some of Smashbox's individual ones. For ultra money-saving, use each gloss in the set as a stocking stuffer or small gifts for your girlfriends. Studio Pop for Lips, $19 from Smashbox.
3. If eyeliner's the only makeup she ever wears, this is a fun way to help her shake up her look. Mally eyeliner ten-piece collection, $50 from Henri Bendel.
4. Calming bath treats for the vegan on your gift list. Relax More gift box, $46.95 from Lush.
5. Lancome's Definicils mascara is so reliable that its formula hasn't changed a bit in the product's entire history—a rarity among cosmetics. Lancome "Ready, Set, Lash!" set, $36 from Sephora.
6. All of your nail necessities, including Dior's famous Creme Abricot cuticle treatment, in a cute patent leather makeup bag. Dior Manicure Essentials gift set, $62 from Bergdorf Goodman.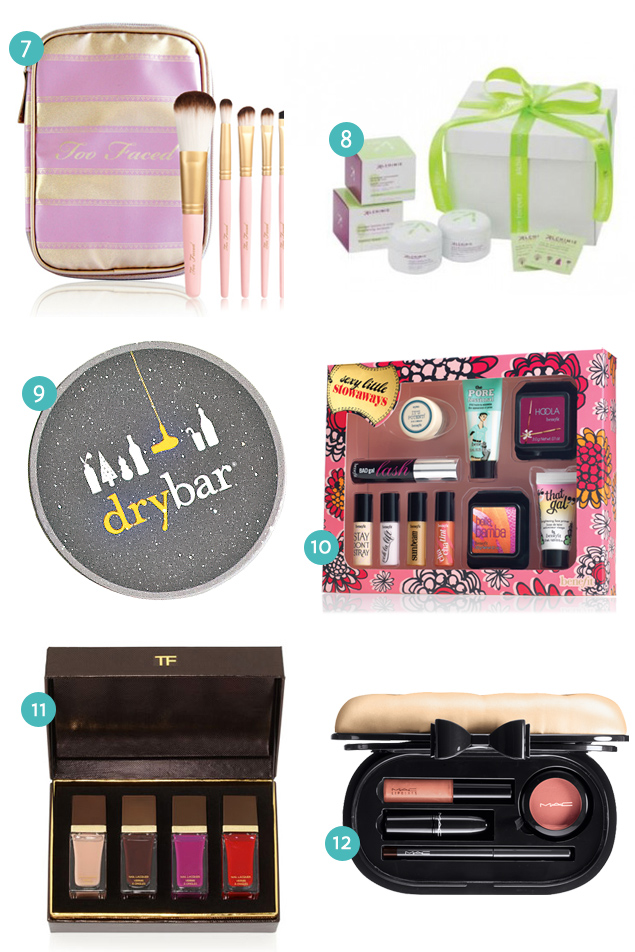 7. We're picky about what touches our faces, and "Teddy Bear Hair" is the softest, most amazing material that's ever graced our skin. Professional 5-Piece Brush Set, $65 from Too Faced.
8. DC skin-care guru Ada Polla includes a refining scrub, a brightening moisture mask, a fan brush, and a morning cream sample in her home facial kit. $105 from Alchimie Forever.
9. Because a head massage, red-carpet waves, and a glass of wine is the definition of perfection. Box of Blowouts, $115 to $440 from Drybar.
10. Ten TSA-size beauty essentials for the perpetual traveler. Sexy Little Stowaways kit, $34 from Benefit Cosmetics.
11. "Bitter Bitch" may be the perfect gift shade for your best frenemy. Tom Ford 4-Piece Nail Lacquer Set, $120 from Neiman Marcus.
12. The silky, pillow-like compact case is just too cool—and contains the touch-up items we'd normally stash in a bulky makeup bag. Divine Desire in Quite Coral, $70 from MAC.
You might also like: