Jay Rosenberg
Rosenberg, CEO of Rosenberg Media, matches his watch to his day: a fancy watch for a big business meeting, a plainer option for a casual appointment, diamonds for a special night out. "I learned that to be successful, one needs to look successful," he says, "so I bit the bullet and fell in love with fine timepieces." Rosenberg owns about 25 rare and expensive watches, amassed over the past 20 years.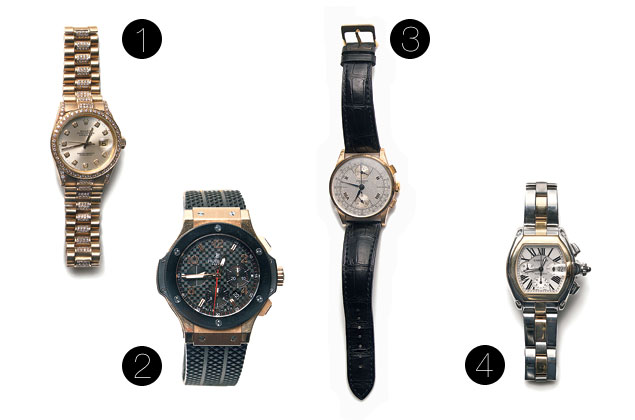 1. Rolex Datejust, $35,000
"My first fine watch," says Rosenberg, who added pavé diamonds to the links and the bezel. Another Rolex he owns, the Tridor Day-Date, has ten diamonds on the dial and retails for $63,700.
2. Hublot Big Bang, $33,200
Rosenberg bought the Big Bang—a favorite of celebrities and athletes—for its fusion of materials: rose gold, titanium, ceramic, and rubber: "It's an A-list watch." He's also a fan of its enormous size.
3. Chronographe Suisse, $5,000
This vintage pre-World War II model, made of solid gold, is extremely rare and holds sentimental value: "It was given to me by my father before he passed away."
4. Cartier Roadster, $13,000
The yellow-gold-and-steel construction and the shape remind Rosenberg of iconic Cartier timepieces of the early 20th century: "This is a great choice for the businessman with style and a sense of place."
Ismail Tekin
A hairstylist for 24 years, nine of those at George at the Four Seasons salon, Tekin works in a profession where personal style is encouraged. Born and raised in Turkey, he says his desire for hip and contemporary watches is a reflection of the American dream: "If you want it, and are willing to work for it, you can make it happen."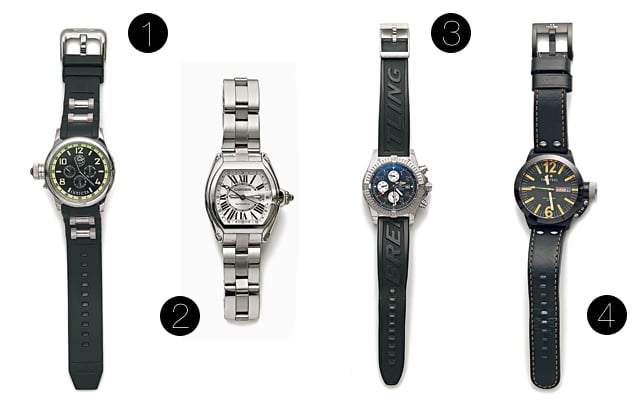 1. Invicta, $1,200
"I was browsing online, and from just one picture I wanted this on my arm," says Tekin, who, unlike Rosenberg, tends to buy watches on the spur of the moment.
2. Cartier Roadster, $7,400
He bought this classic while in the Cayman Islands after a failed relationship: "Ironically, it will last through the years and be a faithful companion."
3. Breitling, $4,000
Tekin was drawn to this watch's bold and sporty feel. "It was my Singapore fling," he says of the impulsive purchase.
4. TW Steel CEO Collection, $600
Tekin spotted this in Jamaica: "I was relaxed and having fun. This watch says relaxed and fun to me."
This article appears in the February 2013 issue of The Washingtonian.