When word came that Alexandria resident Charae Carter would be appearing in an episode of Say Yes to the Dress, we shot her an e-mail to find out what it's like to be filmed for the show—which, for the uninitiated, features brides-to-be on the hunt for their ideal wedding ensemble inside Kleinfeld, the iconic Manhattan wedding dress emporium. While Carter's dress choice must remain under wraps until the episode airs, she did hint that she went looking for something right out of Whitney Houston's "I Wanna Dance With Somebody" video (she loves the '80s). In our estimation, that would mean a short, fluffy, flouncy, ruffled number. Tune in to TLC tonight, March 1, at 9 PM for the full story and the reveal, and read on for our conversation with Carter.
How did you decide to apply for the show?
My best friend Alicia absolutely loves the show. I'm a fan of it, as well. As soon as I got engaged, Alicia said, "You're applying for this show. I've read the questions already and you would have some great answers; I think you'd be a perfect fit." So I applied! A couple of days later I received an e-mail, which led to a phone call, and voilà!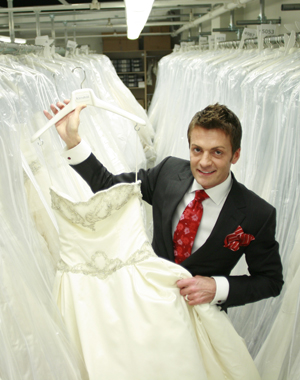 What was it like to work with Randy Fenoli, the fashion director at Kleinfeld, and Jenny, one of the store's top sales associates?
I was so shocked to have Randy. I knew I would have Jenny, and I was excited for that, and having Randy was a bonus. Jenny was amazing. She really listened to me with regard to my vision for my wedding day. Randy was a lot of fun as well—we had a great time poking fun at each other.
Tell us more about your love for the '80s.
I just absolutely love the '80s and early '90s—the music, the fashion. You could imagine my excitement when neon colors came back onto the fashion scene. I'm loving all of this, the leggings, the big bows, lace—it's like heaven! There were a lot more '80s things I wanted to incorporate into my wedding—centerpieces made out of cassette tapes, having favors like mini Rubik's Cubes—but I got shut down and vetoed pretty quickly by everyone around me, including my groom! [laughs]
Did the show make it easier for you to find the right dress?
The experience was very helpful. It made me realize that when looking for a dress, there are really only two opinions that matter. The first is yours. The second, you kind of have to answer for the groom, and you have to know him really well, because you have to ask yourself, "When the doors open that day, and he sees me for the first time, will he absolutely be blown away?" If the answer is no, or even if you're hesitant and you don't know, then it's not the right dress.
Any other thoughts on the Say Yes to the Dress experience?
I'm glad I did it. It's definitely a once-in-a-lifetime experience, and just something really cool to have to reflect back on your bridal experience. My mom was a bit hesitant at first because she is a pretty private person, but when I told her how much this meant to me, and how of course I could never pick out a dress without her there, she obliged, and she actually really enjoyed herself, as well. I love the fact that I was able to bond with some of my bridesmaids over something as cool as this show that we all love. And we're having a viewing party to watch the show, so the fun never ends!