At this point, it's no secret that some of the more recent super-hyped capsule collaborations (Maison Martin Margiela for H&M and Neiman Marcus for Target, we're looking at you) have done, well, less than fabulous in stores. Which led to much crowing about the pending death of mass-market-meets-designer collections.
Maybe so.
But for now, designer partnerships are still being launched left and right, and some of us—not to mention our wallets—are still pretty excited. Here are the just-launched and soon-to-debut collabs we're most psyched about:
Kate Spade for Keds
This just-launched collection offers up a cutesy-comtemporary batch of the classic sneaks, done in the whimsical patterns (dots and stripes) and cheery hues (hot pink and turquoise) that epitomize Kate Spade's aesthetic.
When? Available now at Keds
How much? $75 to $85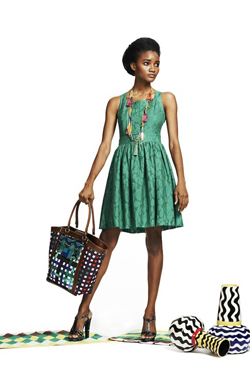 Duro Olowu for JCPenney
JCP teamed up with Nigerian-born, London-based (and FLOTUS favorite!) designer Duro Olowu for a line of print-tastic pieces. Don't miss the accessories and bags—for these, Olowu snagged some help from his pal, the legendary Iris Apfel.
When? Available now at JCPenney
How much? $10 to $100
Man Repeller for PJK . . . Just Sayin'
Blogger Leandra Medine (whom you know as the Man Repeller) just debuted her first collection, a collab with Patterson J. Kincaid that's fully stocked with man-repelling essentials and Leandra faves, such as loud floral prints, silk maxi skirts, peplum moto jackets, and quirky graphic tees.
When? Available now at Bloomingdale's, Neiman Marcus, Shopbop, and Revolve (among others)
How much? $88 to $598
Chris Benz for Cambridge Satchel Company
The color-happy designer puts his quirky spin on the British company's handmade leather school bags, reimagining the über-classic satchel in nine different two-toned versions.
When? Slated to debut very soon at Bloomingdale's and J.Crew stores
How much? TBD
Peter Som for Earnest Sewn (and BHLDN)
The designer's colorful florals are splashed onto Earnest Sewn's Americana-inspired denim for this six-piece collection, which appeared in Som's spring runway show. The capsule includes shorts, skirts, and pants in a variety of pastel bloom prints. Bonus info: Som's been busy—he also just partnered with Anthropologie bridal offshoot BHLDN for a flouncy collection of wedding gowns.
When? This month
How much? $220 to $385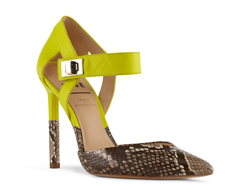 Preen for Aldo Rise
The shoe line's collaborative program, dubbed Aldo Rise, revisits a partnership with Preen to offer up the styles last seen in the designer's runway show. Watch for snakeskin accents and splashes of vibrant citron.
When? This month
How much?
$155 each
Derek Lam for Kohl's
For the second collection in Kohl's internationally infused DesigNation series, CFDA-award winner Derek Lam draws inspiration from his latest jaunt to Rio de Janeiro, working in lush jungle hues and breezy silhouettes to create a set of women's apparel and swimsuits. The best part: It's Lam's first swim collection, and the line is rumored to include 15 swimwear styles alongside the dresses, skirts, pants, shorts, tanks, and outerwear.
When? April 5
How much? $36 to $88
RiRi [Hearts] MAC
Our fave rebellious pop princess Rihanna inked a multi-set deal with MAC Cosmetics, which is slated to release four makeup collections throughout 2013, for a total of 31 products. The line's pièce de résistance? RiRi Woo lipstick, a take on the brand's iconic red, Ruby Woo.
When? May 4
How much? TBD
Milly for Banana Republic
The polished panache of Banana Republic joins forces with the playful whimsy of Milly for this 60-piece capsule collection, which will infuse tailored, sophisticated silhouettes with brilliant pops of neon and bold prints. A highlight? It's Milly's first foray into menswear.
When? Late May
How much? Women's clothing ranges from $45 to $175 and men's clothing from $24.50 to $64.50; jewelry and accessories go for between $39.50 and $130.
Alber Elbaz for Lancôme
The creative genius behind French fashion house Lanvin teams up with the cosmetics brand for the designer's first-ever beauty partnership. No details yet—just one exceedingly charming video.
When? June 15
How much? No one knows. (The secrecy just ups the appeal, if you ask us!)