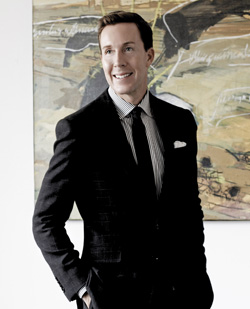 Eric Jennings may live in New York, but the Saks Fifth Avenue men's fashion director isn't exactly a stranger to Washington's suit-and-tie uniform: He spent time here in the early '90s while interning for a senator. So he has respect for our city's menswear staple—as long as it's properly done, that is. "A suit does not have to be a uniform of armor," he said during a recent visit to Tysons Galleria. What should you look for? A tailored cut with high armholes, a breathable fabric, and plenty of stylish accessories.
We sat down with Jennings during his visit—which brought him to the McLean store to host a mini runway show—to talk about the trends sure to separate the style-savvy from a sea of staid suits.
1) Cadet Blue Suits
Make a bold statement with Suitsupply's La
Spalla Blue Plain suit ($999). Jennings suggests going for the aquatic
hue because it's flattering to just about any skin tone.
2) Geometric and Paisley Prints
"Put
the striped and checkered shirts away," says Jennings. "Whether it's a
geometric or a paisley pattern, allow that to be your statement by
pairing it with a basic color."
Club Monaco does it best with
subtle, sophisticated prints—we like the brand's slim-fitting Edward
shirt in a soft floral pattern ($98.50).
3) Floral Lapels
"Even the smallest detail can make a big statement," says Jennings. Your pocket-square counterparts will envy this textured felt lapel pin by Hook + Albert ($30).
4) The Slipper Shoe
Summer is all about keeping it casual and simple. Jennings likes the slipper shoe because it's a "formal remix" that's all about the hue and material. One to try: Bugatchi Uomo's Picasso driving shoe ($150).
5) Leather Wristwear
Men's
jewelry works well when done with the right material. Try Fossil's
braided leather bracelet ($38) for what Jennings calls "a subtle
surprise."