Just in time for summer, a preppy new store has landed in Georgetown. Named after founder Brittany Eldridge's nickname and a family name, Britt Ryan boasts its own line of brightly hued and boldly printed tops, dresses, and bottoms, all manufactured right here in the US.
The Wisconsin Avenue store is the brand's second boutique—the first is in Boston, where Eldridge was based before her recent relocation to the District. "I originally had no intention of opening a second signature store here," she says. "But when the opportunity presented itself, I couldn't pass it up!"
When scouting for a Washington location, Eldridge instantly developed an affinity for the Georgetown community and its signature style."I love the neighborhood charm and the preppy, fashion-forward style of the area," she says. "It's a perfect fit for the Britt Ryan brand. Our customer is definitely the Georgetown gal."
Read on for our interview with the designer.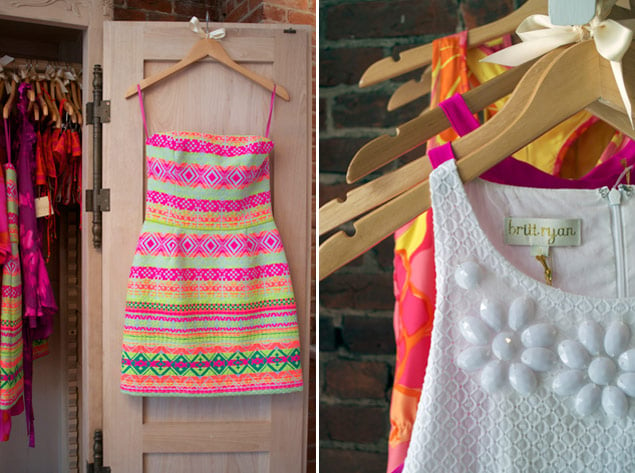 Tell us about your background.
I grew up inspired by my
extremely creative and talented mother. Starting at a very early age she
taught me almost everything I know about fashion, design, and
fabrication. We ultimately opened a women's specialty store together in
2005 in my hometown of Cazenovia, New York. I later went on to work for
various Boston-based design companies, and in 2010 I launched the Britt
Ryan collection.
Describe your label in three words.
Feminine, colorful, classic.
What about your personal style?
I think classic, girly,
feminine, and sophisticated are all appropriate adjectives to describe
my personal style. And anyone who knows me well would say that I love to
accessorize!
What has surprised you the most about the fashion scene in DC?
Both men and women are not hesitant to wear color here. I love it!
What inspires you?
I
have been fortunate enough to have traveled a fair amount in my
lifetime, especially in the past few years. I love new experiences and
exploring other cultures. Whether it's the French Riviera, the Tuscany
region of Italy, or the beaches of Bermuda, I'm inspired and influenced
by my surroundings, which always feed the collections I am cultivating.
What is your favorite piece from your current collection?
Definitely
our Pop Rocks shift! The cut of the dress is so flattering and classic,
and the ornate boldness of the fabric makes an on-trend fashion
statement.
What is the summer trend that you are most excited about?
Peplums! They are so fun and girly, but also make a more daring statement.
What's your secret shopping tip?
It is essential to have garments tailored to your specific shape. It makes all the difference!
Britt Ryan, 1625 Wisconsin Ave., NW; 202-808-2408.