Nicholas Wiesner and Caitlin McGowan's love story started at the age of 12 when the two met while vacationing on Washington Island in Wisconsin. After spending the entire summer together, crushing on one another in the way first loves often do, the two returned to their homes at the end of the season—Caitlin to Silver Spring, Maryland, and Nicholas to Chicago. They promised to be pen pals. Ten years passed before the couple reconnected in person once again, this time in Chicago, where Caitlin was visiting her sister and Nicholas was attending the Art Institute.
Their spark was rekindled, and a love affair ensued, only this time they didn't have to leave each other when summer was over. A romantic rooftop proposal in Rome followed suit, and the bride, a clinical psychologist, and groom, a creative director, would eventually return to Caitlin's hometown for the wedding celebration. The ceremony was held at Potomac's Our Lady of Mercy church, where Caitlin was baptized, and the reception followed at the Congressional Country Club, where her family has held memberships for two generations. The bride and groom both donned family heirlooms—Caitlin wore her grandmother's earrings and Nicholas his grandfather's wedding ring—and the bride rode to church in style in her grandfather's 1966 SS Chevelle.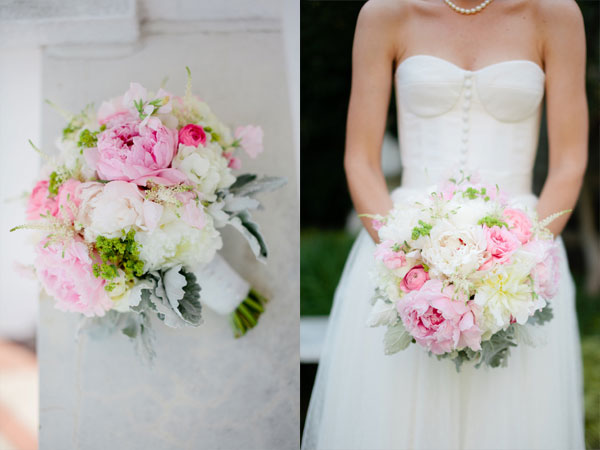 Details
Photographer: Sarah Danaher, Ampersand Photography
Engagement Story: Nicholas proposed to Caitlin on a rooftop restaurant in Rome overlooking the Coliseum. The day after the proposal they met up with Caitlin's family in Florence and spent a week there celebrating together. Nicholas also surprised Caitlin with an iPad so that after the proposal she could Skype family and friends who were not there.
Wedding Ceremony Venue: Our Lady of Mercy Catholic Church
Wedding Reception Venue/Caterer/Cake: Congressional Country Club
Event Coordinator: Marlene Gusella, Congressional Country Club
Bride's Gown: Romona Keveza
Groom's Suit: John Varvatos
Hair: Seema Khanna
Makeup: Susie Kim
Florist: Kelly Shore, Petals by the Shore
Wedding Flowers: Pink and white peonies, white hydrangeas, pink ranunculuses, white lamb's ear, pink sweet peas, white astilbe, and bupleurum
Wedding Cake Flavors: White cake, fresh summer strawberry filling, and white wedding icing
Invitations: Design by Nicholas Wiesner; printing by Rohner Letterpress; calligraphy by Stacey Shapiro
First Dance Song: "Loving Wings" by Dave Matthews Band
Biggest Surprise of the Wedding: Caitlin's maids of honor (her two younger sisters) had the wedding band play "Jump" by Van Halen as the bridal party entered the reception and then had each couple choreograph their own jump. This was all photographed, including the last-minute addition of the bride and groom jump, which turned out to be one of the couple's favorite wedding pictures.
Four Words That Describe the Wedding: Elegant, classic, traditional, beautiful
Honeymoon Spot: Washington Island, Wisconsin, and Negril, Jamaica
Where They Currently Live: Chicago, IL
Is your wedding coming up? Let us know for a chance to be featured in our wedding announcements. Fill out the form and send an engagement session photo with the name of the couple to weddingannouncements@washingtonian.com.