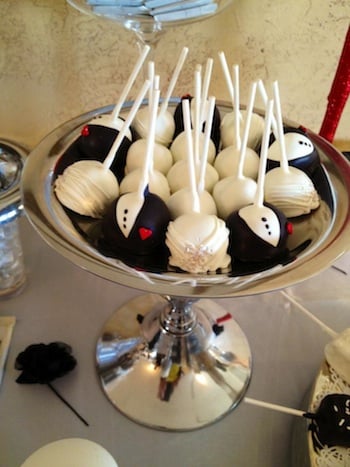 When it comes to weddings, presentation is everything—after all, it will be the most photographed event of most couples' lives. From table decor and dessert styling to gourmet desserts and basket arrangements, Basket Treats by Alexis Streets works with every client to make sure their sweet treats take center stage.
The Maryland-based dessert stylist arranges each decor and food element without the use of templates or stencils, guaranteeing that every event is one-of-a-kind. With all food items and table arrangements custom-made, there is no request or theme (most recently the business catered to a Moroccan-themed birthday party) that Streets cannot fulfill. We caught up with the sweet-toothed artisan—whose fans include filmmaker Spike Lee, Josh Wilson of the Washington Redskins, and singer Keke Wyatt—and she opened up about this season's dessert trends and her most challenging order yet.
How and when did you first get into desserts?
I have a background in interior decorating. After having my first child prematurely, then getting into a terrible car accident, I was unable to return to full-time work and began toying with the idea of starting my own home-based business.
How did you get the idea for your business?
I wanted to combine my passion for all things decorating and arranging with my love of desserts. Initially, I started out creating gift baskets for special occasions, like birthdays and Valentine's Day. Slowly, I began incorporating edible and decorative fruit into the arrangements.
How is your business unique to the wedding scene?
I feel that wedding cakes are very traditional, and people are becoming more in tune to the wide variety of options out there to wow their guests and to tailor their affairs to their own personal style. My business enables my clients to do both.
What are some of the desserts that you offer?
Gourmet loaded marshmallows, gourmet Oreo cookies, chocolate wine-infused fruit, candy apples, gourmet strawberries, cake pops, brownie pops, gourmet pretzels, cheesecake pops, fortune cookies, 14K chocolate candies, Ciroc brownie shots, and pecan turtles.
What are the most popular desserts this wedding season?
The Ciroc brownie shots, cake pops, and candy apples are all very popular.
What has been one of your most challenging requests to work on?
All of my clients want something different, but I would say my hardest request was a client who wanted everything—from decor to desserts—to have a bling effect with diamonds and pearls.
Dessert bars are typically associated with brides. Is there anything special that you can offer the grooms?
Men really like our groom cake pops and some of our gourmet candies. For a few clients, I've created a groom's basket with candies, cigars, and bottles of liquor.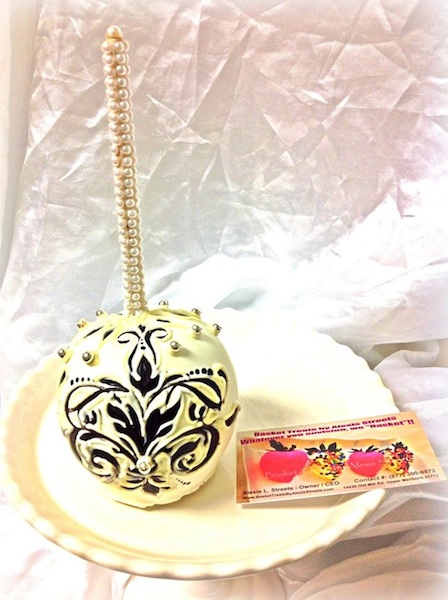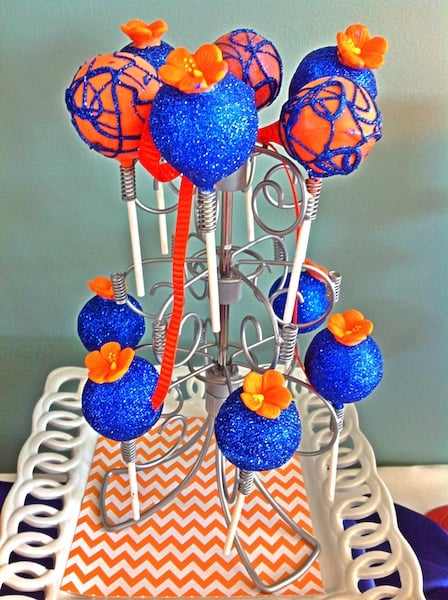 Wedding tables start at $825 and increase based on the level of customization required and quantity. Basket Treats by Alexis Streets also accepts à la carte orders for all desserts, which range from $3 to $250 each. To make an order visit 14420 Old Mill Rd., Suite 201, Upper Marlboro, Md. or call 877-300-9872.