It took Sandy Pollock and Michael Lovitt 14 years to tie the knot. The couple, who met while working for the same advertising agency in Austin, didn't instantly hit it off. They were friends and colleagues before they realized that there was an undeniable chemistry between them. And good thing they did—after 12 years of dating, Michael, a software engineer, asked Sandy to marry him in a proposal that she still refers to as "the best day of my life before the wedding."
"Michael popped the question, bent on one knee in the middle of the road, just before taking me into a giant surprise for my 40th birthday party where my favorite country band Dale Watson was playing," says Sandy, chef, cookbook co-author of the Casserole Queens series, and a one-time participant on the cooking show Throwdown with Bobby Flay.
When it came to the wedding, after a two-year engagement, the couple opted for a basic wedding for two. After a "first look" in their Dupont Circle home, where Sandy surprised Michael in a green skirt that her mother made, the couple made an afternoon of exploring the city and taking photos. An hour before the ceremony, the couple stopped by a corner flower shop to pick up a last-minute bouquet before exchanging their vows on the Spanish Steps in Kalorama. The couple shared Sweet Diablo's famous "Best Chocolate Cake in the World" before embarking on their new adventure as husband and wife.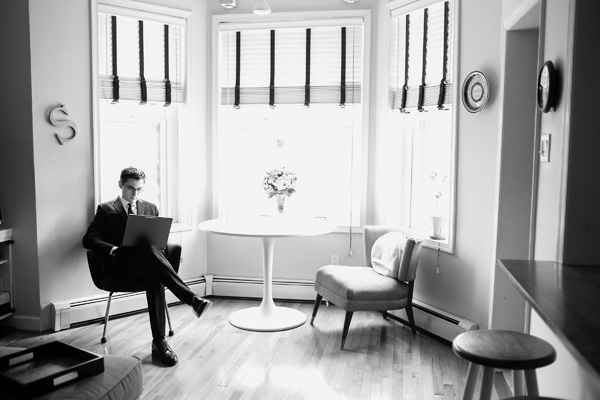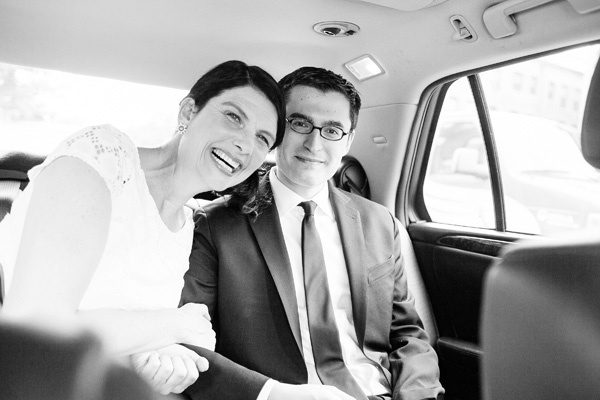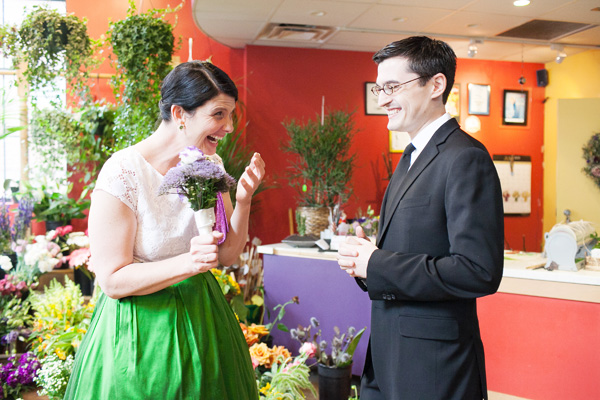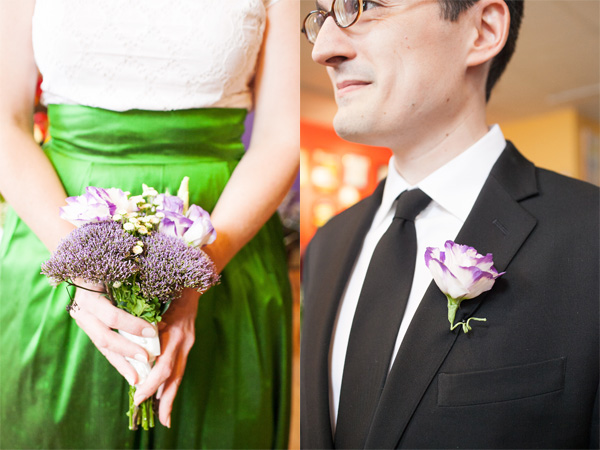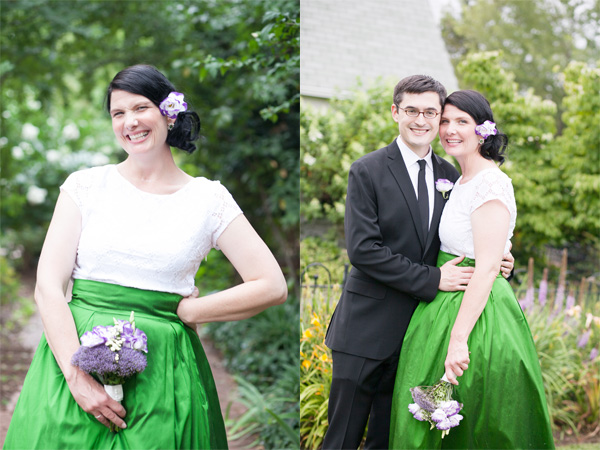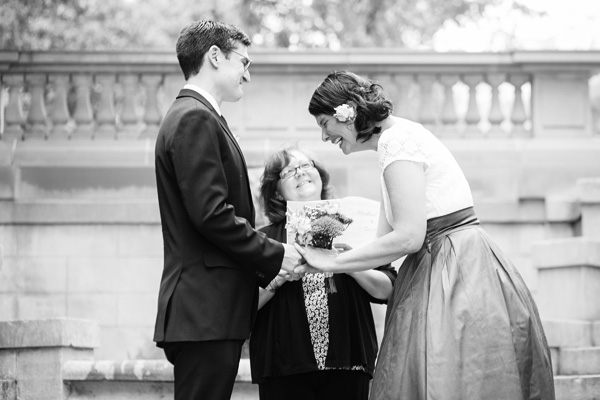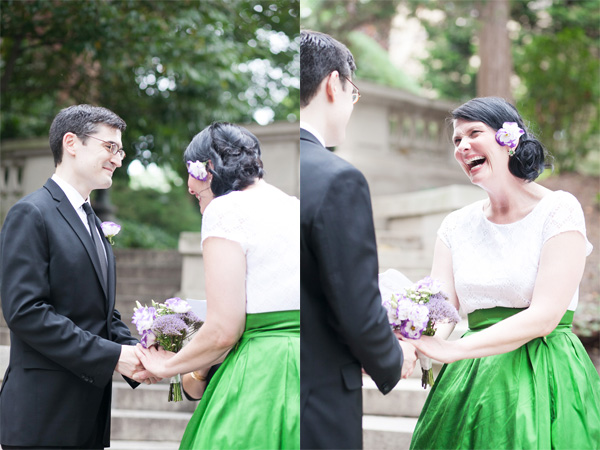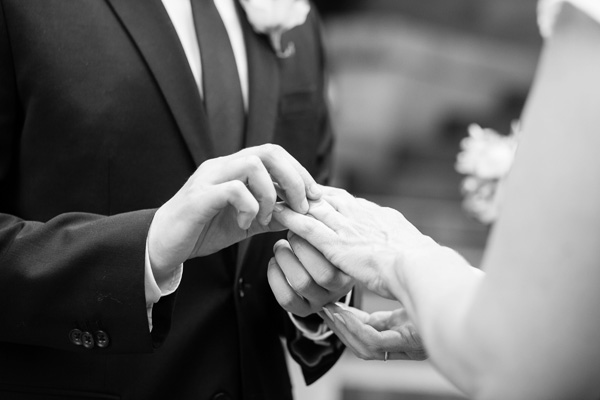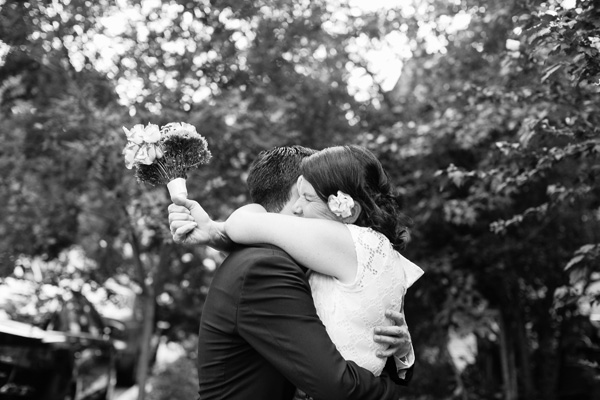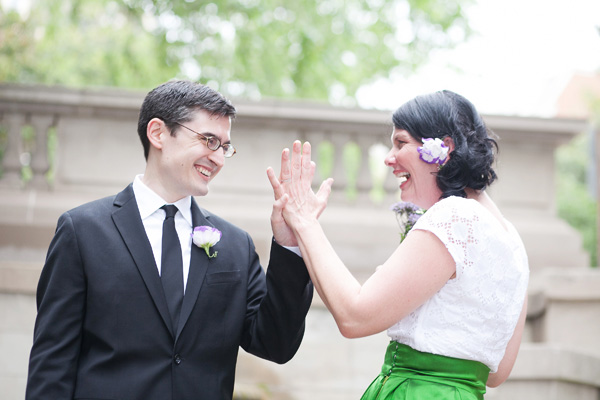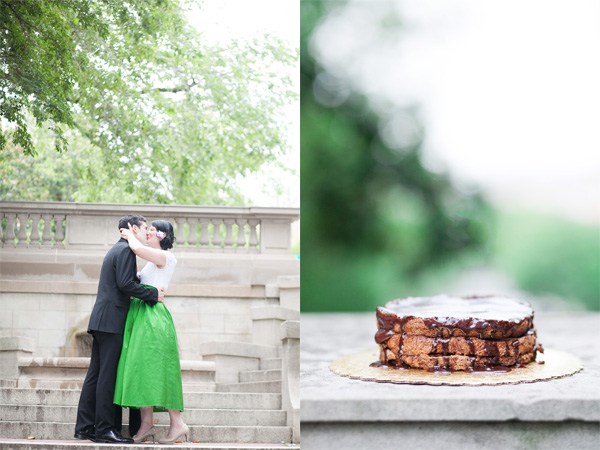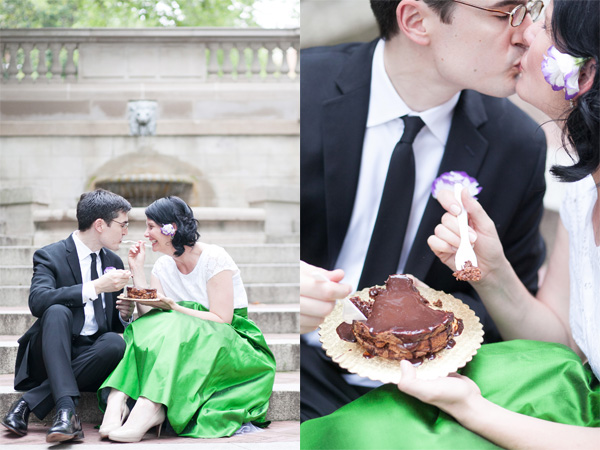 Details:
Photographer: Astrid Woltering, Astrid Photography
Wedding Ceremony: Spanish Steps, Kalorama
Wedding Venue: None but we had a romantic dinner at Plume
Bride's Outfit: Top from Banana Republic, skirt by Margie Pollock (the bride's mother)
Groom's Suit: Banana Republic
Hair Dresser: Rachel, Blondie's Hair Studio & Spa
Cake Baker: Sweet Diablo
Wedding Cake: "The Best Chocolate Cake in the World"
Wedding Cocktail: Salty mimosas while getting ready
Florist: Little Shop of Flowers. The owner overheard the wedding plan and sprung into action, wrapping the flowers in a beautiful ribbon adorned with pearls, putting a purple flower into Sandy's hair and another into Michael's lapel.
Wedding Flowers: A variety of white and purple flowers that complemented Sandy's dress
Bride's Favorite Wedding Detail: "My skirt, because my mom made it, and it helped connect my family to the day."
Groom's Favorite Wedding Detail: "The surprise champagne we received at dinner sent from my parents back in Austin, Texas."
Biggest Surprise of the Wedding: "How fun and uncomplicated it can be to get married when you strip the event down to its essentials."
Wedding Theme: A perfect wedding for two.
Four Words that Describe the Wedding: Simple, spontaneous, joyful, us.
Honeymoon Spot: Quebec, Canada
Where the Couple Currently Live: Dupont Circle, Washington, DC