Who: Jocelyn Gailliot, 32, September Rinnier, and Maddy Moore, both 26
Cofounders, Tuckernuck
What Jocelyn does: "Maddy, September, and I work together to finalize the buying and set the vision for each season's offering. As the CEO, I focus on fundraising, investor relations, hiring, reporting, legal, and, most important, growth strategy. While Maddy and September focus more on the daily operations, I'm constantly trying to figure out how to get us from point A to point Z. But we are a young startup, which means we all do everything and no task is below us."
What September does: "Since our team is still small, we all wear many hats. Day to day, I oversee the inventory fulfillment and customer service teams. I manage the technology side of our business, third-party customer acquisition, and vendor relationships. Each season, Maddy, Jocelyn, and I work closely to map out our assortments for the clothing, shoe, and accessory categories. We're also in the process of sourcing a ton of new brands to launch Tuckernuck Home and Tuckernuck Tots. Stay tuned!"
What Maddy does: "I focus on buying with Jocelyn and September and merchandising with our creative director, Sophie."
Their work style: Jocelyn describes her look as "tomboy chic" but loves a touch of the unexpected with bold statement jewelry or wild shoes. Maddy goes for comfortable yet feminine pieces, and September is drawn to simple styles—but can't resist a good stripe. All three prefer classic designs.
At a Trade Show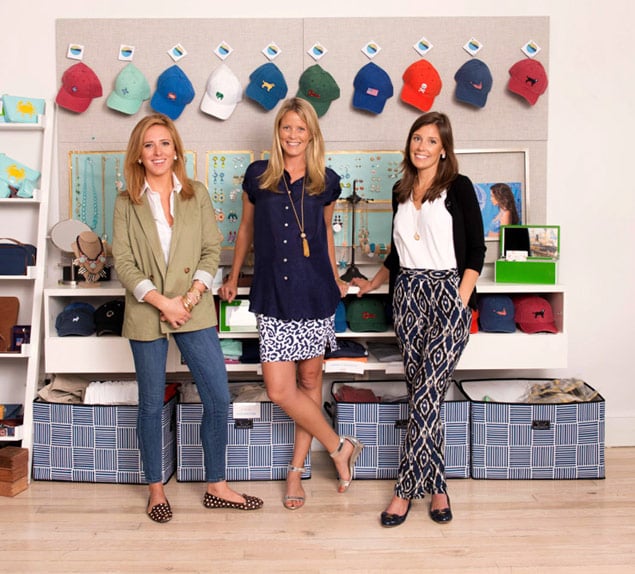 September: "Comfortable clothes and shoes are key! We are on our feet all day, so it's best to wear flats. And our Cortland Park cashmere is the ultimate luxury." What she's wearing: Kule army green jacket with leather collar, Shirt by Rochelle Behrens the Icon, J.Crew skinny jeans, Charles Philip calf-hair spotted loafers, Asha Zodiac pendant necklace, heirloom Cartier watch and gold bangles, Julie Vos elephant bangle, Pomander Place beaded bracelet, and Asha Cambridge ring.
Jocelyn: "Being pregnant, I opt for cute shoes that are either a low wedge or a flat for all the walking and a noticeable Tuckernuck piece such as this jaguar skirt, so that we can stand out a bit among lots of new faces. I think the best accessory of all these days is my bump, though . . . it's an incredible ice-breaker." What she's wearing: Persifor jaguar skirt, Calypso navy blouse, J.Crew sliver wedges, Loren Hope Elva gold tassel necklace, Julie Vos elephant bangle, and charm bracelet.
Maddy: "Attending trade shows in New York means meeting new vendors, pitching Tuckernuck nonstop, and walking countless floors. I try to wear Tuckernuck products head-to-toe to represent our style among new faces, but I also make a point to mix in a funky, more on-trend item like these printed slacks, showing our contemporary twist on classic prep." What she's wearing: Beth Bowley cashmere cardigan, Annie Griffin ruffle-collar sleeveless blouse, Amour Vert ikat pants, Ferragamo patent flats, Kenneth Jay Lane pearl earrings, and charm necklace from Nantucket.

For Everyday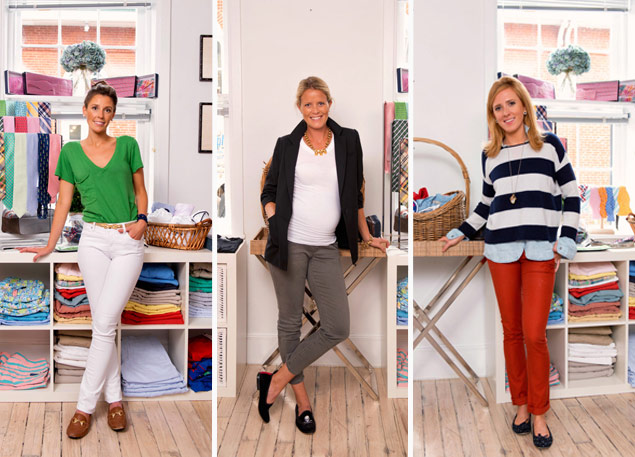 Maddy:
"A regular day in the office for me often involves scissors, packing
lists, spreadsheets, and steamers. I unpack all new arrivals, which
means I'm often on the floor. Comfort and coverage are big priorities
for me, so durable, stretchy denim is a go-to. I try to make a point to
wear color because I think that's a big part of our brand. My bright
Bobi tees also do a fabulous job hiding those unpredictable stains I
pick up schlepping product in the office and on location while
photographing models alongside our creative director." What she's
wearing: Bobi pocket tee, SkinnyJeans jeans, Pink Pineapple buckle
loafers, Raina gold lobster belt, Bhati Beads brass-and-silk wrap
bracelet, and charm necklace.
Jocelyn: "I travel regularly
between New York City and DC for photo shoots, buying, and meetings
with vendors, press, potential investors, and other strategic
relationships, so it's important to look chic, comfortable, and always
in Tuckernuck. Since I'm always on the move, I often opt for cute
cropped pants, bold jewelry, and a blazer. I think a classic blazer is
the easiest thing to add to any outfit for a timeless chic look . . .
especially when pregnant." What she's wearing: Bobi tee,
custom-designed blazer from Hong Kong, J Brand maternity cropped jeans,
Del Toro velvet loafers with skull embroidery, and Lele Sadoughi gold
falcon necklace.
September: "I tend to wear layers to the
office, because we can never agree on a comfortable temperature. We are
pretty casual but always aim to look professional, because you never
know who may pop into the showroom. We heard Bradley Cooper was in
Georgetown the other day!" What she's wearing: Cortland Park Paige
striped cashmere sweater, Bella Dahl chambray shirt, Emerson Fry pants,
Anniel navy dotted ballet flats, and Asha pendant necklace.
Drinks With Investors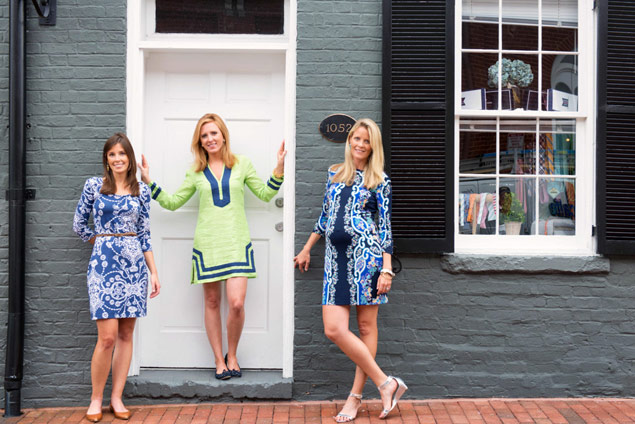 Maddy: "Persifor is my favorite brand for
finding all-star versatile dresses. I'm sure I've worn this piece close
to 100 times. The navy print and above-the-knee cut are sophisticated
enough to wear with a blazer and flats during an investor dinner but
loud enough with heels and colorful earrings to wear at any social
gathering. It defines the phrase 'desk-to-drinks.'" What she's wearing:
Persifor printed dress, J.Crew leopard belt, Corso Como slingback
pointed flats, and Lele Sadoughi Vessel earrings.
September:
"The Sail to Sable tunic transitions well. It is light and breezy and
my go-to dress for the spring and summer." What she's wearing: Sail to
Sable tunic dress, Anniel polka-dot ballet flats, Cartier watch, Julie
Vos bangle, Loren Hope gold link bracelet, Asha ring, and Fornash
starfish earrings.
Jocelyn: "I
used to work in finance for many years, so I am all about the power
dress. These days I have a bit more fun experimenting with bold color.
Right now I'm very much enjoying this Ali Ro dress and anything
Persifor, as they are comfortable, chic, and stretchy enough to be
bump-approved." What she's wearing: Ali Ro Midnight Trellis dress,
J.Crew wedges, Asha turquoise earrings, Hermès enamel bracelet, and
charm bracelet.
The Details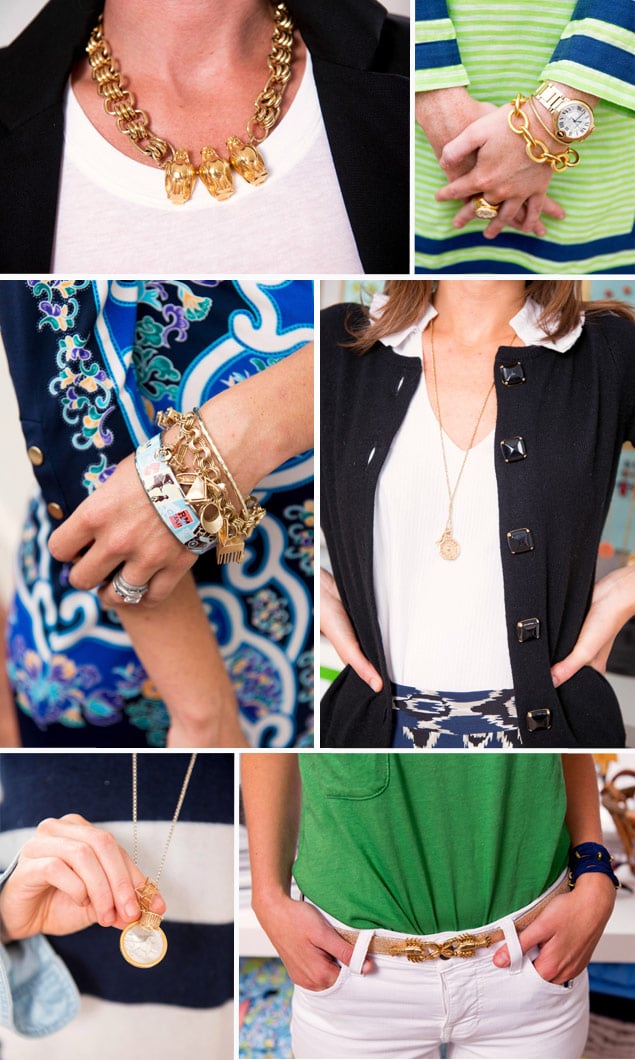 All photos by Andrew Propp.
Think you or someone you know deserves a chance in the What I Wear to Work spotlight? E-mail mthomas@washingtonian.com with pictures and a job description for consideration.

You Might Also Like: