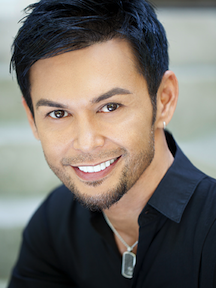 Erwin Gomez has certainly been busy. Following last fall's opening of his new salon, Karma, in DC's West End, the famed makeup artist—whose clientele has included such celebrities as Barbra Streisand, Eva Longoria, and Rosario Dawson—put two tumultuous years in the Washington beauty business behind him to focus his full attention on his next big project: creating a makeup line. After months of anticipation, the namesake collection launched this month, boasting 11 foundations, eyeliners, lip colors, and more, in shades he says are designed to flatter every skin tone. (See a first look at the collection here.) Gomez is recognized for his expert brow-shaping skills, and here he offers his tips for achieving perfect arches. Here are his four easy-to-follow pointers.
1) Color selection is everything.
"Make sure you select the right shade to match your hair. Never use black, no matter what your skin tone or hair color is. Here's a quick guide: If you have dark hair, do not go darker than your hair color—select a slightly lighter brow pencil. If you have blonde hair, use a taupe pencil. For redheads, use a fawn-auburn-colored pencil to ensure as natural of a look as possible."
2) Substitution is easy.
"In the event that you don't have a brow pencil available, use an eyeshadow that is closest in color to your hair—just make sure it works with the undertones of your skin. Use an angled, stiff brush to apply."
3) Be wary of technique.
"Don't just draw a line! Use a gentle feathering motion to apply color to your brows. If you press too hard or apply too much pressure, don't try to start over. Instead, simply use an old toothbrush or mascara wand to make the look less dramatic."
4) Hair growth is essential.
"If you're missing a part of the brow, I recommend using Rogaine for Women or any hair growth product to speed up the process. My favorites are Latisse and DSL Laboratories."