From the moment Steven Pope and Emily Kimball met, they knew they were meant to spend the rest of their lives with each other. "We only made it about 13 days before having a very frank conversation about getting married. It felt undeniably right," says Emily, a senior digital news editor. The two met in June 2012 at a Mormon congregation in Baltimore after Steven relocated from Salt Lake City for a job offer. "I had traveled 2,400 miles just days before, and it felt like it was all leading up to finding her," says the groom, an e-commerce digital marketing manager.
After just five weeks of dating, Steven decided to seal the deal with a ring. Following dinner at an Italian restaurant in Baltimore, where the couple remembers bantering over an unwritten marriage contract and talking about "dish duty, diaper-changing, and holidays," the groom suggested they take a drive. "He drove me to one of my favorite places in the world, the grounds of Kingsville Elementary School, to an old grove of trees that I thought was filled with magic when I was a little girl," says Emily. "He led me to an old picnic table, then got down on both knees, in the dirt and asked to marry me." The bride didn't hesitate, and an almost entirely handcrafted wedding followed a year later in Maryland.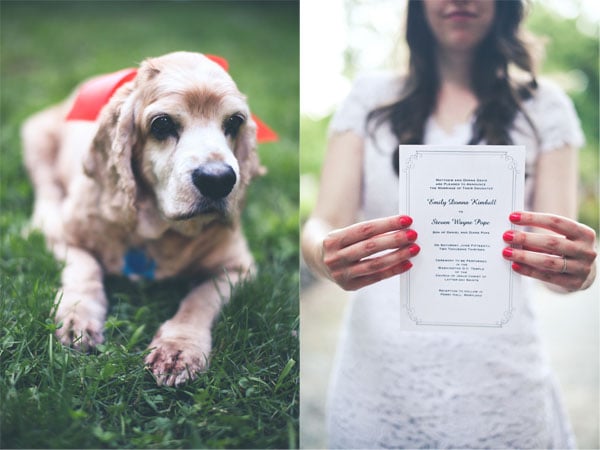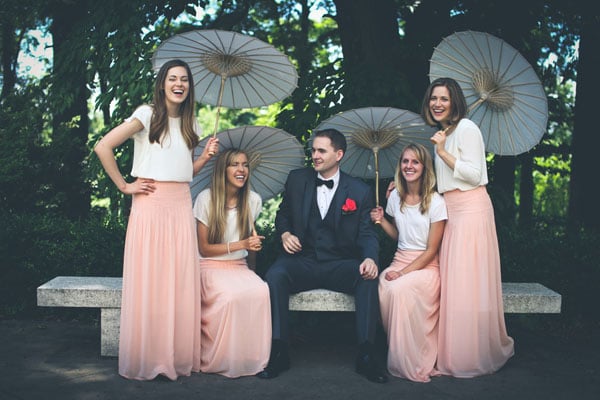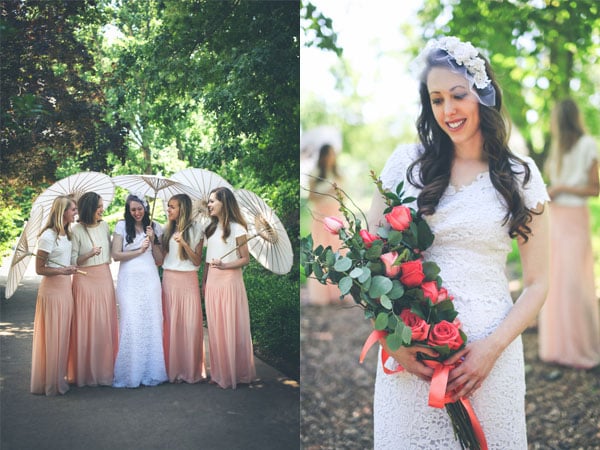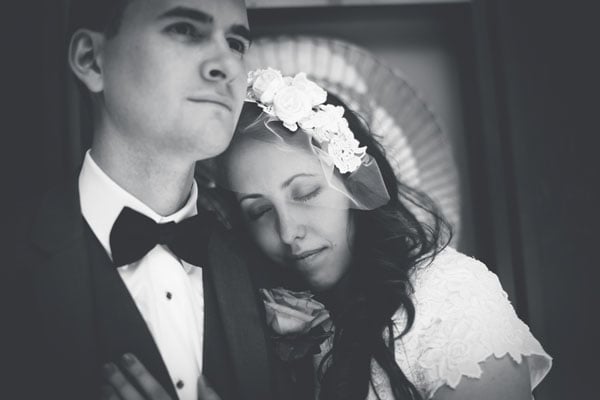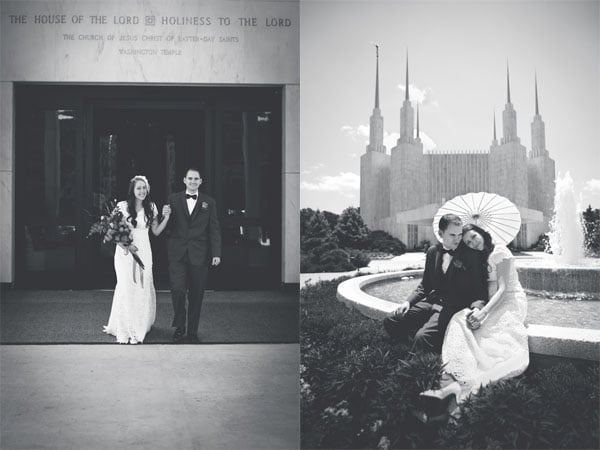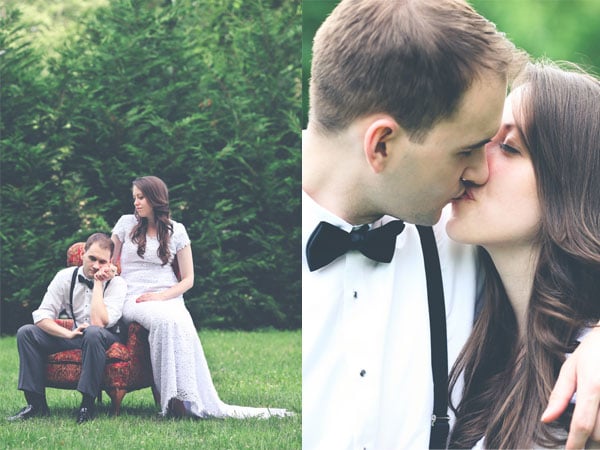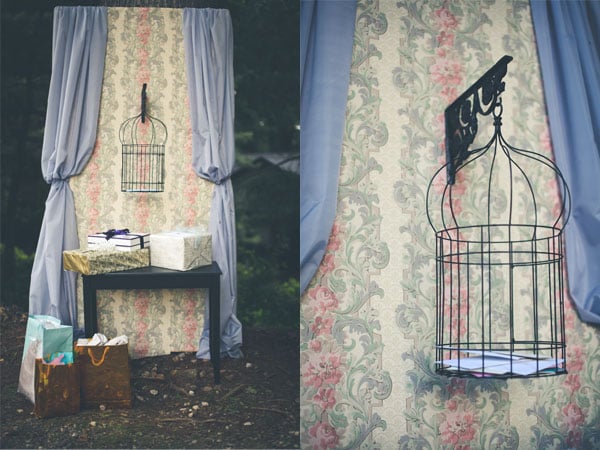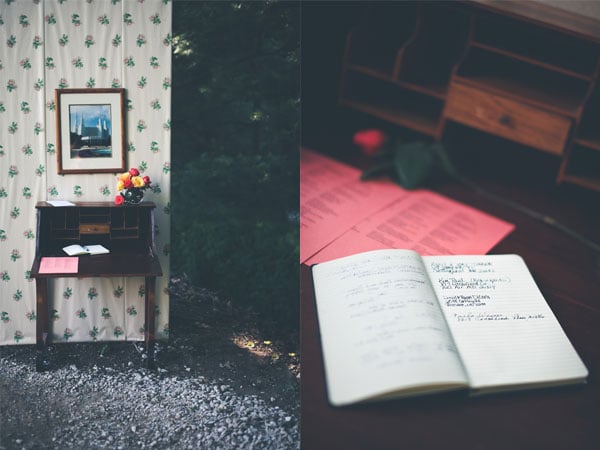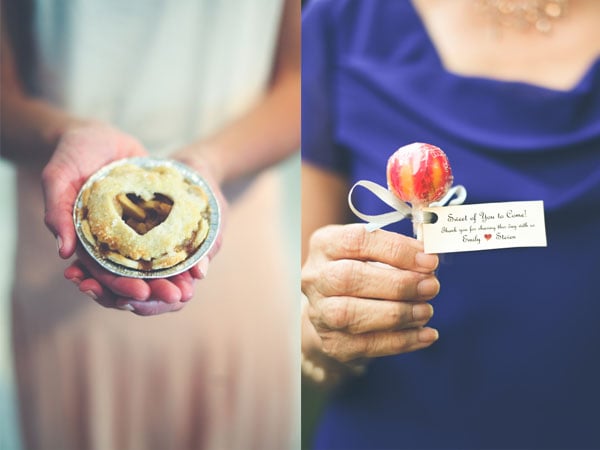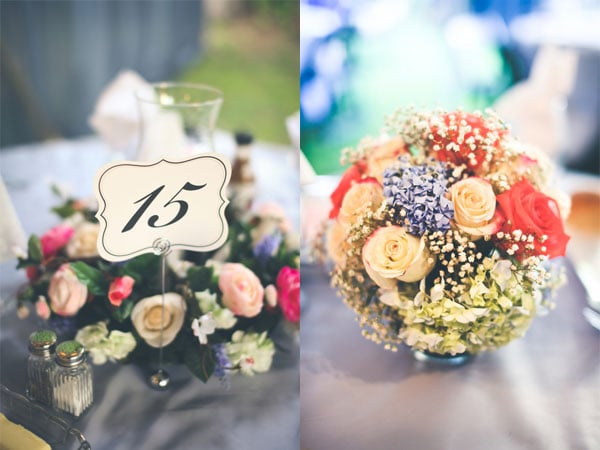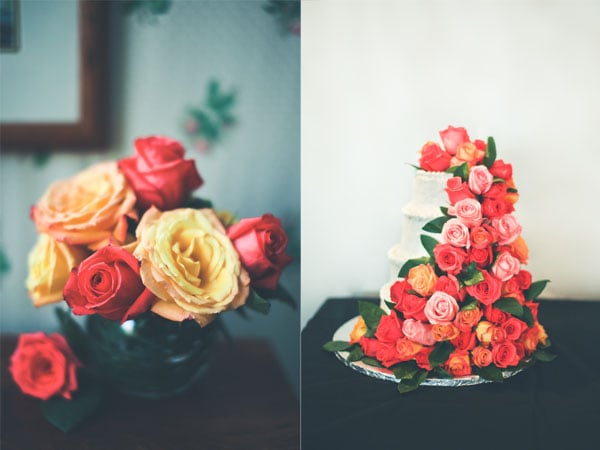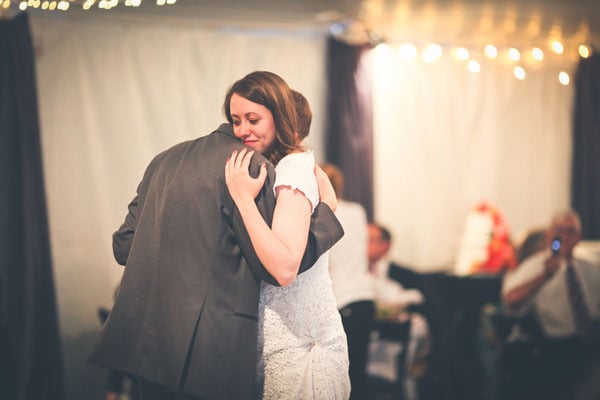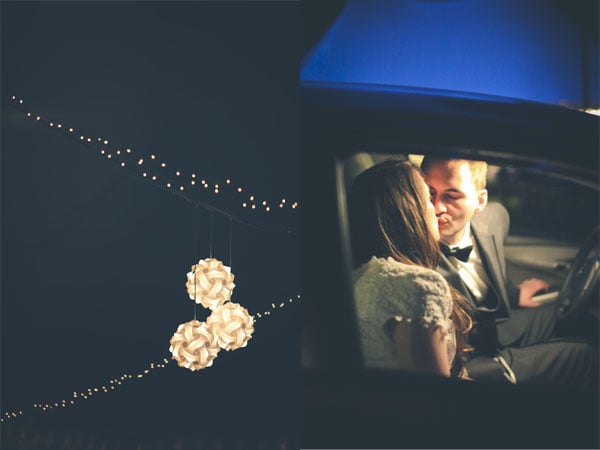 Details:
Photographer: One Summer Day. "We really hit the jackpot with this husband-and-wife team. The photos were as magical as the day itself."
Wedding Ceremony Venue: Washington DC Temple of the Church of Jesus Christ of Latter-Day Saints
Wedding Reception Venue: Home of the mother and stepfather of the bride, Matthew and Donna Davis, in Perry Hall, Maryland. "Their half-acre property is enveloped by the Gunpowder Falls State Park, tucked inside a heavily wooded forest, and surrounded by trails and wildlife. It's the home I was born in and where I grew up," says Emily.
Event Coordinator: A joint effort between the bride's mother, Donna Davis, and sister Laura Kimball
Bride's Gown: Made by the bride's mother, Donna Davis, with fabric from her sister Jennifer Allen
Hair/Makeup: Bridal party
Groom's Tux: Black by Vera Wang, Men's Wearhouse
Wedding Cocktail: Peach nectar mocktail
Caterer: The bride's mother catered the dinner with assistance from family and friends. "I don't know how it all got done, but it was incredible and tasted great. No one knew it was homemade because we hired servers."
Cake: Made by the bride's 85-year-old grandmother. "She hadn't made a wedding cake in ten years, but she got out the pans just for me!"
Wedding Cake Flavors: White cake and white buttercream frosting, covered in real roses.
Dessert: "My mom, with a little help from me, made all of the miniature apple pies that had little hearts cut out of the pastry. Her from-scratch pie crust and homemade pie filling is a beloved family favorite. We made them in advance and toasted them up right before the reception. She also made the other smaller desserts, like the little tarts and mini trifles," says Emily.
Florist: "We ordered the flowers in bulk from a local grocer and picked them up the week of the wedding. My mom, sister Laura, and I then handmade all of the arrangements."
What Wedding Flowers: Roses in a range of pinks and corals, as well as a variety of vines, ferns and berried shrubs
Music/Entertainment: DJ Jonathan Davis, MusicMasters
Invitations: Vistaprint
Bridesmaids' Favors: Parasols, Luna Bazaar
Dinner Glassware, Vases, Pitchers, and Centerpiece Holders: A mismatched collection from secondhand stores, yard sales, and thrift stores
Bride's Favorite Wedding Detail: Wedding dress. "I wanted a white, entirely lace gown. Getting married in the Mormon Temple meant that it needed sleeves to cover my shoulders, which is almost impossible to find off the rack. My mom volunteered to sew it, but we still needed to find the lace. My sister Jen, who was living in Singapore at the time, sent us swatches from the Singaporean fabric district and ordered us 16 yards. It was exactly what I wanted! My mom spent about three months constructing the dress out of two separate patterns and hand-applying and sewing the floral lace. My sister wasn't able to come to the wedding, but wearing the lace made me feel like she was close."
Groom's Favorite Wedding Detail: "I loved the grandiose circus-style white tent in Emily's parents' backyard. We were the stars of the show."
Biggest Surprise of the Wedding: "How quickly it all went. We had the wedding ceremony early in the morning at the temple with a small group of family members, and then the huge party that evening with more than 200 people, so it was an all-day event. The reception was a lightning-fast three hours."
Decor Details: "The tent's origami-style light fixtures, another gift from my sister from a market in Singapore, were so wild-looking, and the fabric panels that even my sweet bridesmaids assisted in sewing a couple days before the wedding, made for such an awesome ambience inside the tent," says Emily.
Honeymoon Spot: Dominican Republic
Where They Currently Live: "We recently bought a 1965 fixer-upper in rural Harford County. We now spend our weekends at Home Depot, but we're loving every minute of it."