Who: Ron Akins, 43
Executive assistant, National Retail Federation
What I do: "I've been with the National Retail Federation for about six years. When my present boss, Vicki Cantrell, joined us, I was offered to opportunity to work with her. She's a highly respected leader in the retail world. I went from a pure retail-loss-prevention-focused position to a broader role that includes engaging with senior level and C-Suite executives in IT, loss prevention, digital retail, and marketing. I work closely with my boss on any number of projects, and I am a lead person within our loss-prevention team, which is still near and dear to my heart. Travel for our events, dinners, and member visits is about 35 to 40 percent of my job."
My work style: "I would describe my work style as business classic with a modern twist. Our office is business attire, and I personally prefer business dress. I am highly influenced style-wise by my father, who passed away 15 years ago. He taught me a lot about style, luxury menswear, and how to wear what, and I freely share with anyone who asks for advice or a suggestion."
Events/Member Visits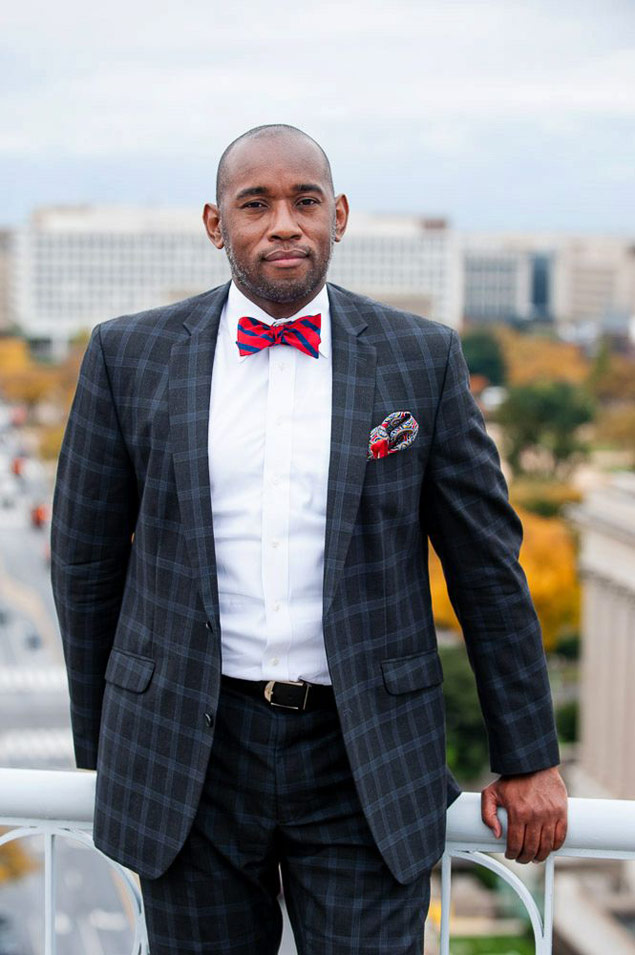 "Bow ties have become a signature look for me. No matter where I go for work, in the office, meetings, events, or members' offices across the country, my bow ties are what people know me for. Bow ties are a fun alternative to a regular tie, so I like to wear them with suits, sport jackets, or blazers. I have an affinity for rich, bold colors that give what could be an ordinary suit that something extra that catches the eye. Not to mention my socks, which are just as much a signature style of mine as the bow tie."
Ben Sherman plaid suit, dress shirt from Nordstrom, Tommy Hilfiger bow tie, Happy Socks socks, Ben Sherman wing-tip dress shoes.
Board Meeting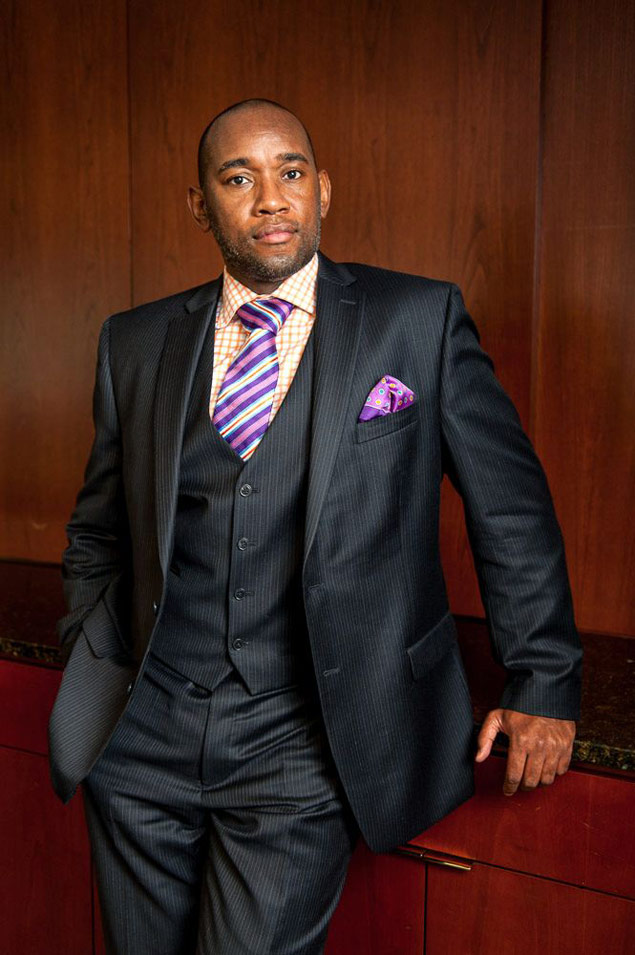 "We have boards and councils that consist of well-dressed senior-level and C-Suite retail executives. I believe I should look my best no matter where I am or who I am with. Wearing a three-piece suit, a detailed/patterned dress shirt, and a sharp tie with colors and various patterns makes me stand out."
Calvin Klein pinstripe three-piece suit, shirt from Nordstrom, David Donahue tie, Happy Socks socks, Cole Haan wing-tip shoes and belt.
Casual Friday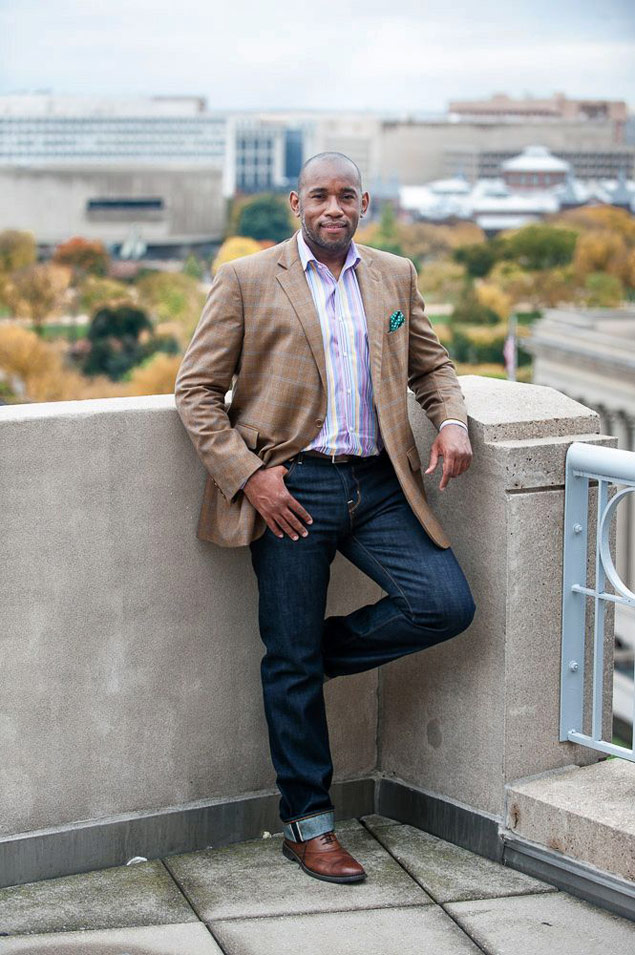 "My office has a casual Friday policy that allows us to wear jeans. I wear jeans only one or two times a week, so I like to dress up the look a bit with a dressy-casual shirt and a jacket or sweater. Most of my dress shoes are just as comfortable as my sneakers, and I feel most of my jeans look better with dress boots or shoes."
Robert Talbott window-pane blazer, Thomas Dean shirt, Big Star jeans, Ralph Lauren belt, Funky Socks socks, Cole Haan shoes.
The Details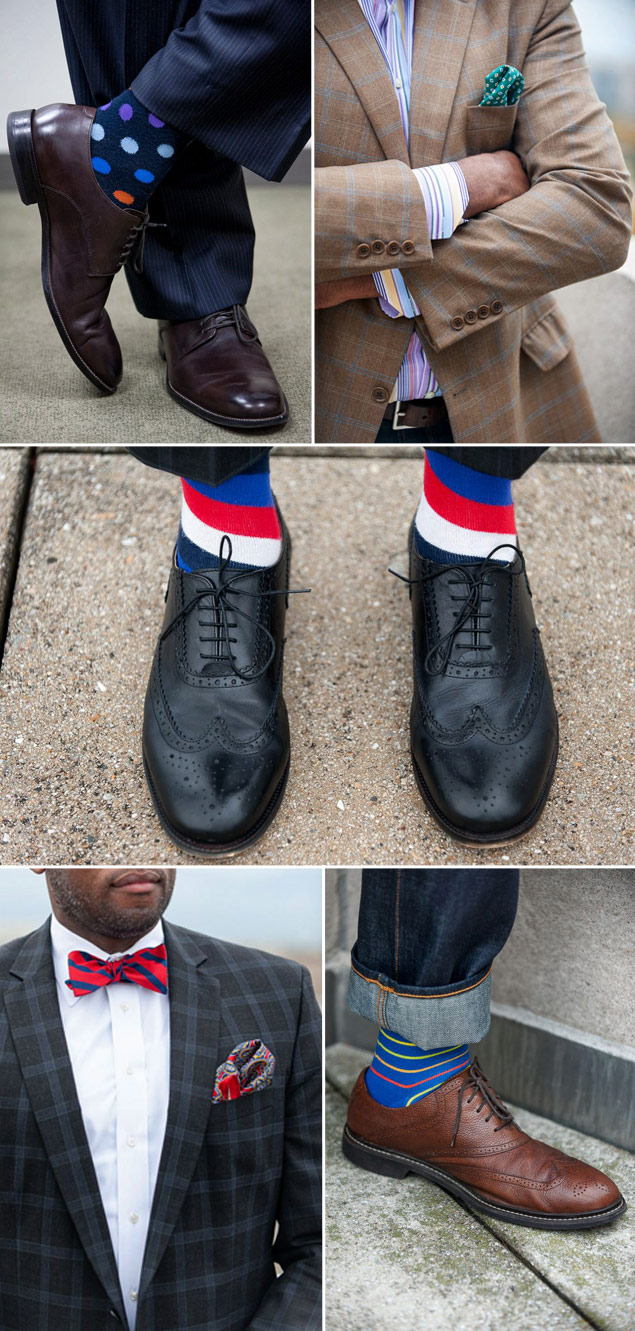 All photographs by Andrew Propp.
Think you or someone you know deserves a chance in the What I Wear to Work spotlight? E-mail mthomas@washingtonian.com with pictures and a job description for consideration.
You Might Also Like: