Who: Maria Jose Abad, 29
Account supervisor for Qorvis MSLGROUP, Author of Maria On Point
What I do: "I'm a communications executive practiced in tactical execution and strategic planning for clients, with an emphasis on public and media relations, brand messaging, consumer marketing, and social media strategy for national and international campaigns. I manage corporate and consumer clients, offering strategic counsel, event development and management, and media relations support while managing an internal team from our creative division."
My work style: "I tend to lean toward preppy, clean, and feminine looks. For the most part, I wear dresses, pencil skirts, and skinny pants to the office. I tend to wear classic and fitted outfits to work but always add a touch of personality through statement necklaces, colorful scarves, and blazers. Another key piece I wear to the office at least twice a week is the J.Crew Tippi sweater. I have at least ten of them, ranging from cashmere to Merino wool to linen. My outfits are always comfortable and professional with a splash of sophistication and femininity."
Client Meeting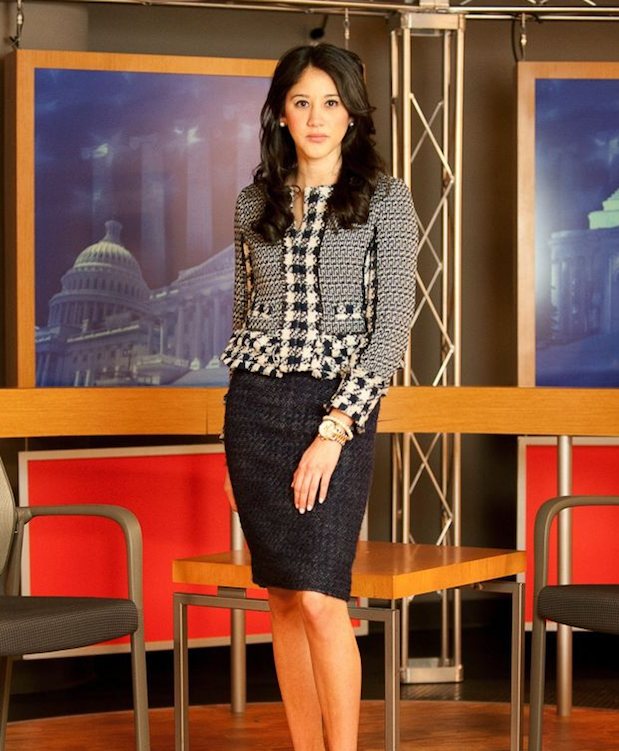 "When it comes to client meetings, I tend to wear my most professional business attire but still add a modern touch. Depending on the client, I am able to play a little bit with my outfit choices. A tweed jacket and skirt are perfect for the winter months; they have that Chanel classic and feminine air that we girls love. The houndstooth pattern and the beads on the jacket add a chic touch while keeping it professional and appropriate for seeing clients. I typically pair these looks with nude asymmetric Zara heels, my go-to office shoes."
Tory Burch houndstooth tweed jacket, J.Crew tweed pencil skirt, Coach watch, vintage pearl bracelet, and Majorica pearl earrings via Neiman Marcus.
Desk to Drinks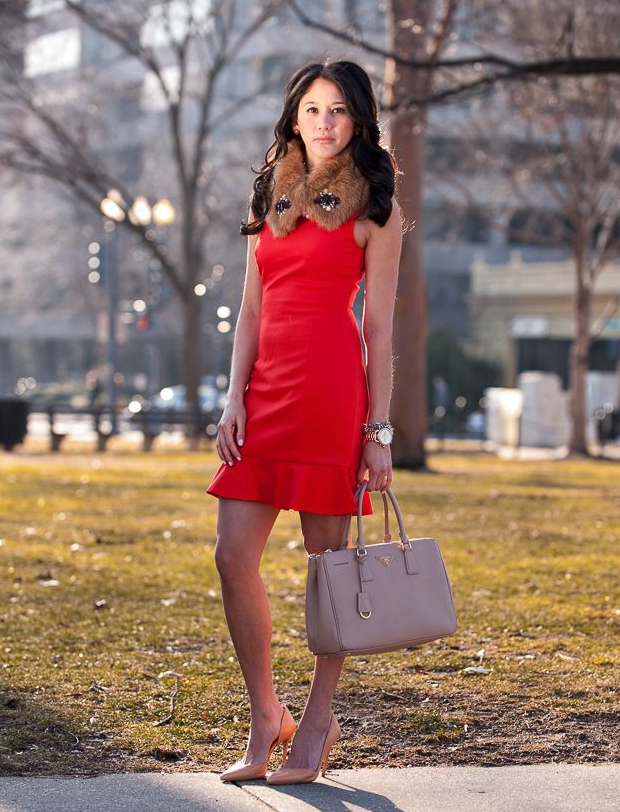 "This look is one of my go-to day-to-night outfits for the office. I love the punch of red-orange, which is very spring-forward. Most of my work wardrobe consists of neutral colors, which keeps them professional but leaves room to be playful with accessories. This Zara fur collar is a great accessory; it adds some texture and makes the overall outfit pop. At the office, I may wear this outfit with a blazer but have the option to take it off when I go to happy hour when the temperatures are warmer. I often wear this dress with a pearl choker necklace, as well."
Dress, collar, and heels from Zara, Prada bag, Coach watch, Stella & Dot Renegade cluster bracelets, Majorica pearl earrings via Neiman Marcus, and Forever 21 rings.
Casual Friday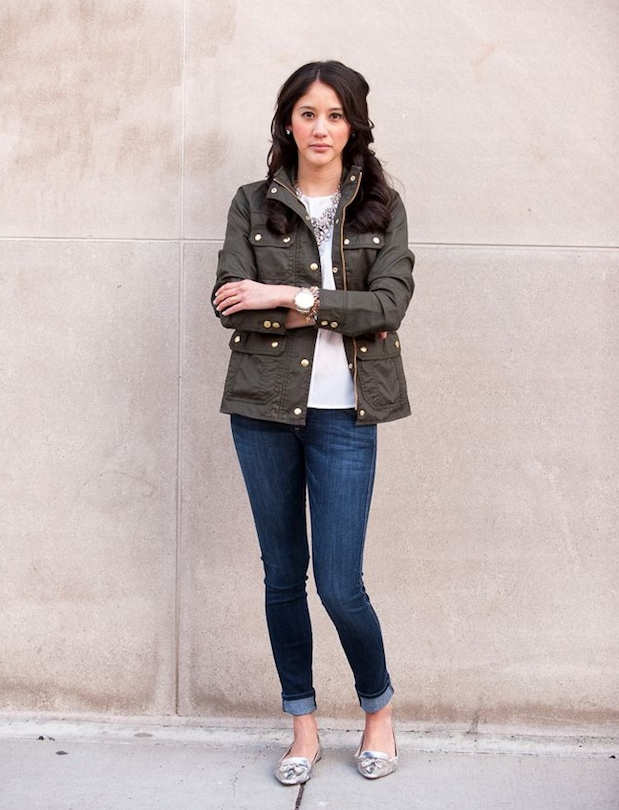 "We have casual Friday at the office, which is great, as many people go away for the weekend or go to happy hour after work, and being able to wear casual attire makes the work-to-weekend transition easier. I personally travel often to New York City on the weekends, so being able to wear relaxed jeans on Fridays just makes my day. Wanting to keep my outfit feminine and trendy, I paired them with a military jacket, metallic flats and fun midi rings. I love this J.Crew necklace—it always adds so much to an outfit but still maintains that classic feel, making it office-appropriate."
Military jacket and crystal necklace from J.Crew, Madewell top, Marciano skinny jeans, Zara flats, Coach watch, Stella & Dot Renegade cluster bracelets, vintage earrings, and Forever 21 rings.
The Details

All photographs by Andrew Propp.
Think you or someone you know deserves a chance in the What I Wear to Work spotlight? E-mail delbasha@washingtonian.com with pictures and a job description for consideration.