Alicia Gleason and Giovanni Di Maggio still disagree about their first date. Alicia says it took place at an Italian restaurant in New York's East Village neighborhood where they stayed and talked for hours; Gio says it was at Newark Airport where they had their first kiss. "It's hard to pin down a 'first date' when you're such great friends before you begin dating," says Alicia, a writer. The two first met as sophomores at Colgate University and instantly became the best of friends. "Those who knew us at the time insist that by that point, the writing was already on the wall," says Gio, now an attorney. "They were right, although it would take us years before we could read it."
After an almost five-year romance, Gio organized a quiet at-home proposal, reflective of their relationship. "I made Alicia a scrapbook with pictures from our adventures over the years," says Gio, who popped the question while they were cooking dinner one night. An equally intimate wedding followed 18 months later.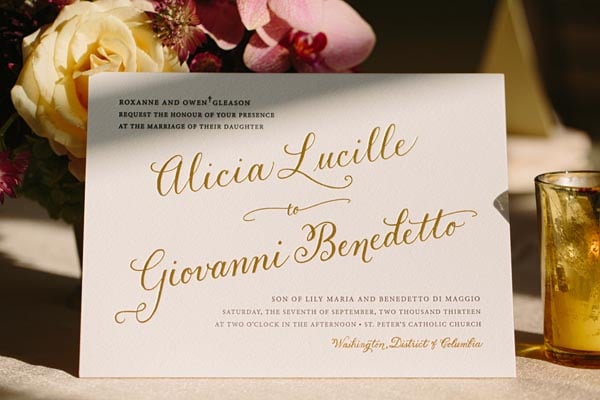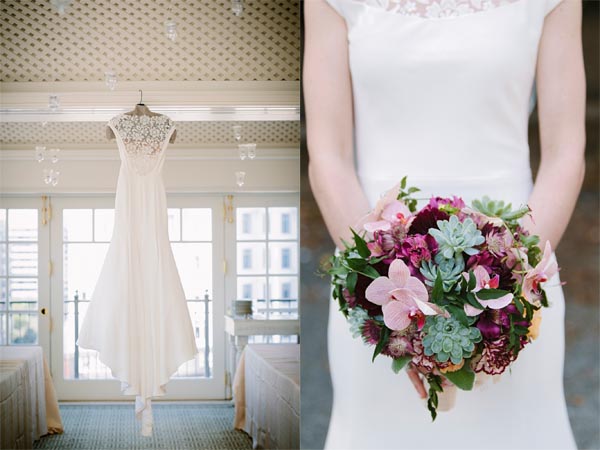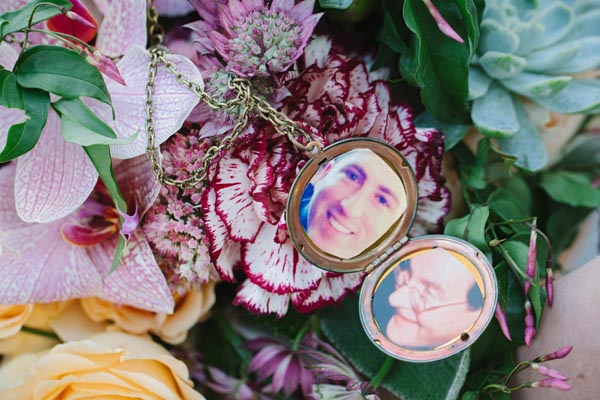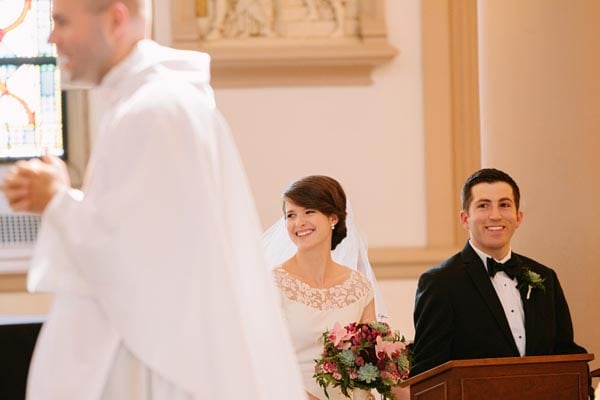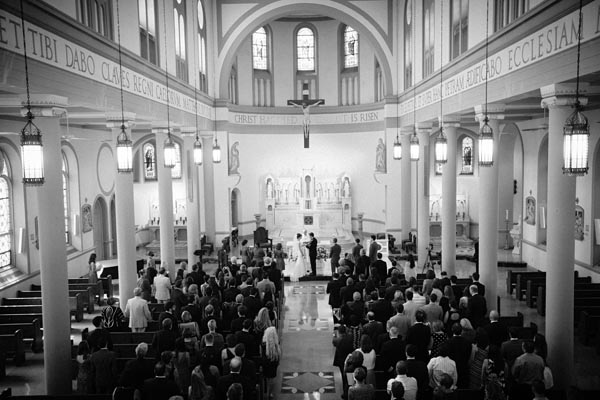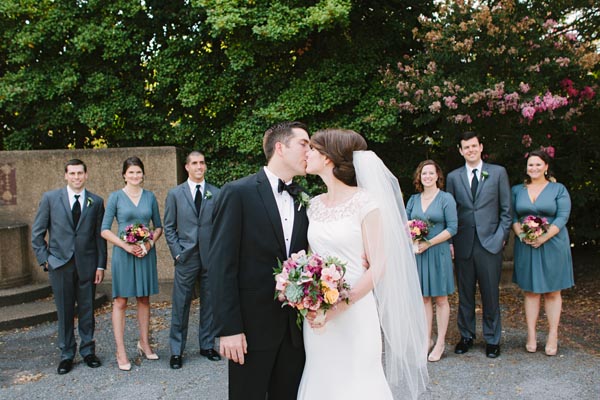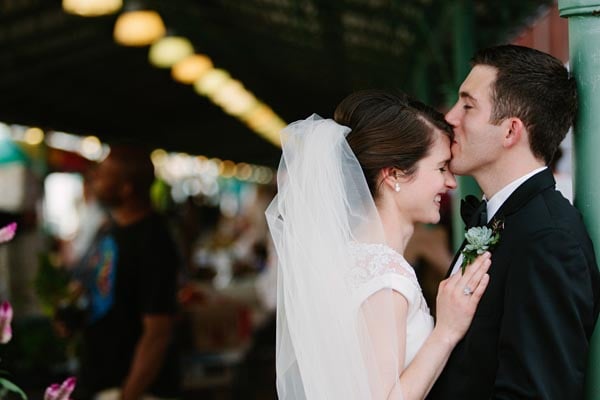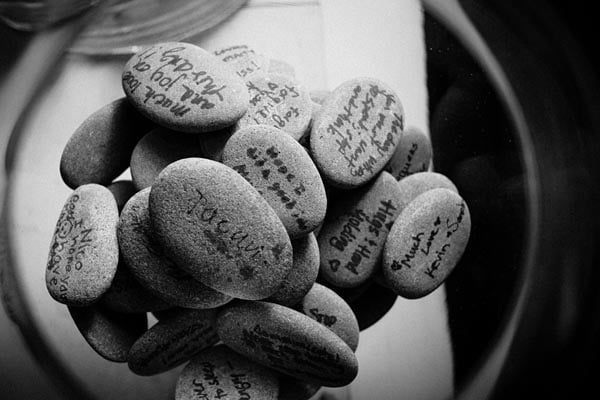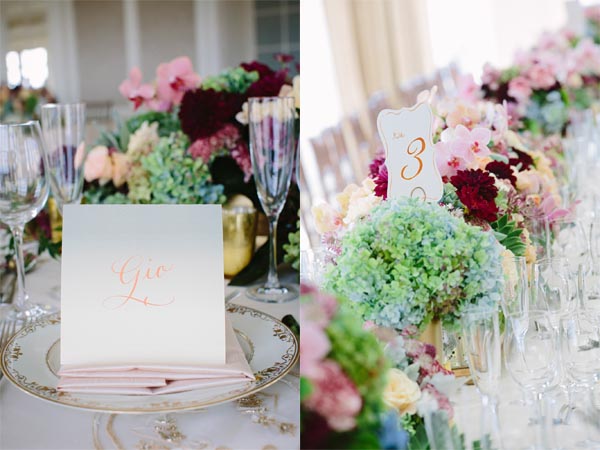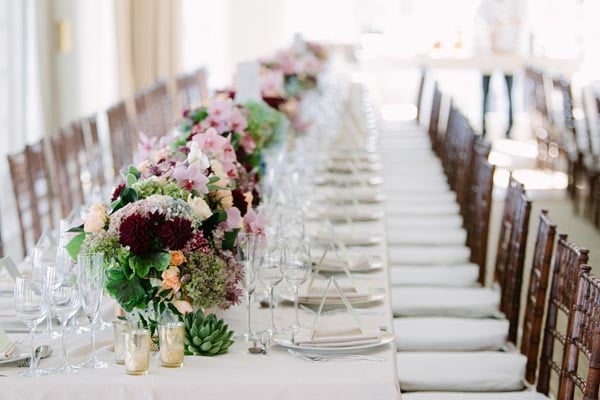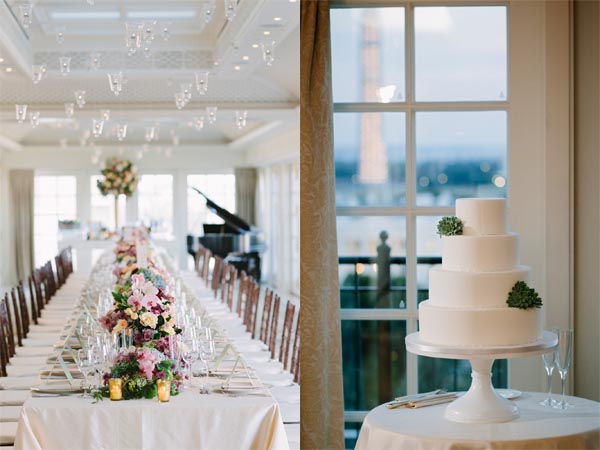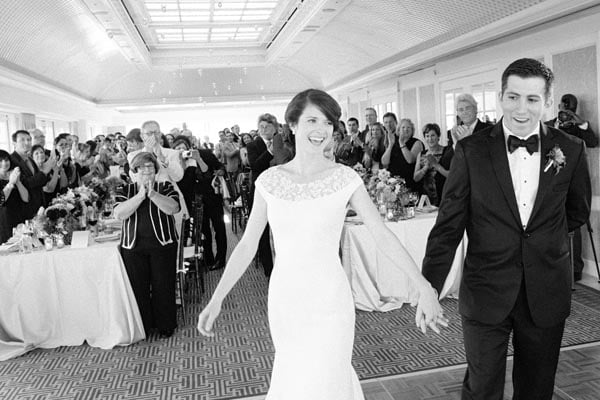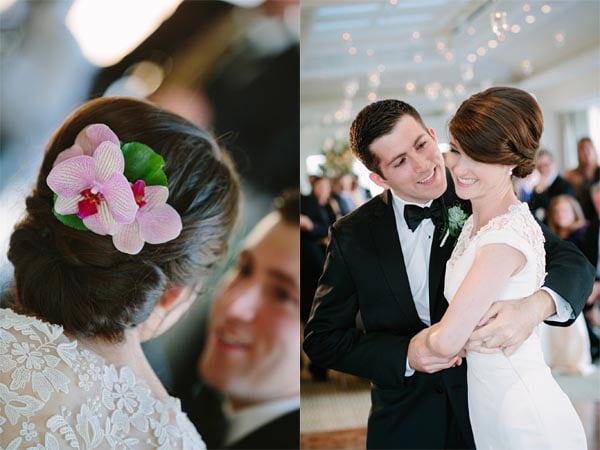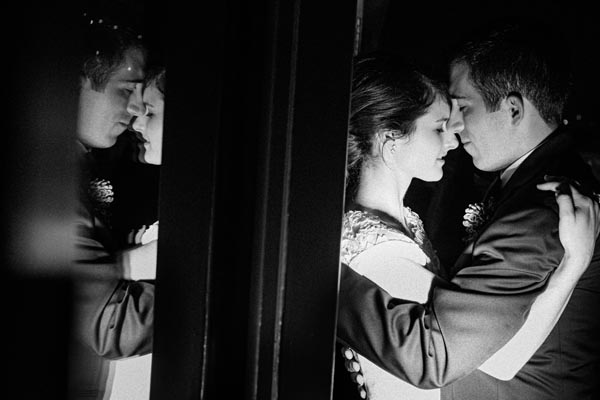 Details:
Photographer: Bill and Anne Holland, Holland Photo Arts
Ceremony Venue: St. Peter's Catholic Church on Capitol Hill
Reception Venue/Caterer: Top of the Hay, the Hay-Adams Hotel
Event Coordinator: Pam Barefoot, Atrendy Wedding
Bride's Gown: Lela Rose, L'Atelier Couture
Hair: Allison Harper and Company
Makeup: Kim Giammaria, Beauty Mark
Groom's Tux: Black by Vera Wang, Men's Wearhouse
Cake: Kendall's Cakes
Cake Flavors: Carrot and coconut, with cream cheese frosting
Cocktail: Kir Royale and Dark and Stormy
Florist: Amaryllis
Music/Entertainment: Jump Street
First Dance Song: "Come Rain or Come Shine" by Etta James
Videographer: Stan Pe Films
Invitations: Design and calligraphy by Jenny Muffler from Just Write Studios, printing by the Dandelion Patch
Bride's Favorite Detail: "Probably the wedding favors. We gave mini loaves of poppy-seed cake, which is a family recipe. My mom always makes poppy-seed cake for important events and holidays, and as a family, we look forward to it. The wedding was definitely a poppy-seed-cake occasion!"
Groom's Favorite Detail: "Top of the Hay. We had a sense when we picked our venue for the reception that it would be special, but nothing could have prepared us for the magic that it was to have the French doors at the Top of the Hay open up to a panoramic view of Washington on a clear, breezy September evening while we danced the night away. It was unbelievable."
Biggest Surprise: " I think we were both completely floored by how loved and supported we felt on our wedding day. The sense of family was incredible."
Decor Details: "My bridesmaids gave me a locket to carry on my bouquet. Because my father passed away when I was in college, the locket held a picture of my father on one side and a picture of Gio on the other. Their idea was that my dad could still 'walk' me down the aisle if I was carrying his picture. It was so sweet. And I have to admit that I felt a remarkable sense of calm as I walked down the aisle toward Gio," says Alicia.
Theme: "We both wanted a chic, intimate event where our guests could feel pampered and comfortable," says Alicia.
Four Words That Describe the Wedding: Intimate, genuine, passionate, fun
Honeymoon Spot: Mini-moon at the Inn at Little Washington
Where They Currently Live: Capitol Hill