Who: Leigh Heyman, 42
Director of New Media Technologies, Executive Office of the President
What I do: "I oversee the development and operations for the entire technical platform behind the White House's online presence. This involves managing teams of developers and collaborating with the White House digital strategy team and communications staff on new ways to engage with the public online. Everything from new website features like the 'We The People' petitions site, to adding new social networking tools to our live video streams, to supporting major online events like Twitter Q&As with the President, the Vice President, or the First Lady."
My work style: "As my career has evolved and my responsibilities have grown, I've toned down some of the bolder aspects of my style and I now try for a more restrained look that highlights the cut and fabric of my suits and ties. But that simplicity is by no means conservative or plain. In fact, I find it frees me up to focus on details like complex color-mixing and expressing subtle hints of personality through judicious use of accessories; I try to strike a balance between bold statement-making and the seriousness of the place I work."
VIP Meeting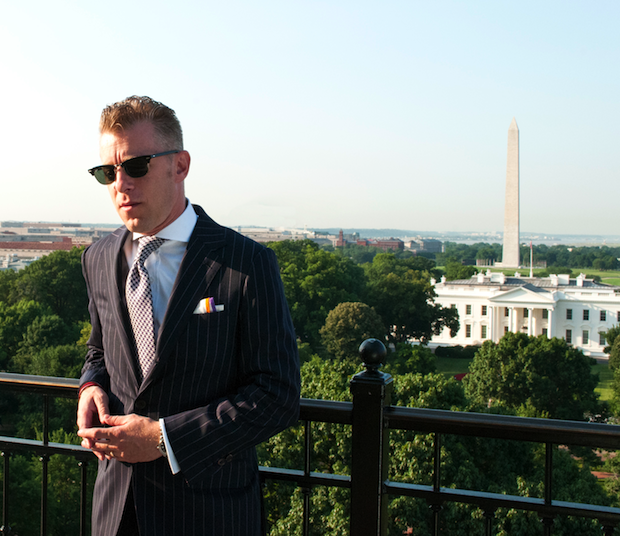 "Aside from my tuxedo, this suit is my favorite thing in my closet. I chose some classic style elements, such as the high-waisted, pleated trousers, specifically to offset the boldness of the lavender pinstripe and strike that balance of subtlety. I love that the suit's ability to make a statement all on its own simplifies the selection of the rest of the outfit—I almost always pair it with a solid shirt and one of my quieter ties. It's one of my most comfortable suits, so I'll usually wear it when I know I'm going to have a long day."
Kent Wang suit, Proper Cloth shirt, Tom Ford tie, Barney's pocket square, English Laundry suspenders, Pantherella socks, Cole Haan shoes, Peter Lever cufflinks, Longines watch, Ted Baker bracelet, Ray-Ban sunglasses.
Typical Day at the Office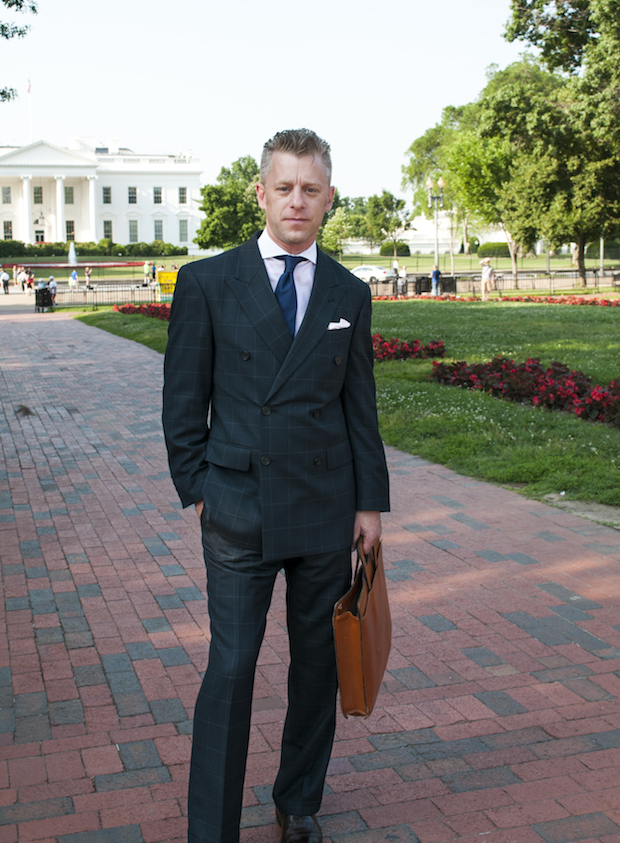 "I love modern, double-breasted suits. I have three in my closet and a fourth on its way. They are inherently classic and yet also make their own subtle statement simply because so few people wear them. I'm having a bit of fun mixing the striped shirt and check suit, but it's still a serious look that's not trying to draw too much attention—because even normal days at the office can turn serious on a moments' notice."
Tommy Hilfiger suit, Thomas Pink shirt, Isaia tie, Paul Smith socks, Mezlan shoes, Ted Baker cufflinks, vintage Hamilton watch, vintage Ray-Ban sunglasses, vintage briefcase.
"Casual" Friday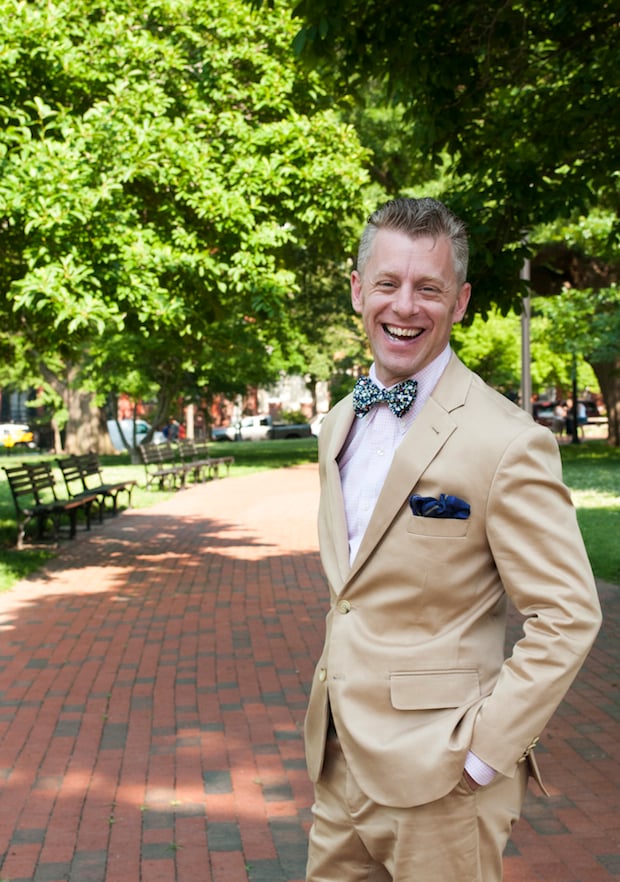 "We don't really do 'casual Fridays' the White House, but a couple of years ago I initiated 'Bow Tie Fridays' to give my friends an excuse to wear one in a way that lowered the fear factor. Now on any given Friday we have six to ten men (and women, too!) wearing bow ties. It's something we all get to bond over. With summer in DC being what it is, when one of those swampy hot days falls on a Friday, I really take the opportunity to have some fun. I actually consider these shoes casual, and very rarely wear them to work, but when the weather and the mood (and my schedule) fall in to sync—probably three times a year—I'll wear them either with this tan suit or else a navy linen."
Indochino suit, Brooks Brothers shirt, Bull + Moose bow tie, Robert Graham pocket square, Charles Tyrwhitt socks, Cole Haan shoes.
The Details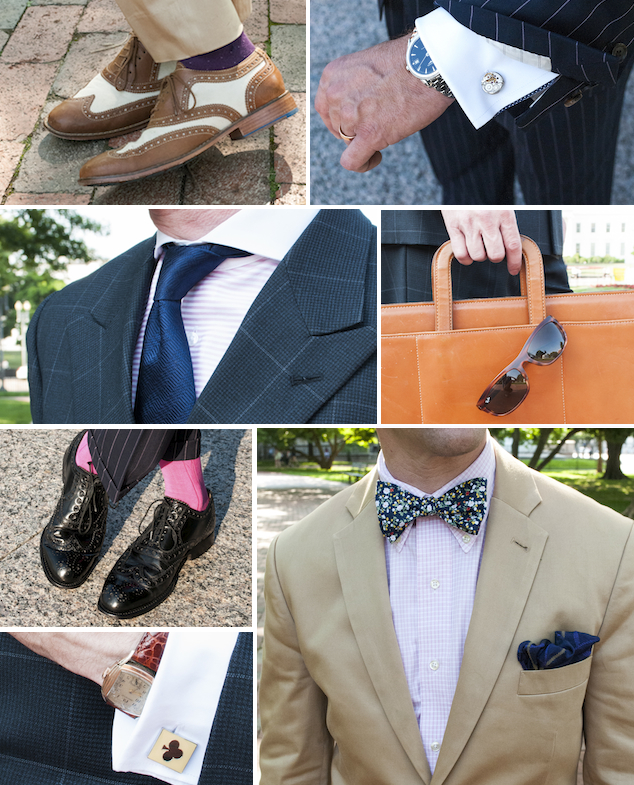 All photographs by Lauren Joseph. Special thanks to the Hay-Adams for allowing Shop Around the use of the John Adams room.
Think you or someone you know deserves a chance in the What I Wear to Work spotlight? E-mail delbasha@washingtonian.com with pictures and a job description for consideration.