Who: Justine Harman, 29
Features Editor, Elle.com
What I do: "I am the features editor at Elle.com, where I write and edit longform content for the number one fashion magazine in the world, Elle! I also help helm special projects, such as our monthly guest blogger series and Hot Guy/Cold Drink, a column in which I essentially have cocktails with some of the cutest guys in entertainment. It's a pretty decent racket."
My work style: "Basics with an edge—high-waisted jeans, loose button-downs, and lightweight silk dresses—with functional heels. However, I am not above a statement piece. My mom, former congresswoman Jane Harman (and the high priestess of DC cool), introduced me to to the power of the impact shoe. My favorite pairs, like a pair of two-tone, d'Orsay Pierre Hardy pumps, come from Hu's Shoes on M Street."
Interviewing a Designer or Celebrity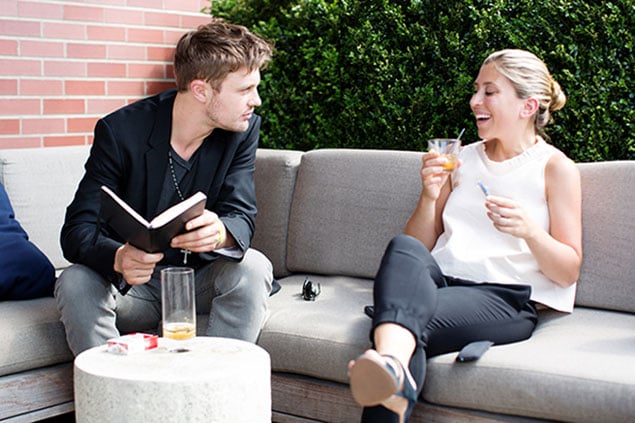 "Here I am interviewing actor Michael Pitt wearing an Atlantique Ascoli cropped tank, trousers by The Row, and Jean-Michel Cazabat slides. It was an especially hot day, and I had trained up to NYC from DC that morning, so I needed something that traveled well." Photograph by Katie Friedman.
Typical Day at the Office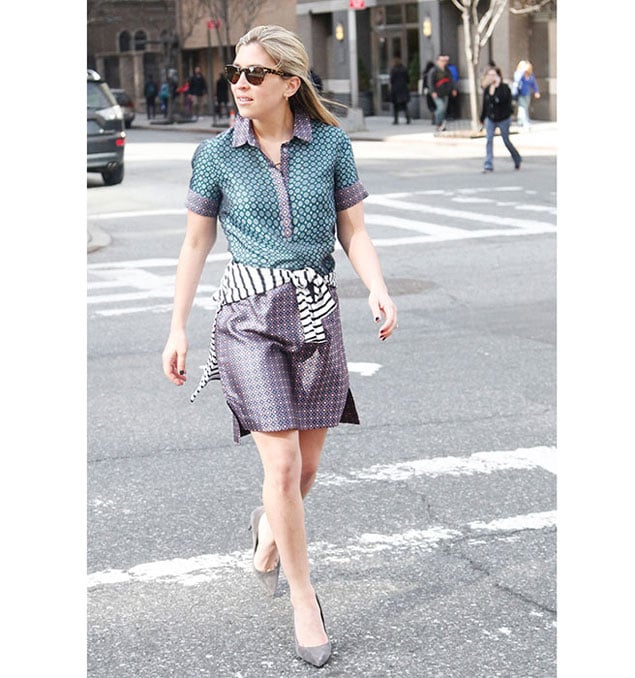 "I tend to wear things that are comfortable, and this look is no exception: J.Crew shirtdress (I worked at the store in Georgetown Park in high school and have a total soft spot for their stuff) and my beloved Day Birger et Mikkelsen striped tee around my waist. The shoes are Saint Laurent. The glasses are Oliver Peoples." Photograph by Joslyn Blair.
Casual Friday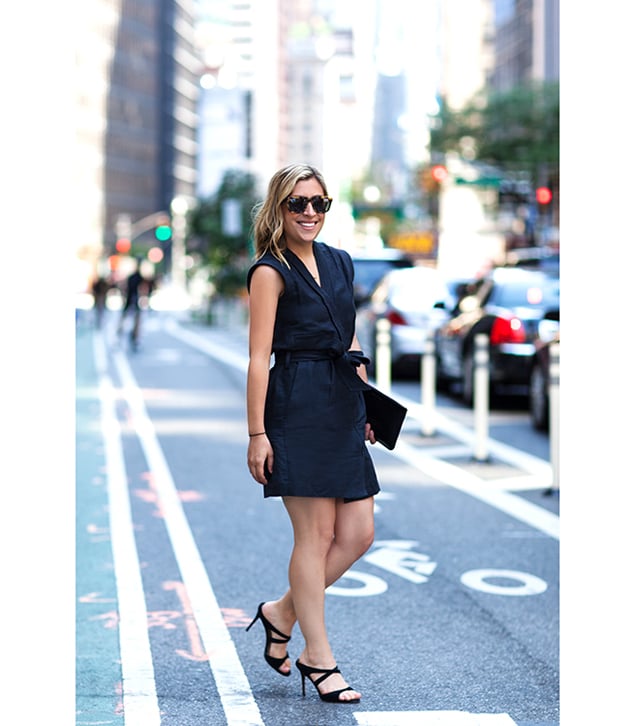 "There really isn't much of a dress code at Elle, but if I am going for a more laid-back look, I tend to rely on this Étoile Isabel Marant wrap dress. My brother and friend P.J. tell me that it looks like a karate gi, but what do they know? The shoes are the same Jean-Michel Cazabat slides. What can I say? I love 'em." Photograph by Katie Friedman.
Think you or someone you know deserves a chance in the What I Wear to Work spotlight? E-mail vboucas@washingtonian.com with pictures and a job description for consideration.
Find Valeria Boucas on Twitter at @valeriaboucas.