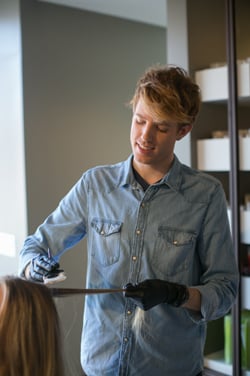 Not many DC-based hair stylists can call themselves celebrity colorists, but Ian McCabe is one of those rare few. He's the personal colorist for fitness guru Tracy Anderson, and his salon—Ian McCabe Studio in the District's West End—opened in July. So it's safe to say that this guy knows his way around a head of hair. We checked in with McCabe to get his take on how exactly a gal should adapt her hair hue routine for the rapidly approaching fall season. Read on for his expert tips.
1) Time it right. McCabe recommends booking a visit to your colorist at the end of summer to get your hair on track for the new season. "After a blissful summer of sun, salt, and sand, your hair is in need of a color rebalance," he says. A head of fresh highlights and/or lowlights, plus a gloss treatment and a deep-conditioning mask, will help return your hair to its ideal color and shine.
2) Soften up. Fall is the time for a slightly warmer hue. Gradually transition your hair color from bright to soft with lowlights. They'll add depth and dimension while allowing your your highlights to pop.
3) Consider balayage. McCabe is a pro at this trendy French coloring technique, which uses freeform "hair painting" to create a natural look with lots of dimension. "Since artists are not confined to the square area that a foil would cover, they are able to free-paint hair so each section may be color-customized," says McCabe. "With balayage, an artist also has the ability to lighten the tips of hair as well as the frame of your face, resulting in a natural sunkissed look similar to how a child's hair looks at the beach." Bonus: Because there's a more natural growth line, the life of your highlights gets a boost from the traditional six to eight weeks to ten weeks or longer.
4) Add some moisture. This step you can DIY. Winter is hard on hair, as there's less air moisture and lots of drying indoor heat, so McCabe suggests planning an at-home conditioning treatment. His rec? A weekly deep-conditioning treatment, such as Oribe Masque for Beautiful Color, Gold Lust Transformative Masque, or Davines Vegetarian Miracle Conditioner.
5) Make it match. Make sure you communicate with your colorist the overall style and look you are trying to achieve to ensure your color and cut are complementary.
For more fashion and beauty tips and tricks, follow Shop Around on Twitter at @shoparoundblog.
You Might Also Like: