Who: Charissa Benjamin, 34, and Elaine Mazanec, 28
Partners at Savor PR
What we do: "Simply put, we tell our clients' stories and work with them to attract an audience, build and grow their brand, and communicate to the media and public about who they are and what they do. Together we run Savor PR a full-service public relations agency that provides strategic communications, brand management, and media relations to clients in the restaurant, travel, and hospitality industries. We collaborate with a range of clients from up-and-coming chefs to bakers to winemakers and industry veterans with multiple restaurants and accolades under their belts."
Describe your style at work:
Charissa: "For everyday client meetings, my go-to is great-fitting jeans (gray, white, black, indigo) and a stylish top or a blazer over one of my many Theory T-shirts. I own a lot of basics in black, white, and gray, but I am from Antigua in the Caribbean, so I love to insert pops of color with lipstick, fun jewelry, or bold patterns. In fact, jewelry is one of my weaknesses, and I enjoy finding statement pieces that add character to an outfit. It took me a long time, but I've learned to embrace and love my hair. My hair is big, and the style doesn't change for the occasion—client meeting, evening event, or new business pitch—it's very much a part of who I am and one of my favorite accessories."
Elaine: "I would describe my style as a collection of classic, timeless pieces, dressed up or down with statement jewelry or accessories that can seamlessly transition from day to evening. A 'uniform' for me consists of a silk blouse, dark jeans, sturdy heels, and a jacket (typically the item I tend to invest in the most). I tend to skip the trends—I find they go as quickly as they come. Instead I just try to focus on finding flattering pieces and invest in a few nice things that can mix and match well. And a bag. I love a classic bag."
Everyday/Client Meeting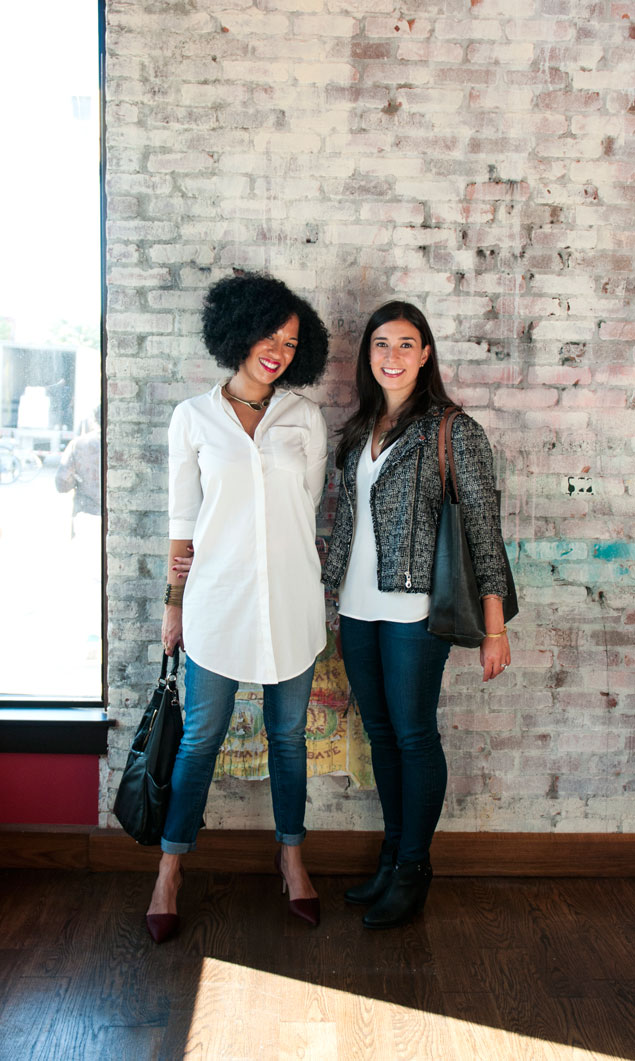 Charissa: "We get to work with great clients who embrace our eclectic and laid-back style. The good news is we don't have to wear suits every day. Our non-routine days can include everything from a client meeting to a TV news shoot to delivering food samples. I love jeans, and the most flattering cut for me at the moment is Paige Verdugo Ultra Skinny. While I usually wear some form of a blazer and blouse combo, I love the length and cut on this tailored white button-down from AllSaints."
AllSaints shirt, Paige jeans, Renvy plum-colored mohair heels, and Diane von Furstenberg bag.
Elaine: "The various needs of our clients don't necessarily lend themselves to a standard routine, and I feel fortunate not to have a typical desk job. Every day is different, and my only weekday constants seem to be a morning coffee run to the Wydown with my beagle, Jack, and a workout of some sort. The many variables include photo shoots, media dinners, client conference calls, and those coveted moments of peace with my laptop and headphones. With such variance in our schedules I gravitate toward a comfortable but professional 'work uniform' of jeans, which I dress up a bit with a silk blouse, a nice jacket, and heels. My favorite everyday necklace is a handmade piece by local jewelry designer Jane Swensen."
Joie silk blouse, J Brand jeans, Rebecca Taylor tweed jacket, Rag & Bone harrow booties, Jane Swensen gold necklace, Club Monaco beaded wrap bracelet, and Madewell leather tote bag.
The Details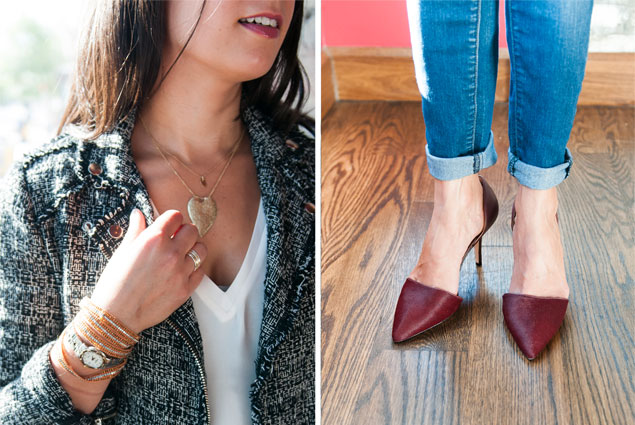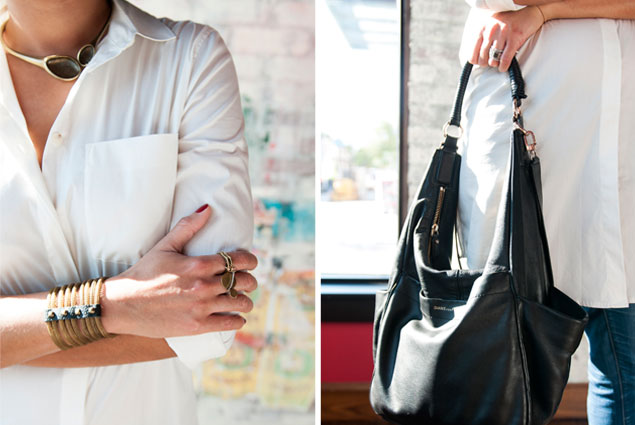 New Business Meeting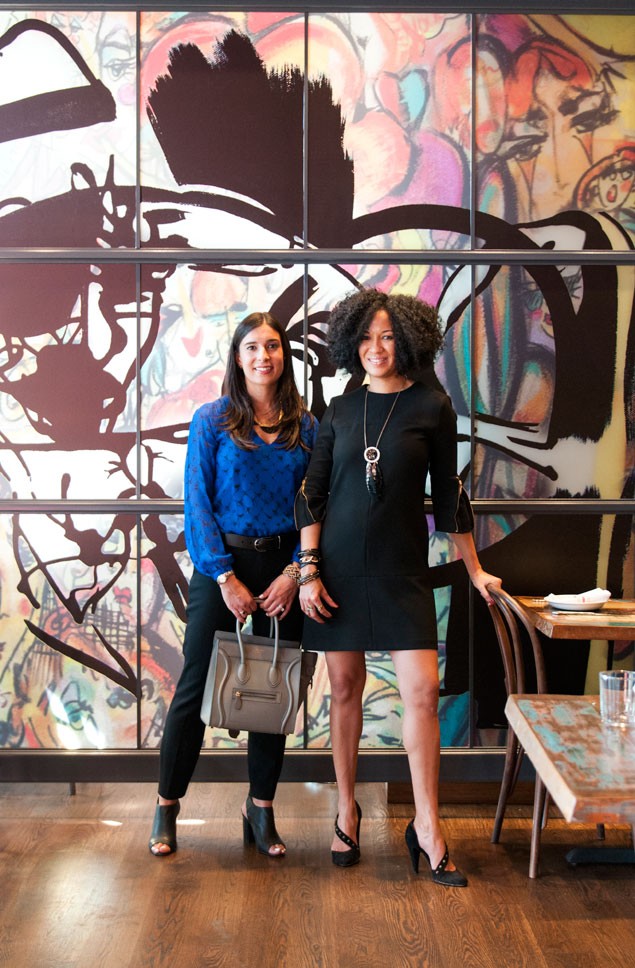 Charissa: "A classic black dress is so versatile, but gold zippers on the sleeves add an edgy twist. I wasn't always a fan of gold, but I have fun with the zippers and add complementary gold accessories with jewelry and shoes. It feels expressive without sacrificing that professional and polished look that's necessary at a new business meeting."
Zara dress, Forever 21 dreamcatcher necklace, Rebecca Minkoff patent leather and zipper bracelets, Gorjana leather wrap-around bracelet, and Marc Jacobs shoes.

Elaine: "For new client pitches I swap my typical jeans for slim black pants, and opt to dress up a silk blouse with a statement necklace, like my tortoiseshell necklace from Madewell."
Diane von Furstenberg silk blouse, J. Crew pants, Madewell tortoiseshell necklace, David Yurman ring, Celine bag, and Sole Society peep-toe mules.
The Details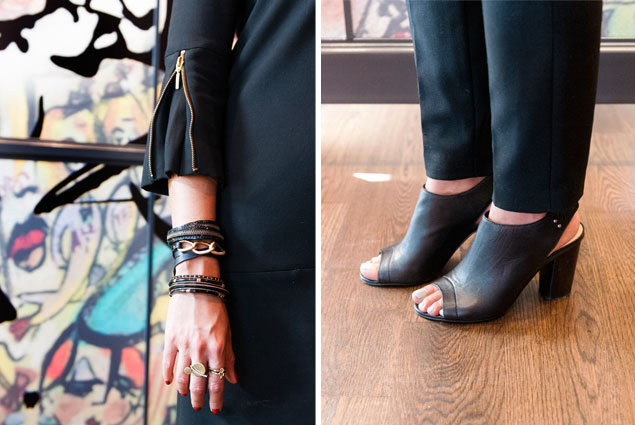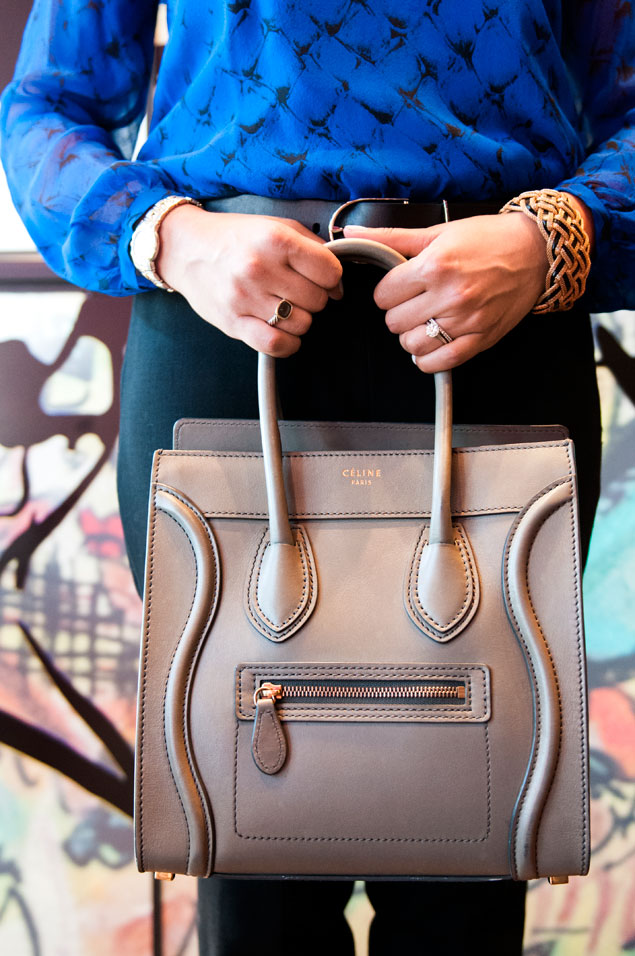 Evening Event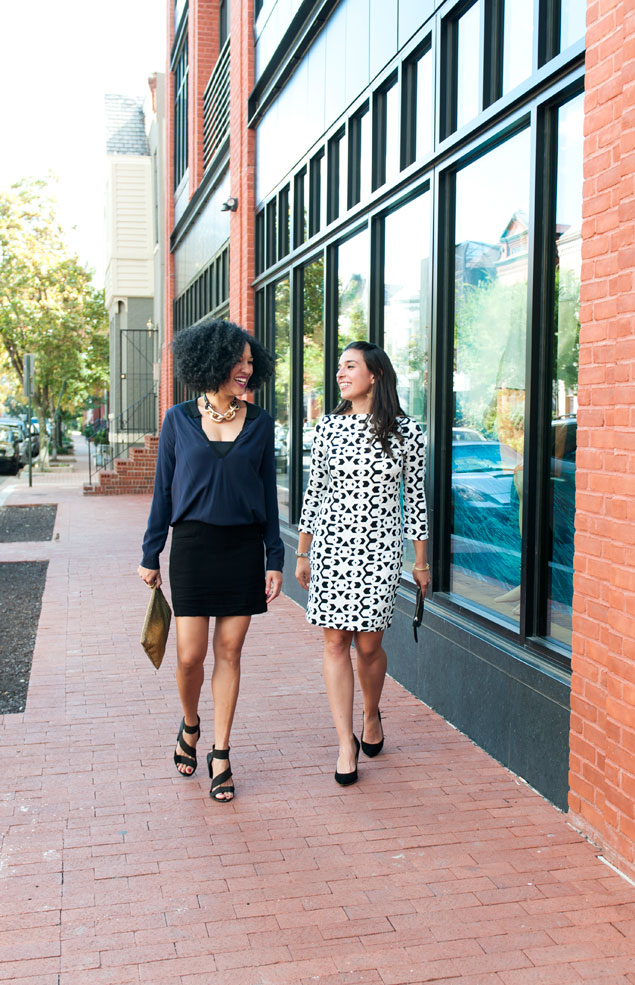 Charissa: "I bought this dress at a sample sale and have gotten a lot more use out of it than expected. It's one of the most comfortable cocktail dresses I own, but still has a flattering cut. The deep neckline allows me to wear my bigger necklaces; this chunky, chain link one is a favorite of mine."
Maje black and eggplant dress, Ben-Amun necklace, Ananas clutch, and BCBG shoes.
Elaine: "I love DVF dresses for evening events, and if I know I have to go straight from a meeting to an event after work, they transition well from day to night, too. I just swap out my work tote for a dressier clutch, put on some fun earrings, and I'm good to go."
Diane von Furstenberg dress, Erica Weiner earrings, Chloe clutch, and J. Crew black suede pumps.

The Details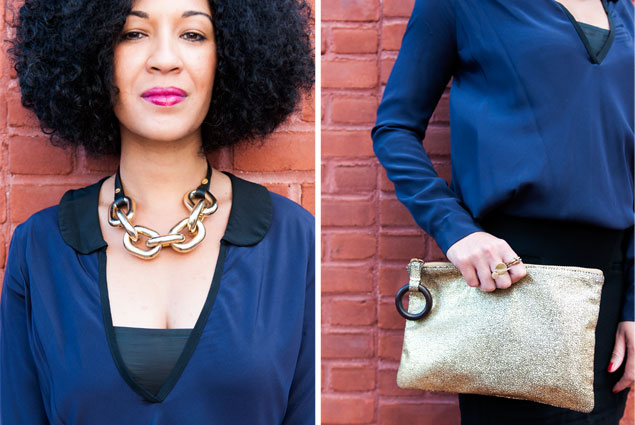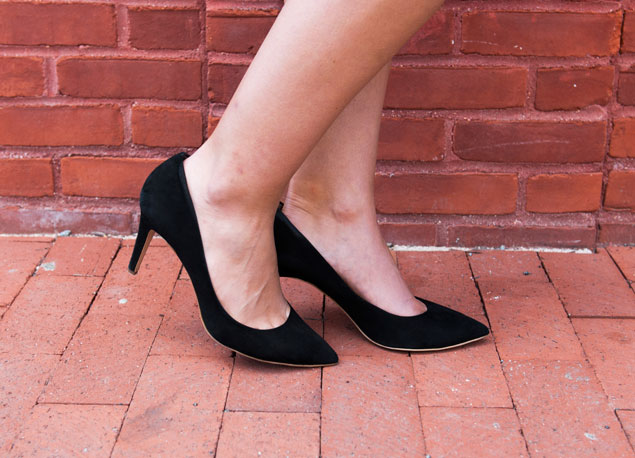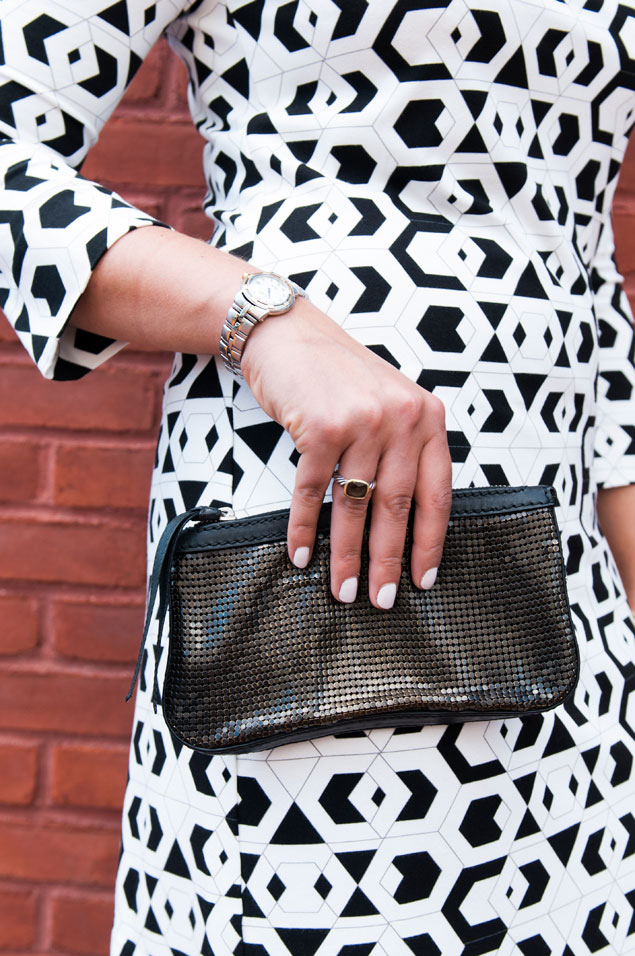 All photographs by Lauren Joseph.
Think you or someone you know deserves a chance in the What I Wear to Work spotlight? E-mail vboucas@washingtonian.com with pictures and a job description for consideration.