Who: Denise Nguyen, 27
Marketing manager, Occasions Caterers
What I do: "I manage all branding and communications for Occasions Caterers and our sister companies, MENUS Catering and Protocol Staffing Services. This includes the development, strategy, and overall execution of all content marketing, both online and off. Website launches, social media, new business development, and media relations are part of my everyday; I also support tastings and community-related efforts, such as our mural project with Sitar Arts Center, a three-year partnership resulting in a 90-foot student-made mural. I also enjoy working with great talents producing video and photography, as well as styling shoots."
My work style: "I have an ongoing affair with structured versus unstructured. That's really my style in a nutshell. I'm mad for pairing the tailored with the relaxed. It also describes my work, as someone who wears many hats and is constantly multitasking. I need structure to stay sane, but flexibility is also key. I like to update traditional looks with just a glimmer of edge: an unpredictable color or texture. I prefer flair on my feet, instead of jewelry. A good shoe really does live forever. I tend to shy away from busy prints; I find them limiting. But prints that can act as neutrals? Now that, I can get behind."
Where I shop for workwear: "A bit of everywhere. I'm more focused on fabrication, flexibility, and whether I can see it living in my closet for a long while. Or if the piece has great verticals—can it be dressed up and down? Nothing pains me more than purchasing something that's 'trendy' and then chucking it at the end of season. If I have to name some places, my usual online sites are Gilt, the Outnet, and Barney's. Go-to-brands? Theory, A.P.C., and Tibi. I can always find staples with some edge."
Working an Event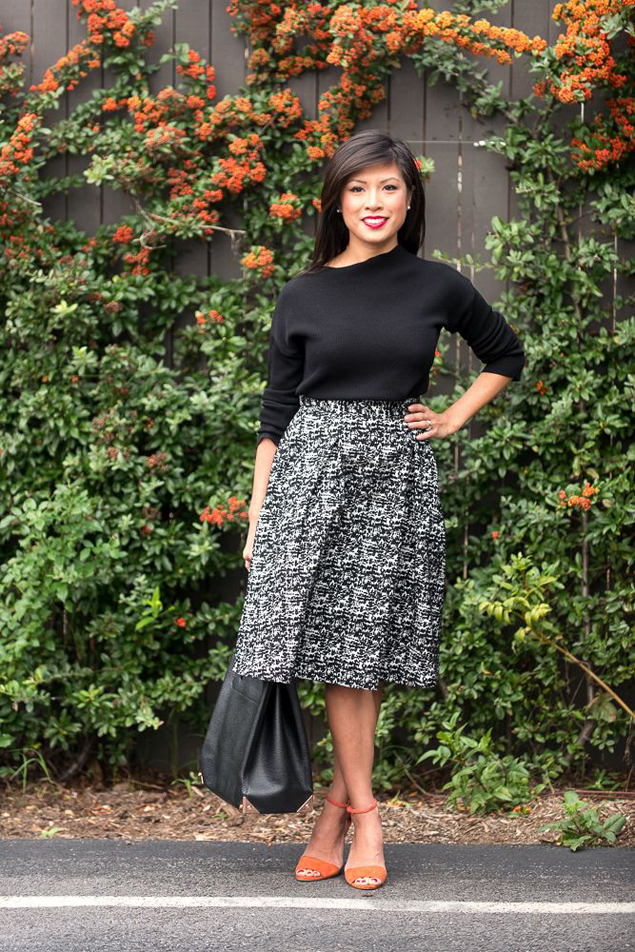 "If I'm working one of our events, it's generally for photography, media opportunities, or other special projects. Because our team's rule of thumb is to wear black, I tend to have my fun with structure. Also, this is a terrific transition shoe. It's an open-toe pump, but the suede lets me reach for them in both summer and fall. The color-blocking and thick front band is a nice update to what would be a minimalist open-toe pump. It gives a little edge to a classic silhouette."
Zara waffle-knit asymmetrical sweater, H&M full pleated skirt, Narcisco Rodriguez coral suede and red leather color-blocked sandals, Alexander Wang leather tote.
Giving a Presentation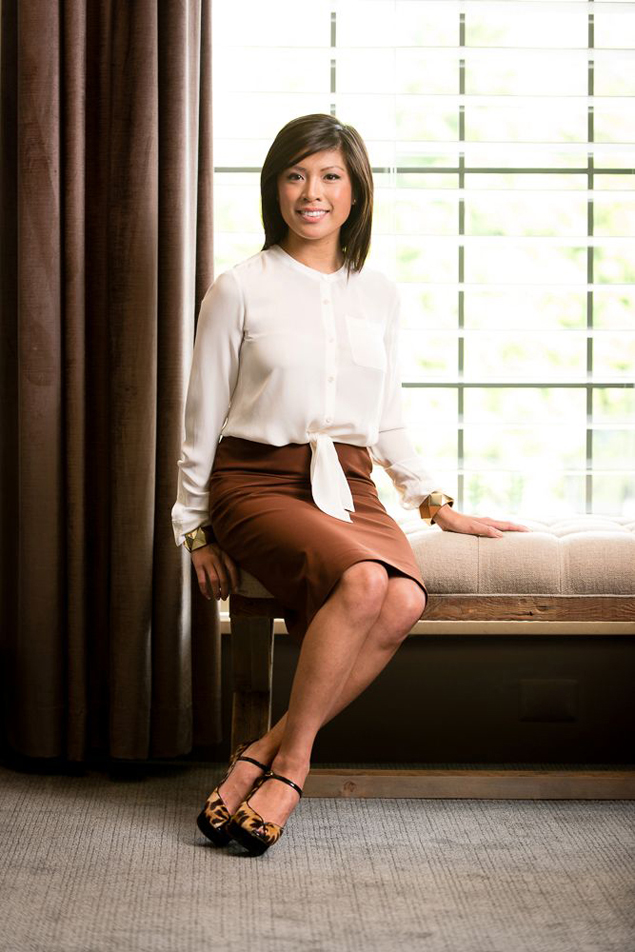 "I'm very short. When leading a meeting or giving a presentation, I try to give the illusion of height. The high-waisted pencil skirt does this for me. Call it a Napoleon complex, but it helps me to command the room. I went with the leopard-print shoe to add a little character to what would be a pretty neutral palette, but if the moment called for a more demure look, a nude pump would also do the trick."
Theory cropped tie-front blouse, Prada high-waisted pencil skirt, Yves Saint Laurent leopard calf-hair Tribute Mary Janes, Topshop cuffs.
Everyday at the Office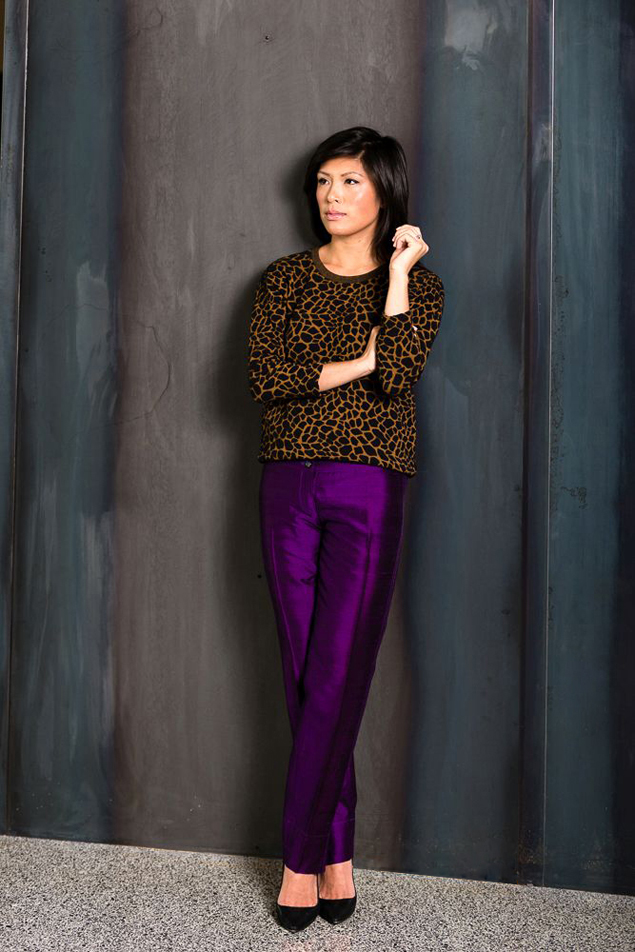 "Who doesn't want to be relaxed and stylish at the same time? The sweater's boxy cut gives it a tailored look, masking its sweatshirt origins, and the giraffe-like print diffuses the formal nature and electric color of the silk pants. To make it more fitting for the office, I wear a classic pump."
Madewell giraffe-print pullover, Dolce & Gabbana purple silk pants, Giorgio Armani black pumps.
The Details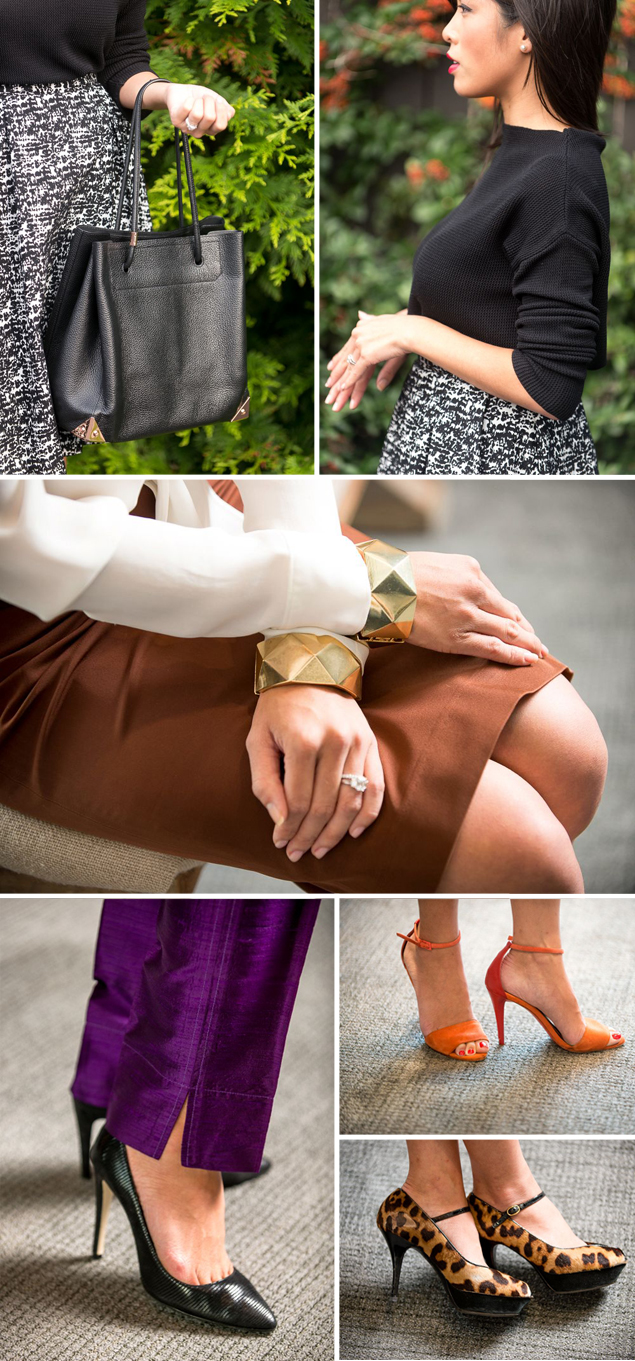 All photographs by Andrew Propp.
Think you or someone you know deserves a chance in the What I Wear to Work spotlight? E-mail mthomas@washingtonian.com with pictures and a job description for consideration.
You Might Also Like:
| | | |
| --- | --- | --- |
| What I Wear to Work: [email protected] Branding Pro Leigh George | What I Wear to Work: Savor PR Partners Charissa Benjamin and Elaine Mazanec | What I Wear to Work: The Real Estate Marketer |