A seven-months-pregnant Molly Sims arrived at Drybar Bethesda on Thursday night to sign copies of her latest book, The Everyday Supermodel, her Bible for women who want to look and feel their best.
The glossy, 320-page tome includes plenty of autobiographical anecdotes—Sims's transformation from a unibrowed teen to Sports Illustrated swimsuit model, losing the 72 pounds she gained with her first pregnancy—plus advice on subjects such as how often women should wash their hair.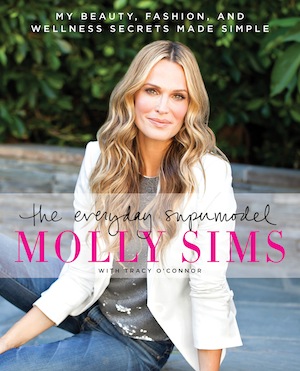 Sims had been on a talk show in New York that morning and she was flying out to Los Angeles the next day, but she paused in Washington to sign some books and stay overnight at the Hay Adams—she wanted to stay somewhere "historic," she said—and to weigh in on DC style with Washingtonian.
How long have you wanted to write this book?
I think the book has probably been in my mind for three or four years. It started with me being who I am—I love giving advice, and I've always been that girl. It started with my girlfriends, and then it went to a blog, giving out tips and secrets on mollysims.com, and now here we are, two years later, with a book.
People often say Washington style is conservative. What do you think?
You know what? I love DC style. It is a tad conservative, but I love it because I think it's so ultimately chic. I love the women who embrace color in DC, and even though the forms and the structure of the outfits might be quite simple, they mix it up with statement necklaces. I love Mrs. Obama's style where she wears a beautiful tea-length skirt with a cardigan and a statement necklace. I do think it's a little conservative, but DC style has a definite chicness and a sense of play, whether it's with a color or with accessories.
So how would you define DC style?
When I think of DC, I think, "They take care of themselves. They dress up." It's not like Los Angeles where you're going to be in your flip-flops and your rolled-up boyfriend jeans and your long boyfriend cardigans or an oversize sweater. And it's not like New York, where it's head-to-toe designer. There's an elegance to DC.
What are the must-haves in your closet?
I love the cross-body bag. I think every woman should have one—it makes you hands-free, it's good on the go, and you can tuck in the straps and make it a chic clutch at night. Also, a boyfriend jacket that you can wear with a tank top or over an amazing dress. I always tell women to really play with their accessories. Have two or three great handbags, a great pair of black heels, a great pair of nude heels. Those are my staples.
How do you keep that supermodel glow on the road?
If I'm going from a long working morning to day to an afternoon to night, I will try to use a primer to help my makeup last longer. There are some wonderful ones out there, such as Smashbox or Make Up For Ever. I also use lipgloss or a rosebud salve that you can get at your local drugstore on my eyelids to get that natural glow. As you get older, think creams and use less powder, and make sure to hydrate and moisturize.