"There's a coolness to being fashionably late, so we were like, be fashionably broke in that effortless, I-don't-care, I-just-am spirit," says Natalie Pinto, 27, of the theory behind the Fashionably Broke, a blog she writes with her sister, Erika, 24. "It means buy whatever—the $500 Alexander Wang jacket or the $12 T.J. Maxx T-shirt. You might not be able to buy groceries that week, but at least you're fashionably broke."
The sisters do love a deal—whether at discounters T.J. Maxx and Marshalls, chic budget chains such as Zara and Forever 21, or at Nordstrom's Anniversary Sale. "I love the Topshop section at Nordstrom," Natalie says. "It makes on-trend bargain shopping so much easier."
The duo—whose blog is nearly four years old—has 9,000-plus Instagram followers, who peek in to see what Natalie (whose day job is social-media marketing) and Erika (who handles sales for a start-up and is earning her master's in special education) are wearing, coveting, and finding.
The sisters, who live in Virginia—Natalie in Falls Church, Erika in Arlington—cite the Olsen twins as inspiration. "That dumpster-chic look—so good," says Natalie. "We mix high and low. Fashion is all of that. It's whatever you love."
What Natalie Is Wearing: Ted Baker blazer, $89, and Herve Leger T-shirt, $55, found at Current Boutique; Topshop wet-look leggings, $40 at Nordstrom; Via Spiga "Corene" boots, $173 from Nordstrom; faux-crocodile bag, $42 from South Moon Under.
What Erika Is Wearing: Chelsea28 sweater, $60 from Nordstrom; faux-leather skirt, $25 from Forever 21; Steve Madden booties, $80 from Nordstrom Rack; Pour la Victoire "Bijou" bag, $120 from T.J. Maxx.
Prices are what the sisters paid, often on sale or consignment; exact items may not still be available.
Get Their Look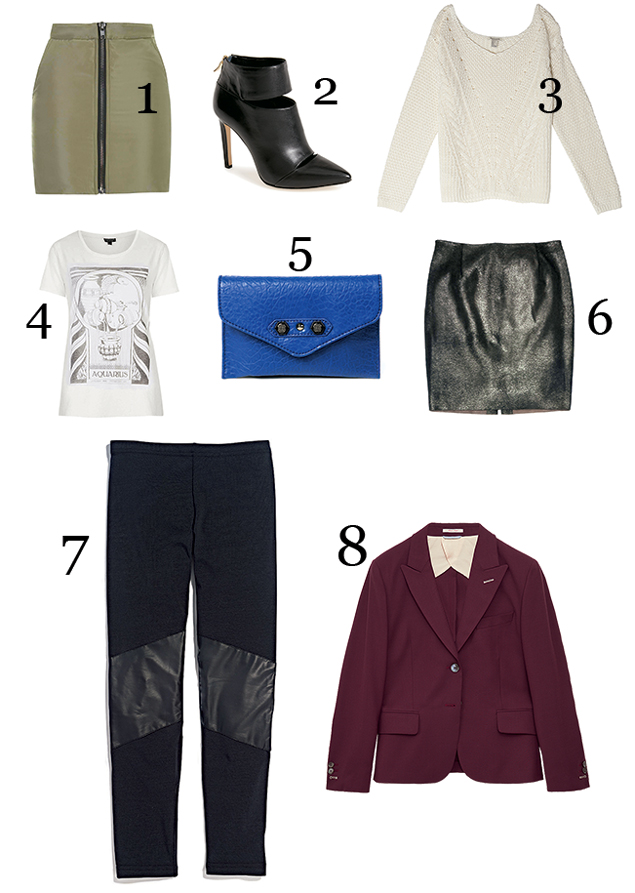 1. "Kelly" padded skirt by Story of Lola, at Topshop ($85) 2. "Carolyn" cutout bootie by BCBGeneration, at Nordstrom ($128.95) 3. Off-the-shoulder sweater, at Forever 21 ($24.90) 4. Zodiac-sign tees, at Topshop ($50) 5. "Tina" bag by Danielle Nicole, at South Moon Under ($39.95) 6. Calf-leather skirt by Elie Tahari, at Current Boutique ($375.99, originally $1,198) 7. Leggings with leather accents, at T.J. Maxx ($29.99) 8. Hopsack peak-lapel blazer, at Gant ($595)
This article appears in the January 2015 issue of Washingtonian.