There's a gold rush under way just east of the NoMa Metro tracks.
In May, the first mixed residential/retail building planned for the Northeast DC neighborhood around Union Market is slated to break ground. And if all goes as planned for the five big developers invested in the area, at least eight more such projects will follow.
The momentum has been growing since 2009, when the District published a framework for future development of the 45 acres bounded by Florida and New York avenues and Penn and Sixth streets, Northeast, near Gallaudet University. Then in 2012, the developer Edens opened Union Market on the site of DC's historic Capital City Market (which still has active wholesalers, distributing mostly produce, meat, and ethnic foods). It wasn't long before millennials in Logan Circle and suburbanites alike were making weekend trips to the new part of the market to stock up on small-batch bourbon and to brunch on Rappahannock oysters in a part of town they'd previously considered desolate and dangerous (if they considered it at all).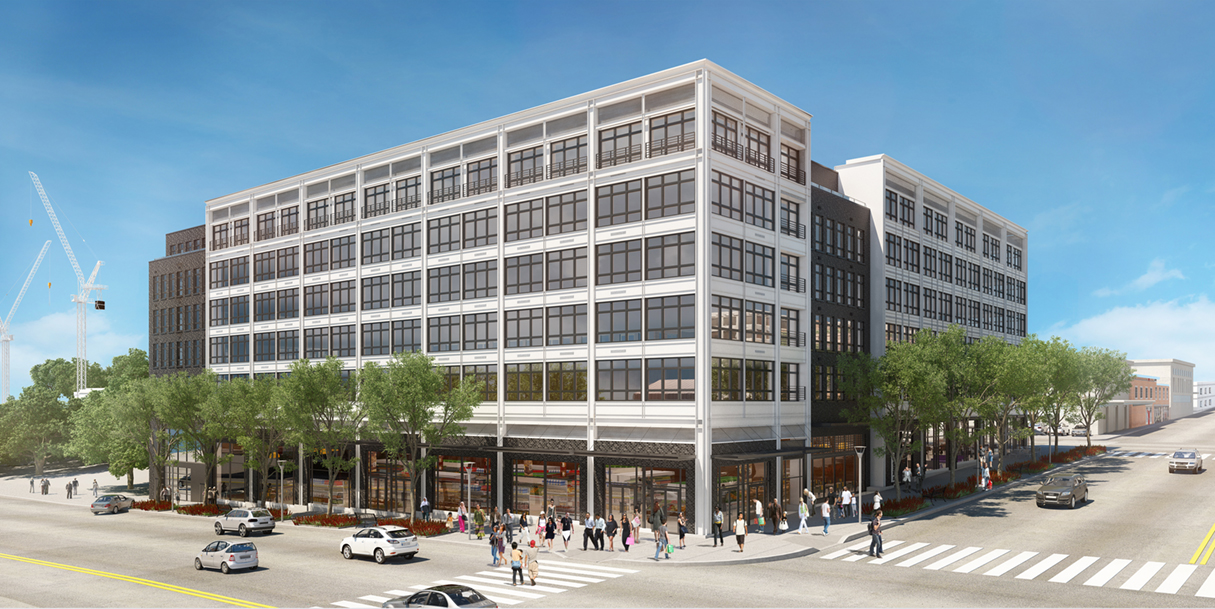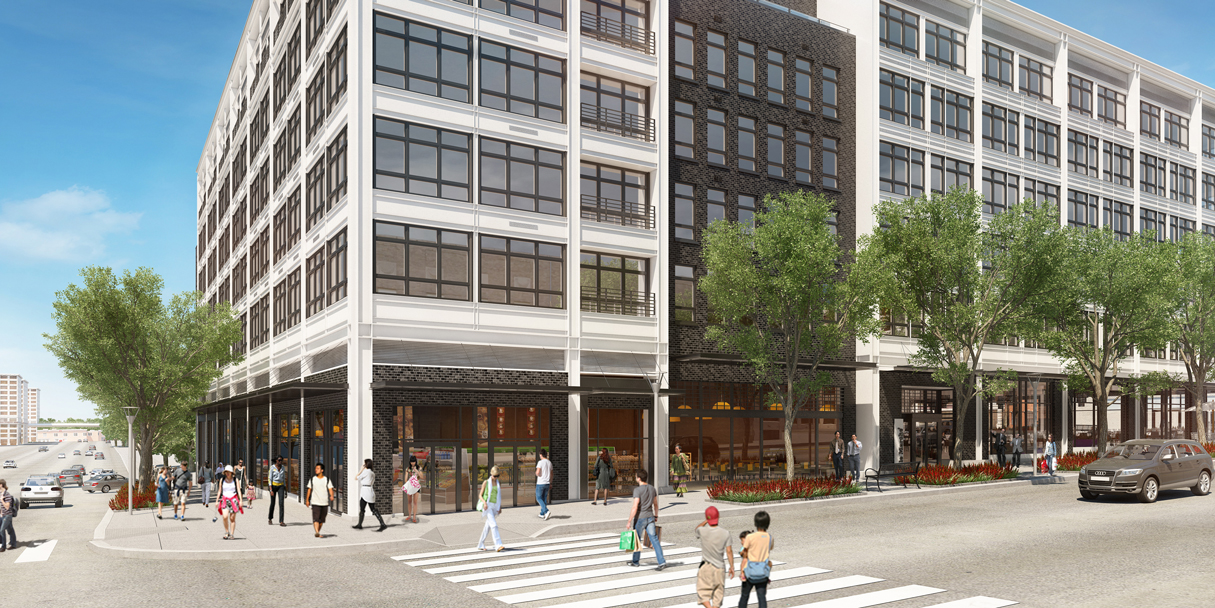 Now it seems the tipping point has been reached. Spurred by the popularity of the market, proximity to Metro, and the rapid building-out of adjacent NoMa to the west, major developers—in addition to Edens, there's Douglas, JBG Companies, LCOR, and Level 2—have bought into the neighborhood and meet regularly to confab about how they intend to shape it.
The Union Market housing boom is poised to explode. And the result could be a brand-new residential and retail hub that does double duty of helping make adjacent NoMa feel less like an office park and more like a real neighborhood.
• • •
The rest of us should see the effort start to take root this month with the project at 340 Florida Avenue, Northeast. The property has a winding history, dating to 2003 when Sang Oh Choi, whose family runs many wholesale businesses in the old part of the market, was awarded development rights from the city.
In 2006, Choi be­gan the rezoning process to allow for a mixed-use building on the site. He won approval in 2008—just in time for the financial crisis to hit and his funding to dry up. Edens joined Choi as an owner in 2012, and finally, last May, LCOR bought the project from them, reportedly for more than $9 million, with Edens retaining control of the ground-floor retail portion.
With the zoning approvals already in place, LCOR headed straight to construction, so its residences will be the first in the Union Market district.
Senior vice president Harmar Thompson says LCOR wanted a stake in the neighborhood—340 Florida is thus far the company's only property there—in part because of its "human scale." He's referring to the existing old market's mix of low-rise commercial structures and industrial buildings, which he and other developers say contribute to a gritty, warehouse-style vibe unlike anywhere else in DC. They point to New York City's Meatpacking District and Portland's Pearl District as influences—both of them industrial areas made over into residential, shopping, and dining destinations. It seems that such an area, with lower-rise structures and historic architecture, could offer much-needed character to the surrounding neighborhood, currently dominated by NoMa's glassy high-rises.
That industrial character is what initially attracted Edens. In addition to its role at 340 Florida, the developer has two other mixed-use projects in the works, including one on Fourth Street, Northeast, with as many as 500 apartments, which will incorporate an existing 1950s warehouse, and another that will rise above the actual Union Market, with an Angelika movie theater and either office or residential space.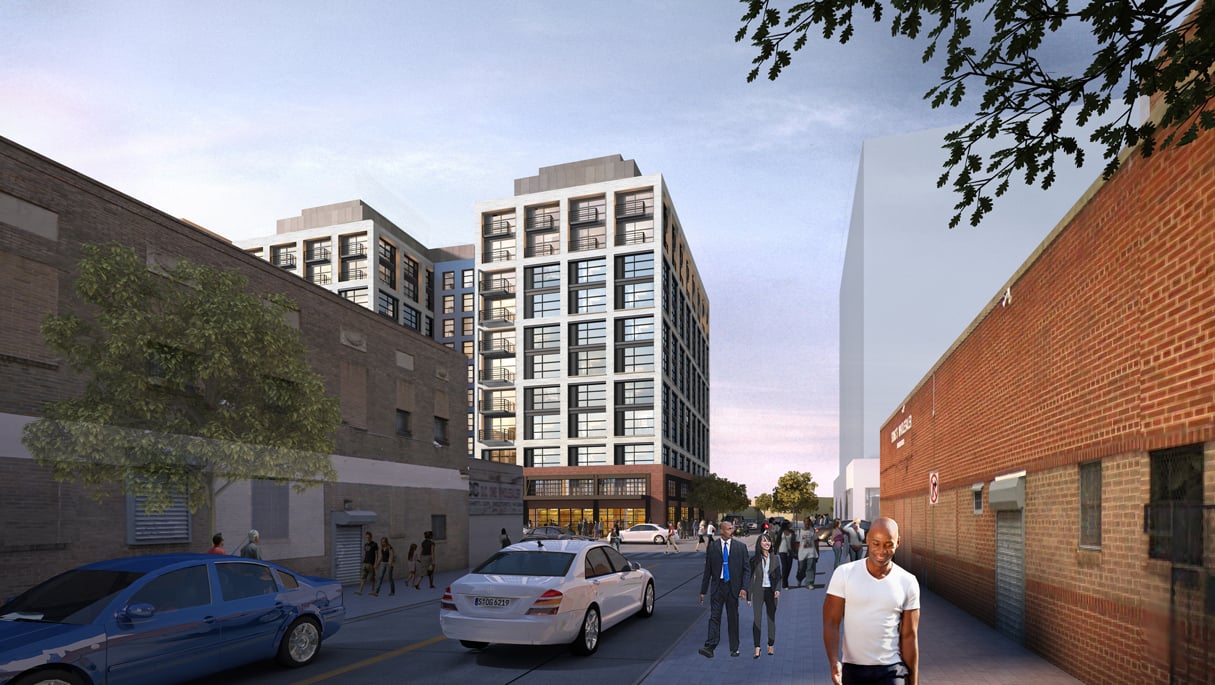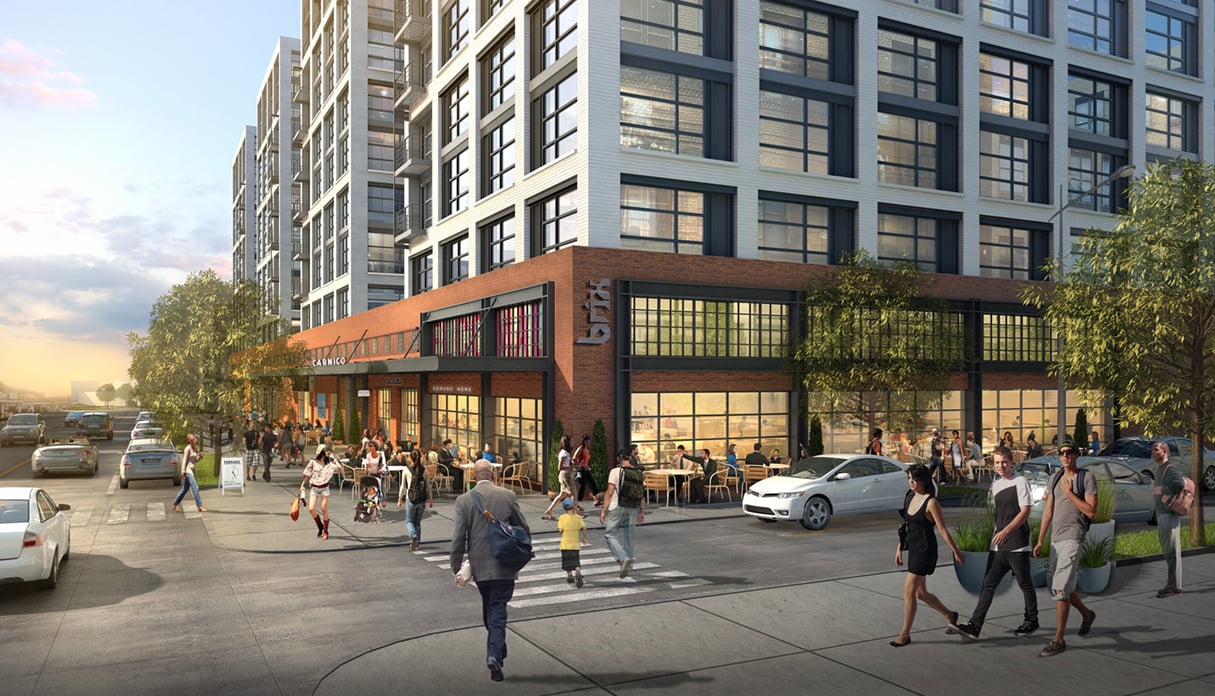 Paul Pascal—an attorney who for nearly 50 years has represented wholesalers in the historic Capital City Market and whose family owns five properties there—says he's pleased with the plan for the neighborhood. That wasn't the case the last time newcomers wanted in, back in 2006, when an initiative called New Town was introduced essentially to level the old market. Pascal headed an association of wholesalers that helped stop it.
He remembers how lively the market was in the 1960s and '70s, before larger wholesalers relocated to places like Landover in Prince George's County. He says he's hopeful the future changes won't come at the expense of older businesses: "I think for the wholesalers that want to stay, the trade will still be there. The smaller restaurants and embassies can't go out to Landover or Jessup to buy their products." As more foot traffic comes through, he anticipates that some wholesalers will begin to develop retail businesses.
DC Council member Kenyan McDuffie—who represents Ward 5, where Union Market is located—says an anticipated 20,000 permanent new jobs will come with the development of the Union Market district.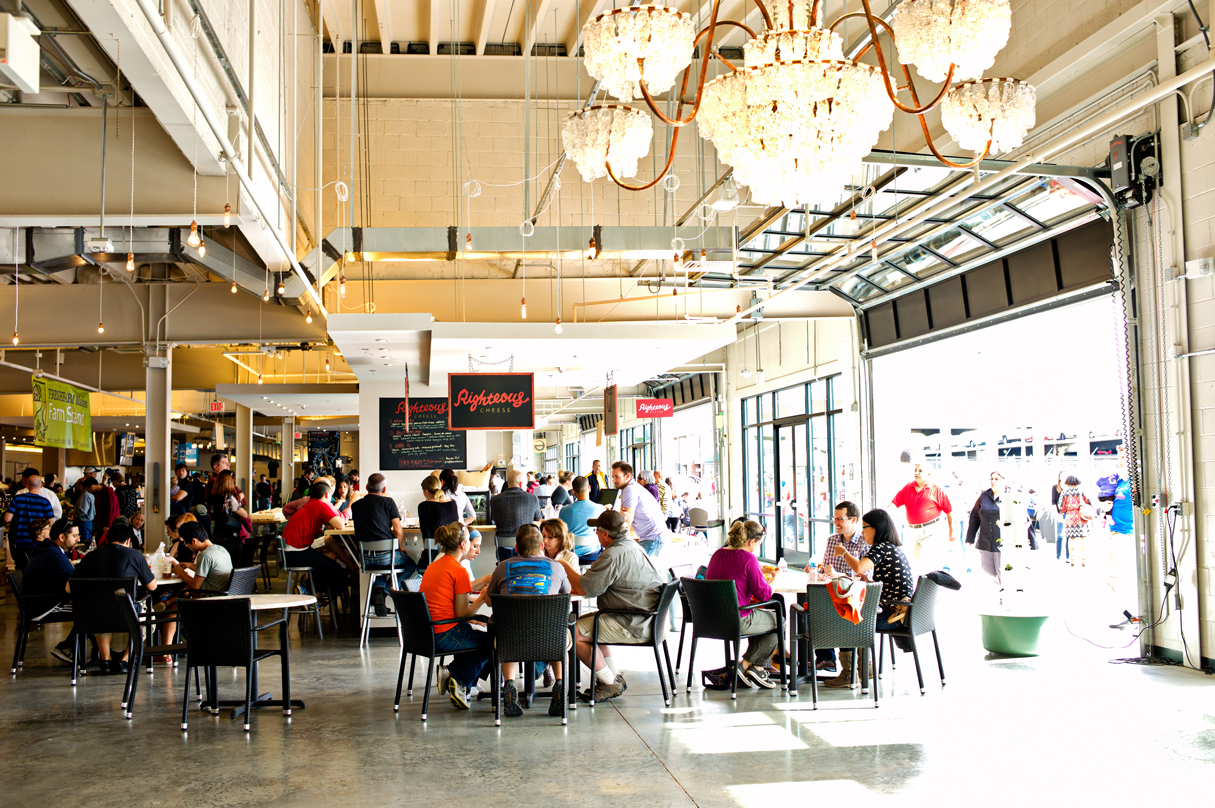 • • •
Even with the old market as a backdrop, because LCOR's building at 340 Florida—called the Edison—will be brand-new, some grit will have to be manufactured. The design, by SK&I architects, has evolved to look more obviously industrial. A rendering published in 2013 depicts a slicker structure with white siding. The current version features wide, nine-paneled windows characteristic of an old warehouse. Its 187 rental apartments will be loft-like.
One unusual feature is that 20 percent of its units will be affordably priced for households that earn no more than 80 percent of Washington-area median income. The current requirement for new buildings in the District is that 8 to 10 percent of units be priced according to this definition of affordability. But the higher percentage for 340 Florida was part of the deal originally approved by the Zoning Commission back in 2008, and it endures today. LCOR anticipates that the Edison will open in the second quarter of 2017.
Next door at 320 Florida Avenue—where a Burger King now sits—Level 2 is in the early stages of a 315-apartment project it's calling the Highline, named after the elevated park that goes through New York's Meatpacking District. The developer closed on the property for about $9 million last July and, though it's still awaiting a zoning hearing, expects to break ground by July of next year.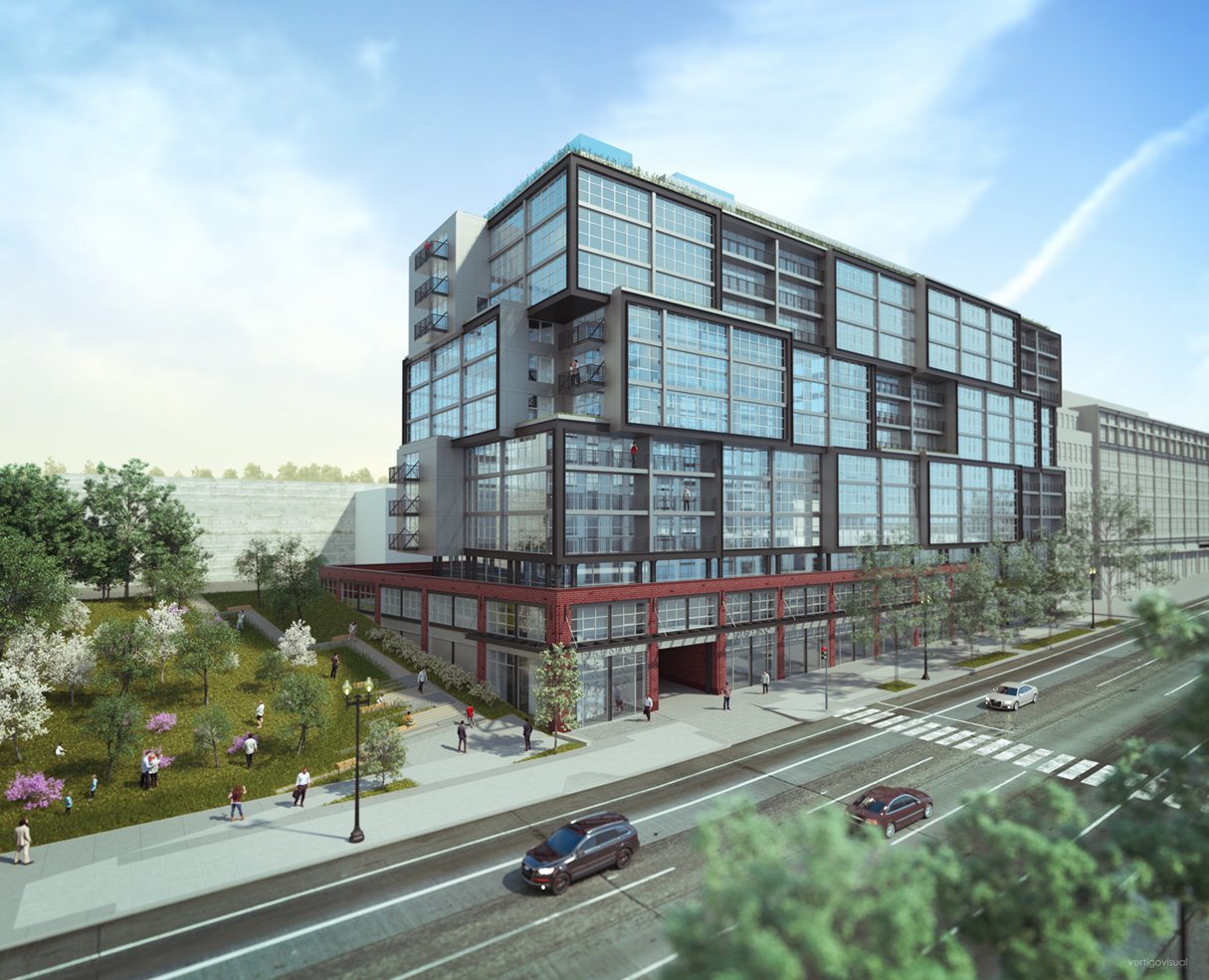 The property's location is significant, because the building will be the very first on the east side of the train tracks that pass over Florida Avenue and divide the Union Market district from NoMa. On the NoMa side, you have a Courtyard Marriott that could fit in any soulless office park in America. A new luxury apartment building, Elevation, abuts the tracks, too. It's a vast improvement over the vacant lot it replaced. But when you add the towering, angular building to the busy thoroughfares of New York and Florida avenues that border it, plus the Bureau of Alcohol, Tobacco, Firearms, and Explosives behemoth across the street, you get an imposing pocket that pedestrians rush through only out of necessity to reach Metro.
Level 2, working with architect Eric Colbert, has an opportunity to change the tone east of the tracks. For his design, Colbert was directly influenced by the location. The columns and steel I-beams of his building's facade mimic the structure of the Metro underpass. Colbert says he was thinking of "shipping containers stacked at a port" when he devised the way sections of the building are staggered.
Just as important as the actual structure, however, will be the small parcel sandwiched between it and the underpass. The city-owned land is currently a dumping ground for potato-chip bags and soda bottles. Level 2 wants to turn it into a park with a pedestrian walkway that leads to Union Market. The developer is requesting that DC dedicate the land as green space. Level 2 principal David Franco says his company will work with the city to hammer out a plan for maintaining it.
• • •
Green space is something the area sorely lacks. NoMa, now 50 percent built out, has almost none—one reason the neighborhood can feel sterile and not so much like, well, a neighborhood. Ride the Red Line into the NoMa station and you're greeted by what is essentially a shiny new city of offices and apartments. Parks would go a long way toward softening the landscape, and with a $50-million city grant, the NoMa Business Improvement District (BID) is planning six.
The parks would also lead to more walkability. One, called the NoMa Meander, is a three-block pedestrian promenade, including green areas and water features, that will break up some of the area's extra long "super-blocks."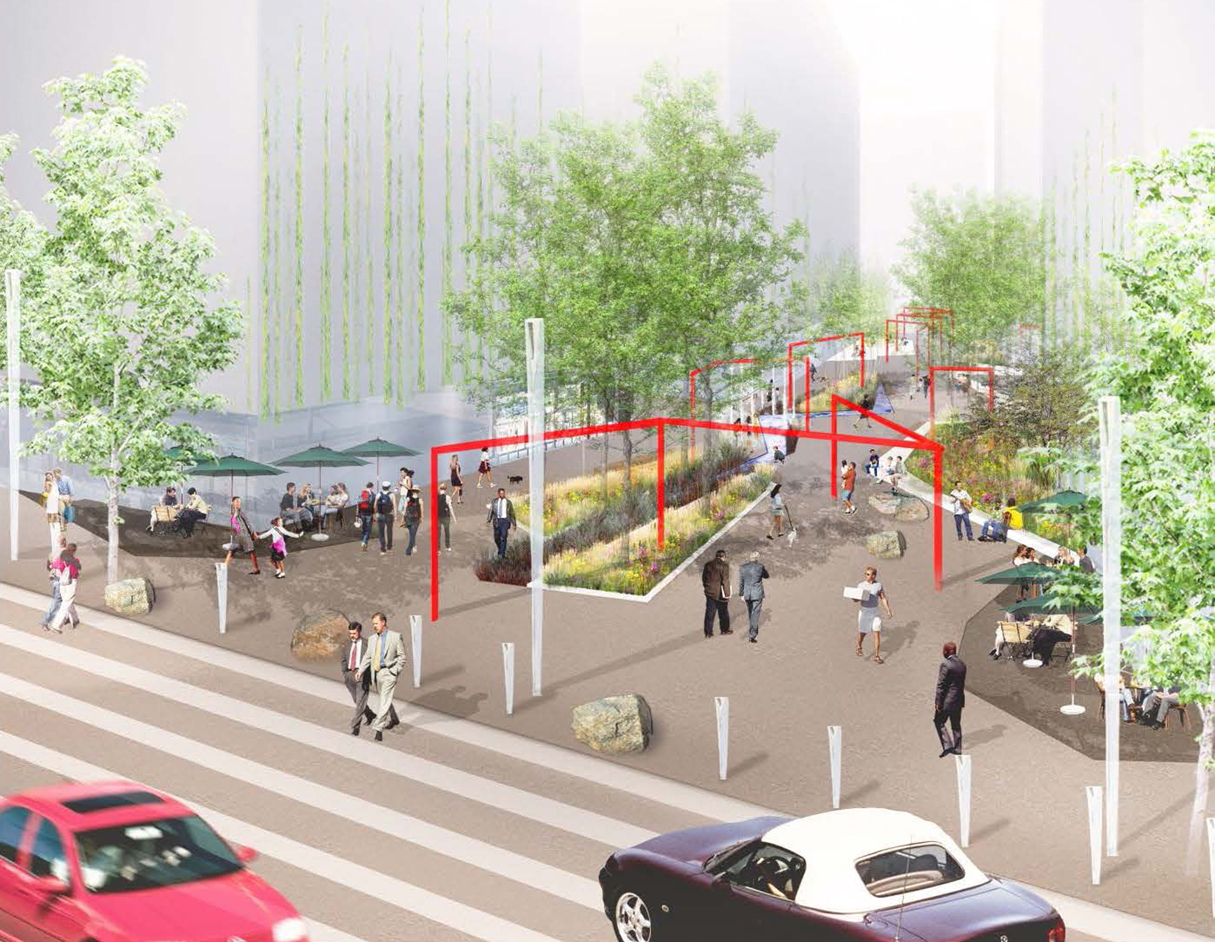 Another is an effort to build art parks beneath four underpasses created by the Metro and Amtrak tracks that divide up NoMa. As they are now, the underpasses are dim, dirty, and often riddled with puddles. By turning them into art installations and improving lighting and other safety elements, the BID aims to encourage pedestrian traffic to and from surrounding areas, including the Union Market district. Construction on the new parks is slated to begin by the end of 2015.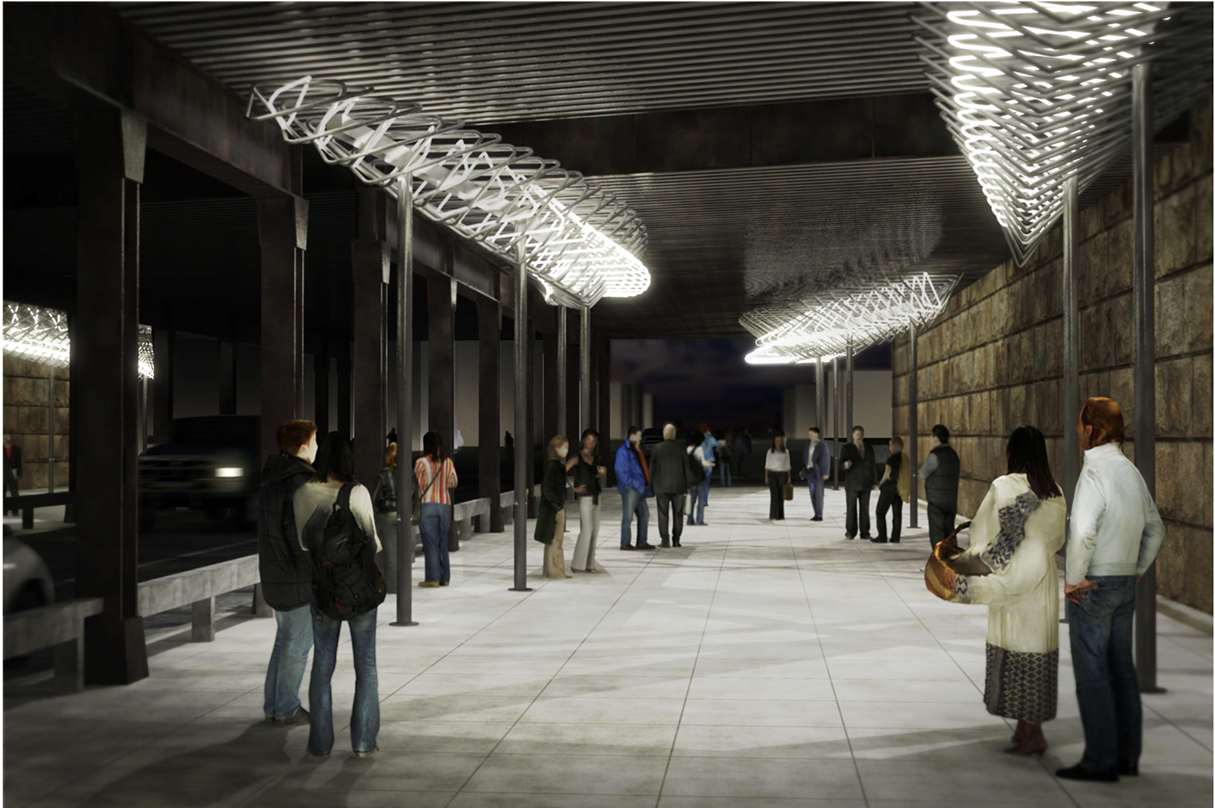 So in five years, when you exit the NoMa Red Line stop, will you disembark into DC's own Meatpacking District? Not quite, says Edens managing director Steve Boyle, a leader of the developer's Union Market efforts: "DC compares itself all too often to other places. It has its own personality that will emerge on the back end of all of this."
Senior editor Marisa M. Kashino can be reached at mkashino@washingtonian.com.